Meet Oscar Bait
Small disclosure: I am massively addicted to this podcast and am an incredibly dramatic movie-lover, so please proceed with caution as a lot of this will be a lot of informative fangirling.
That being said, if you are also super into movies and contagiously happy personalities this is the powerhouse podcast for you. As someone constantly convincing myself I will one day open a little cafe and have spent all my money on education to become an aspiring digital manager and videographer, this gives me just the everest of confidence and validation. If you have even a few minutes, you will not regret listening to their podcast or learning about all that goes into this wonderful group.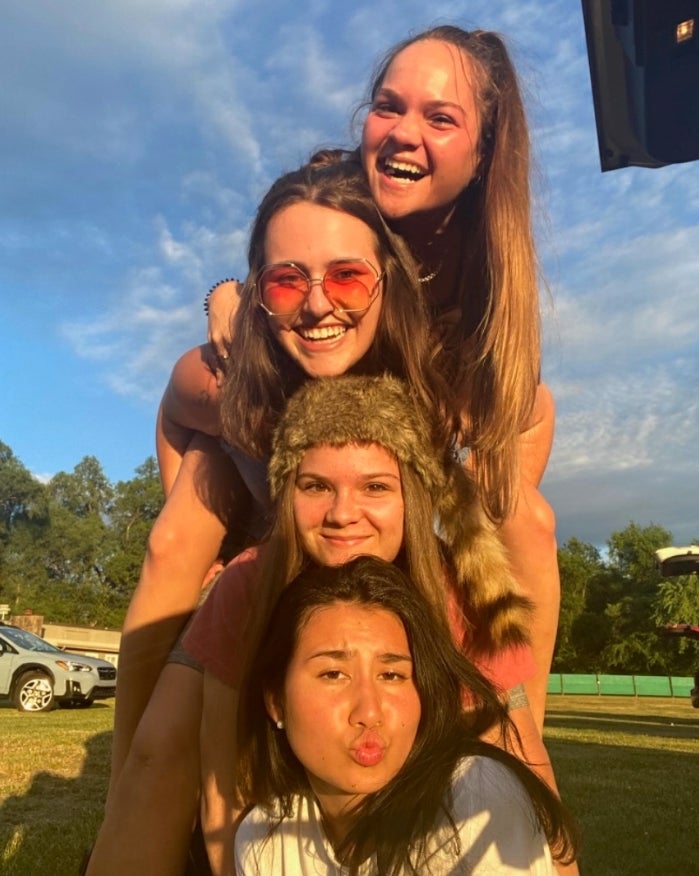 The Hosts
As for the lovely ladies that make up the team, in total, there are four: Maddy Haberberger, Livvy Haberberger, Emily Kane and Julia Boyle. Their dynamic energy with one another is not only infectious as if you are a member of the team yourself, but they also all cover different ends of the movie-watching experience. Livvy is a business and technology major, Maddy is a journalism major, Julia is an environmental science major and Emily graduated with her Bachelor's in the Arts of Screenwriting. So, as you can see, there is a wide range of personalities which is perfect for any conversation, especially one about movies! All four of them have known each other since they were in grade school and through family friends, so they are definitely comfortable with one another at this point, which was very blatant as I was chatting with them. With Maddy and Livvy being twin sisters I also loved the energy presented. I am vaguely biased because I have a twin, but they are also just all the types of people to make you feel like you have been a part of their group for years, and if that is not the best feeling to get from a podcast, I do not know what is. I did not have the pleasure of meeting Julia for more than intermittent Zoom appearances, but if you scroll down down a bit you will see that she has exceptional movie taste and is living out my aspiring environmental science dreams, as someone that is very unfortunately bad at all forms of science. Emily was also an absolute joy to talk to, and she also shares my infinite love for Wes Anderson which I internally geeked out about. Overall, they are the absolute kindest people, which so heavily reflects through their podcast.
The Podcast Itself
By far the biggest takeaway from getting to know this amazing group of fellow movie-lovers is that they are as passionate about movies as they are about the people that are making them. Each week they post a new episode from a new movie with an Oscar nomination, which is subject to change to other amazing movie discussions in the future, post-Oscar season. They started chatting about fellow viewers, like myself, who were for the first time actually watching all the Oscar-nominated films before the Oscars so they could have a clear understanding of who should win. The concept is so genius, and I feel like they give a very clear and human approach to something that can honestly be pretty pretentious. They are also very clever in their approach to their presentation of the show. They purposely insert "pee breaks" so viewers have a break and if they need ad slots in the future, which I am sure they will, they are basically set. Overall, it is an incredibly comforting and welcoming environment, and they present nothing but genuine love for movies, so really what more could you ask for?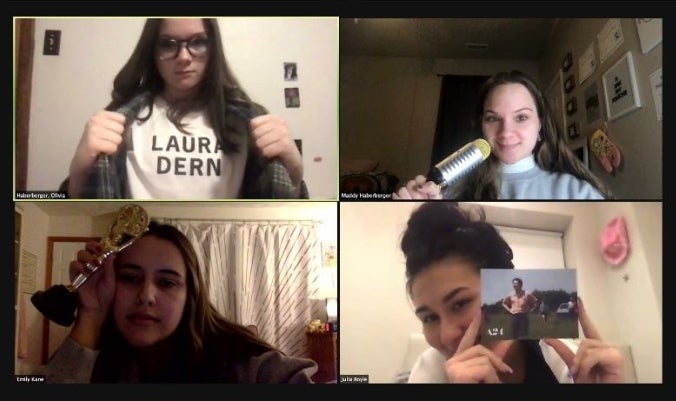 Movies are a Gender Fluid Experience
I cannot express how deeply appreciative I am to see four females taking the reins on a podcast and so openly broadcasting their thoughts and opinions, while simultaneously addressing the lack of diversity and challenges that those who are not as protected in the film industry have to go through. They were also sure to address the films that have what I like to call "The Shawshank Effect," where you watch a movie completely convinced you are going to hate it because it is "not something that usually interests you." In the words of Maddy Haberberger, "you might! You might be into that if it was framed in a way that it is something you'd be into."
They also touched on being a female in the film industry and being a woman that loves movies and geeks out talking about them, because there is too often an elitist "boys club"-esque V.I.P. group mentality to it. I remember sitting in my first film class just in awe that I was even there and then coming to the really crappy reality that I was often talked down to because I love romantic comedies. I am by no means trying to falsely articulate their words, but them speaking on it was something very validating and I know I am not the only one in this category. Truthfully, I love my major and feel like I have taught myself more things than any "elitist" persona could have, however, the point that I'm trying to make is we all have an equal opportunity to love the art of movies, and it is not a club you are invited to. If you listen to their podcast, which you absolutely should, you will realize that they are genuinely just your group of friends that you love to sneak snacks into the movie theater with.
Oscar Bait After the Oscars
The main emphasis they were sure to present was that they are not "qualified" to talk about pretentious films, outside of Emily, who is the only one in the group currently "certified" with a screenwriting degree. They are movie lovers that want to talk about movies to other people and just share a love for the art of it. So, in case you were worried about the continuation of the podcast once the Oscars are over after April 25, worry no more because as long as movies are being made, they have a podcast with many more conversations to come! Movies are made to be watched any time, and especially outside of Oscar season. Even their social media has movie recommendations and audio clips, edited by Maddy Haberberger herself, from previous podcast episodes, so you are sure to never get bored while you not-so-patiently wait for new episodes.
Personal Favorites from Certified Movie Lovers:
Maddy Haberberger:
Movie- The Truman Show
Actor/Actress Oscars 2021- Alan S. Kim (Minari) and Carey Mulligan (Promising Young Woman)
Director- Greta Gerwig
Livvy Haberberger:
Movie- Gone Girl
Actor/Actress Oscars 2021- Dominique Fishback (Judas and the Black Messiah) and Chadwick Boseman (Ma Rainey's Black Bottom)
Director- Greta Gerwig
Emily Kane:
Movie- I, Tonya
Actor/Actress Oscars 2021- Sacha Baron Cohen (The Trial of the Chicago 7) and Carey Mulligan (Promising Young Woman)
Director- Wes Anderson and Edgar Wright
Julia Boyle:
Movie- Inside Out
Actor/Actress Oscars 2021- Alan S. Kim (Minari) and Youn Yuh-jung (Minari)
Director- Bong Joon-Ho
Collective Favorites:
Movie- Parasite
Actor/Actress Oscars 2021- Laura Dern   
Follow Them on Socials-
Oscar Bait:
Instagram- oscarbaitpodcast
Twitter- oscarbaitthepod
Maddy Haberberger: 
Instagram- maddyhabs
Twitter- maddyhabsTV
Livvy Haberberger:
Instagram- livvyquack
Twitter- livvyquack
Emily Kane:
Instagram- emilykane.jpg
Julia Boyle: 
Instagram- juliaaboylee
Twitter- juliaaboyle
Because this most definitely does not do them complete justice, be sure to follow all their socials and watch their podcast on Spotify!