The first week at college as told by Erin from The Office
The first week of college always takes us on a roller coaster of emotions. Erin, the former receptionist at Dunder Mifflin Paper Company, is here to help portray all the ups and downs of that first week away at school.
Trying to contain your excitement after arriving on campus for the first time:
After moving into and decorating your dorm:
Saying goodbye to your parents: Trying to cook dinner for yourself:
When your new roommate first arrives:
Your first exposure to cute strangers after a summer at home:
Celebrating the new semester before classes start:
When you and your roommate become friends:
Getting your school ID picture taken:
At the club fair:
The day before classes start:
Your first experience with the infamous campus catcallers:
After trying something completely different and out of your comfort zone because "New Year, New You":
When you sit down in one of your required, yet incredibly difficult core classes:
Trying to do homework for the first time:
When someone tries to talk to you in the middle of a stress-induced episode:
Receiving a care package (or even just a cute "I miss you" text from your family and friends back home):
When you realize you can handle college and all the stresses that come with it: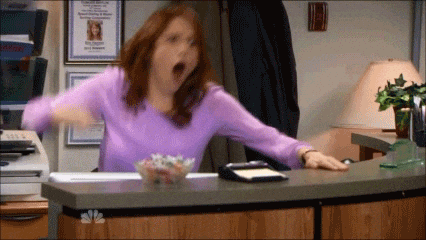 So if you find that you're struggling to adjust to the new semester, channel your inner Erin and fist pump it all the way to success.
Stay strong collegiettes!