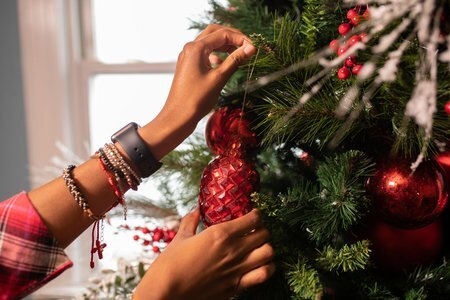 10 Christmas Songs You'll Want on Repeat
Do you hear what I hear? It's the same Christmas songs that have been playing from the 60s and 70s and taunting retail workers everywhere. Recently, there have been some amazing new Christmas songs from popular artists, and while they aren't necessarily "the classics," they are still catchy and will put you in the Christmas spirit. Whether you've been listening to Christmas music since Halloween or ban it until after Thanksgiving, throw these songs on repeat and get ready for the holidays.
1.

All of Pentatonix's Christmas Albums

2.

Underneath the Tree by Kelly Clarkson

This upbeat song was released in 2013 on Clarkson's Wrapped in Red album. Being compared to the infamous "All I Want for Christmas Is You", this song makes it impossible to have a blue Christmas.

3.

Like It's Christmas by The Jonas Brothers

If you were as psyched about this brotherly reunion as I was, you'll be able to get into the holiday spirit with this hit. I've had it on all my playlists since it came out.

4.

Glittery by Kacey Musgraves

This heartwarming duet with Troye Sivan was performed on the holiday special, The Kacey Musgraves Christmas Show. It's the perfect song to listen to while decorating the tree or baking cookies with your loved ones.

5.

Cozy Little Christmas by Katy Perry

Released in 2018 on Amazon Music, the music video is just now trending on YouTube. With a catchy chorus and clever references in the verses, this song is fresh, optimistic and gives off all the cheerful holiday vibes.

6.

Santa Tell Me by Ariana Grande

Reaching the top charts in seven countries and climbing the US Billboard Hot 100 the year of its release, Ariana Grande blessed us with yet another hit. I have no problem listening to this song all year round.

7.

Merry Christmas, Happy Holidays by *NSYNC

In my personal opinion, this is a Christmas song that should be considered a classic at this point. Pentatonix even covered this song on one of their Christmas albums, but nothing can compare to this boy band original.

8.

Mistletoe by Justin Bieber

Another song that should arguably be a classic for our generation, this hit recently reached #1 in the US on the Apple Music video chart. Ten-year-old me watched the music video a thousand times and 18-year-old me still does not regret it.

9.

Christmas Tree Farm by Taylor Swift

I'm adding this song at the last minute because it literally came out the day before this article was due, and I knew it would be good enough to add to the list. Swift's first Christmas song since 2007, this charming melody comes from the heart. Plus, she grew up on a Christmas tree farm as a child and the music video is a compellation of home videos from her childhood. 

10.

Christmas Don't Be Late by Alvin and the Chipmunks

I had to end this list with an absolute classic. You cannot tell me you didn't sing along with Alvin, Theodore and Simon when this movie came out. Admit it, this group produced MAJOR bops.
Now that you have a new few songs to freshen up your worn-out Christmas playlist, go deck the halls, dash through the snow and put some joy out into the world.