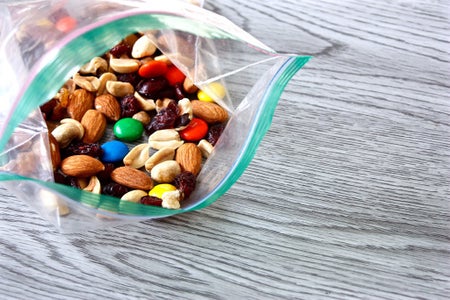 The past couple of weeks, my Instagram feed has been flooded with influencers promoting the newest craze: "nature's cereal". If you haven't heard of nature's cereal, here's how it's made: fresh fruit is cut and placed in a bowl, then coconut water is poured over, and it is eaten with a spoon. To be quite honest, the trendy snack made me unreasonably angry, because why call a bowl of fruit anything other than fruit salad? So today I bring you a few snack suggestions that are both quick, yummy, healthy-ish, and aptly named.
DIY Trail Mix:
One of my go-to snacks to throw together between online classes is a combination of nuts, dried fruit, and chocolate chips. I like to put cashews, dried cranberries, and dark chocolate chips together; it's just filling enough, a little sweet, a little salty, and easy to make!
Smoothie Bowl on a Budget:
I absolutely love going into Manayunk and getting a pretty, yummy little acai bowl from Boostin' Bowls, but sometimes I don't have the time to go out, or the money to spend. Instead, try getting a big bag of frozen berries or fruits of your choice, plus some milk (almond milk is my fav!), granola and yogurt. If you have a blender, put a cup of yogurt, splash of milk and handful of fruit in and blend it up. Just adjust the ratios of milk and fruit depending on how thick you like it!
No blender? No worries! You can make your bowl of yogurt much more Pinterest worthy by putting it in a cute bowl, topping it with berries, granola, and a drizzle of honey or agave!
Honestly, smoothie bowls are almost as fun as having ice cream for lunch.
Cinnamon Sugar Apples
Sweet and simple, some apple slices with cinnamon and brown sugar sprinkled over top make such a happy little snack. Dip them in peanut butter and be instantly transported back to elementary school lunchtime!
Chicken Salad
Canned chicken may not sound like the most appealing snack, but hear me out. After draining the canned chicken, use a fork to pull the meat apart. I add mayo, pepper, paprika, and dill weed. Celery can be added if you like a little more crunch! The best part about this is you can make it ahead of time and snack on it/have it for lunch throughout the week.
You can make lettuce wraps or regular tortilla wraps with the chicken salad, put it in a spring roll wrapper with some veggies (avocado, carrots, spring greens!!), or eat it on tortilla chips like a dip.
Literally Just Cereal
If you want cereal, have cereal!
Bowl of Fruit
If you want fruit salad, have fruit salad!
While these snack ideas are far from groundbreaking, they're some of my favorites, and will probably keep you satisfied longer than Nature's Cereal might. I hope you all eat something that makes you happy today!