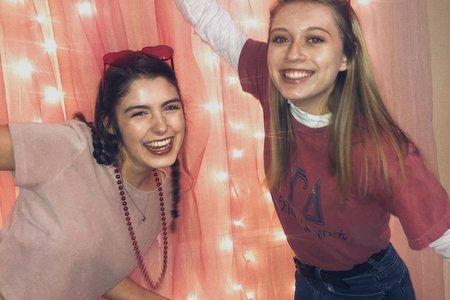 An Open Letter to My College Best Friend
Dear College Best Friend,
Let me just start by saying wow. I don't know where I would be without you.
I come from a smaller town and have always had my core group of friends. I haven't had to make friends in 10+ years. My friends from home are the greatest, but as we grew older, we all developed our own little personalities; mine somewhat being the oddball of the group. I love my childhood/home friends with my whole heart, but I distinctly remember telling my mom that when I got to college, I just wanted to find "someone like me".
Personally, making friends was one of the most intimidating/difficult parts of starting off at college. Everyone is on social media, and I only had one of my close friends at college with me. Sure, I talked to people in my classes, was friendly, and considered a few people my friends, but it started to seem like I would never meet that person I was looking for: that "someone like me." And then, I met you.
There are some people you meet in life and as soon as you talk to them, there is an instant connection. A feeling of meeting someone who gives off your kind of vibes, someone you never want to stop talking to, someone my mom considers "good people." That's exactly what you were. I feel like the moment I had a conversation with you, I thought "there's my person- there's my 'someone like me.'"
I'm so thankful I had met you. And it turns out I was right. It turned out that we lived in the same building complex and I truly feel we have a "cosmic connection." The more I got to know you, the more I liked about you. And even though we had only known each other a short period of time, it seemed like I had been friends with you all my life. We would talk for hours, laugh, and just seemed to have so much in common, but just enough different to make our friendship so compatible.
I couldn't be more thankful for finally meeting my person. You are so selfless, kind, thoughtful (especially when it comes to others), a goofball, loud (in the best way), have a contagious smile, are a dancing queen, ray of sunshine, and simply "someone like me." I treasure the memories that we've made and you have truly made my first year of college unforgettable. I'm so sad that our time at college got cut short, but I'm so thankful for the time we got to share and get to know each other, and the time we'll spend together next year.
For those of you reading, I hope that all of you have a friendship like this or are destined to find it soon. I hope all of you find your Madison.