I think it's safe to say that we all know the struggle of trying to choose an outfit that is both stylish AND still manages to make you feel confident. Finding an outfit that is trendy and fashionable is fun but it's more important to feel confident in what you're wearing out or else trust me – you'll never have a good time. Knowing how to mix and match clothes can be the key to saving your bank account and some closet space too! So with that being said, here are some of ISU's favorite affordable fashion formula's for a night out at school.
Tube top + Jeans + Booties: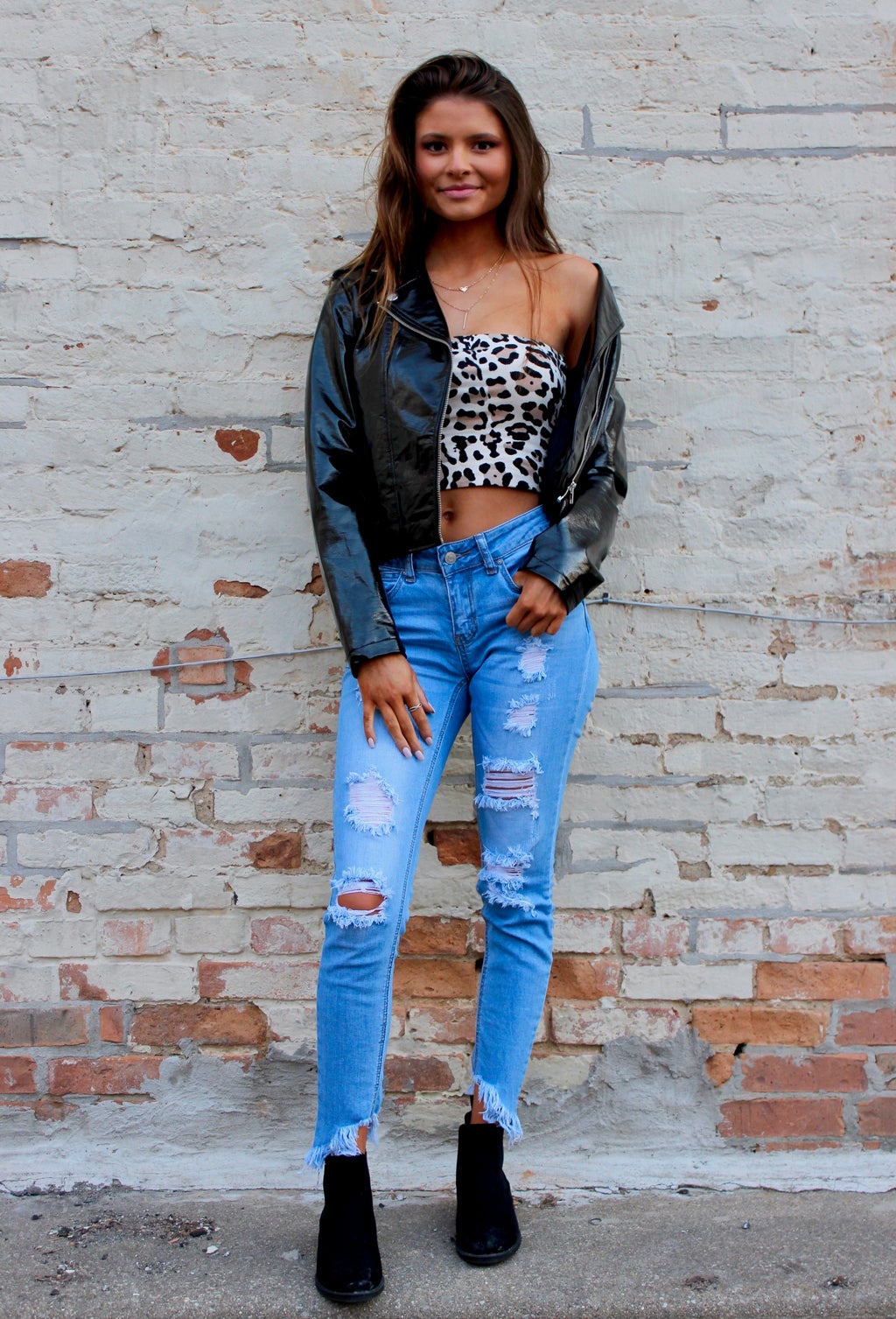 Freshman and Public Relations Major Bella Jamo; Her favorite store: Pacsun
A tube top, ripped jeans, and booties was the most frequent answer for ISU's favorite going out outfit. Yes, this is a popular combo, but if you dress your outfit up with your personality you can really stand out. Choosing a statement pattern like animal print, stripes, or flowers can give any outfit the flare you think it may be missing. Since the spring time in Central Illinois is never too reliant on warmer weather… it's smart to play it safe and throw a jacket on in case it gets too cold. Also, a leather jacket like Bella is wearing can give your outfit a little bit more edge without even trying. The best part about light jeans and black booties is that you can match any color top with it and still look like you just walked off the runway. And lastly, make sure to give your look a little glam with some fun jewelry. Bella is wearing a simple two-tiered jewel on her neck that gives her that sparkle while still keeping the edge to the rest of her look. 
SHOP THE LOOK: Jacket: H&M  Top: Akira Jeans: Forever 21 Booties: Nordstrom
Boyfriend Jeans + Crop top: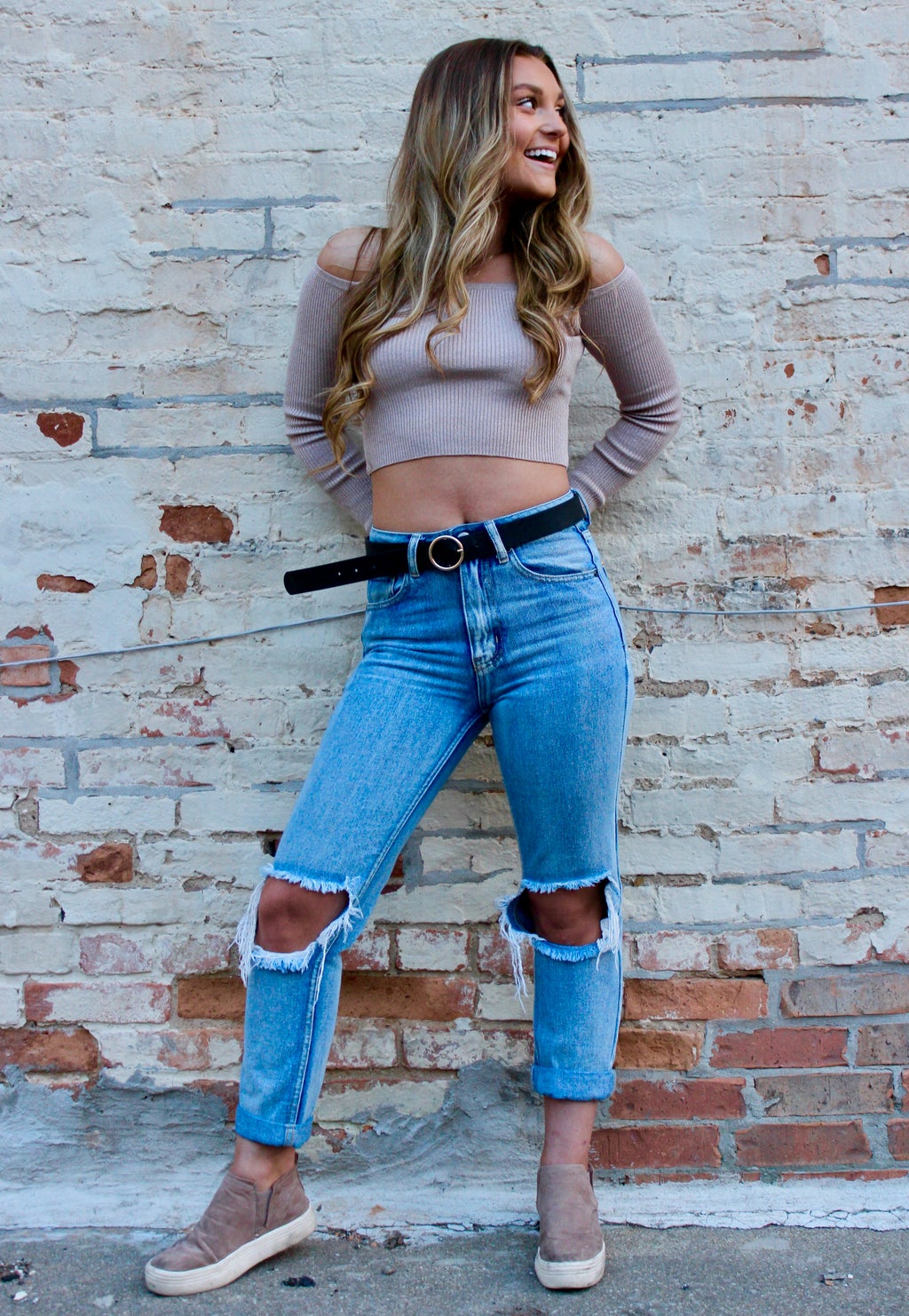 Freshman and Marketing major Kayla Sallenger; her favorite stores: Boohoo, H & M, and Revolve
Crop tops have always been a go-to for a night out when the weather is warmer. They can be dressed up or down and can be paired with an eclectic range of accessories. If you're going for a sweet and simple look like Kayla, ditch the black and go for a lighter color like blush or beige! Natural hues go with just about any color and with some glitzy jewelry and effortless makeup, you can still make this look party-perfect. You can never go wrong with boyfriend jeans, you'll be more comfortable and they give you a more relaxed vibe. Plus a bold black belt is the perfect accessory to make this outfit really pop out. So… how about shoes: heels or no heels? The answer varies based on YOU! Wear whatever you're comfortable with. If you know that you won't be able to walk the strip in downtown Bloomington without tripping every other step, go for a pair of cute pair of flats or sneakers instead. 
SHOP THE LOOK: Blush Crop Top: Pacsun, Shoes: Target, Jeans/Belt: Boohoo
Jeans skirt + booties + PERSONALITY: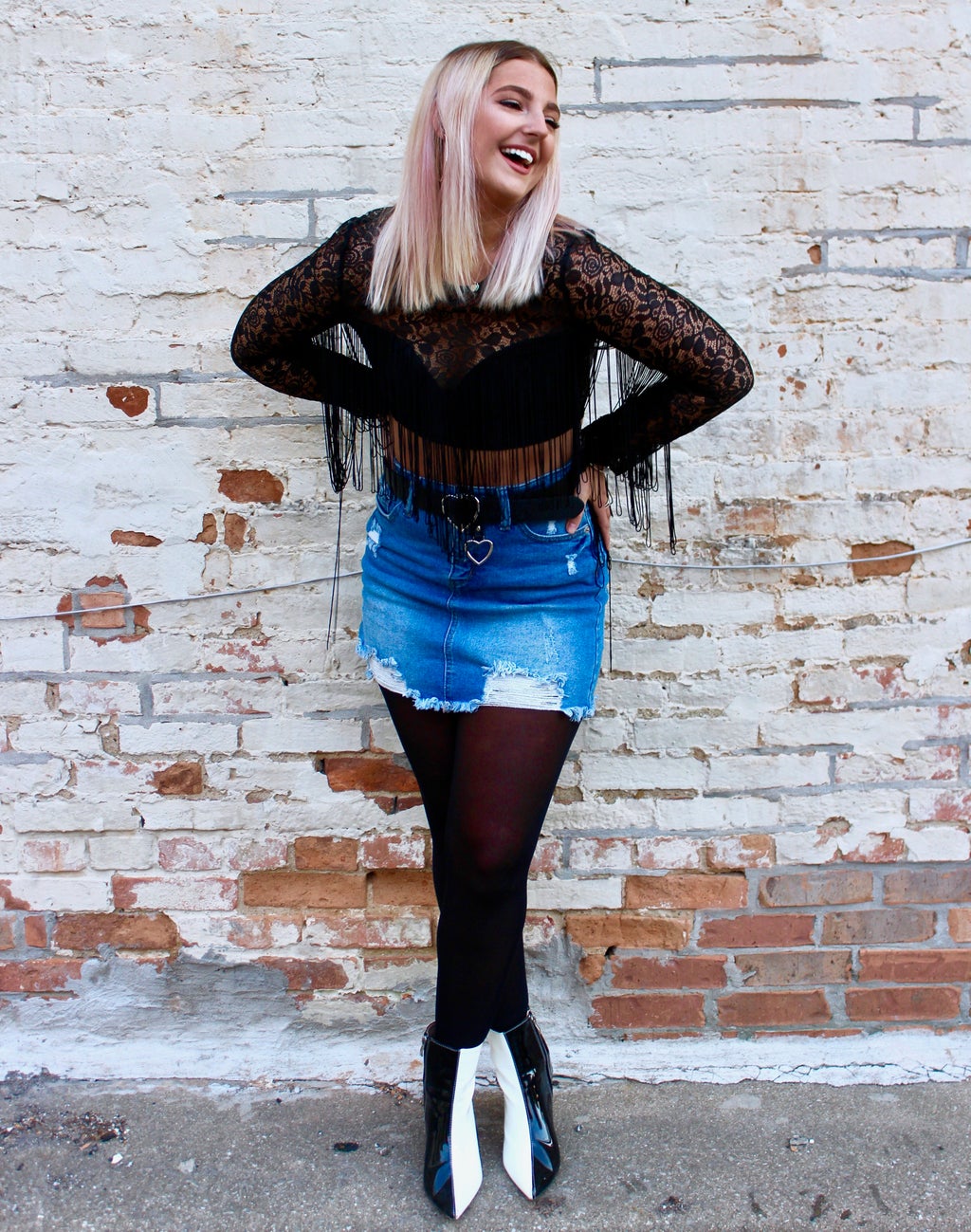 Sophomore and Integrated Marketing major Hannah Golaszewski; her favorite store: Nasty Gal
REMINDER: It's so important to always be yourself and let your style show your personality! Some nights you're feeling yourself a little more than others and that is O K A Y. But on those nights that you DO feel like a queen… then girl you better make sure you shine! Hannah lets her free-spirited personality beam with her gypsy lace crop top and fringe sleeves. A light frayed jean skirt and silver heart-shaped belt gives her look a bit more femininity against her fun and quirky top. Black sheer tights are the perfect way to keep the outfit consistent with itself and throwing in a fun pair of funky boots always gets you loads of compliments!
SHOP THE LOOK: Fringe Shirt: Nasty Gal, Heart Belt: Amazon, Booties: Nasty Gal