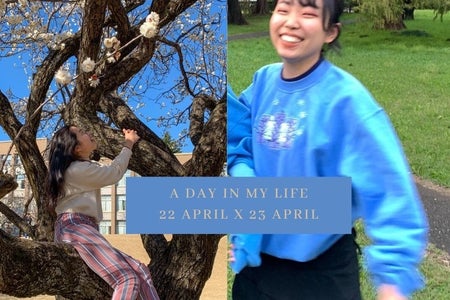 Original photo by Yukiko Takei
A Day in My Life—'23 April × '22 April (Remote Study Abroad)
Hi, I'm Yukiko, currently a junior student at ICU and studying at the University of Gothenburg, which is in Sweden remotely here in japan (so tricky). I'll introduce a day in my life who are living in the CET time zone in Japan.
Hi, this is Aoka, a sophomore in ICU. I'll introduce a day in my life as a student who is living in the dorm. I hope you can enjoy reading it and finding some tips you want to use in your daily lives.
1.

Good Morning, it's a new day.

Original photo by Yukiko takei

Yukiko - I usually wake up to chat with and say good night to my boyfriend, who lives in the UK, around 8 am. After saying good night to him, I'll go back to sleep too. Then I will wake up totally around 10 to start my day.

I like to start drinking a cup of water and then after, a cup of hot tea, either sweet tea called "Paris," which I bought in New York (another tricky point) to relax, or Chinese tea which I bought in Shanghai to refresh my mind and brain. Today, I chose Chinese tea!

I used to not have one for breakfast, but after I became appendicitis, I try to eat aloe yogurt to stay healthy.

Aoka- I usually wake up at 9 o'clock. Still, these days it is hard for me to get out of bed soon after waking up, so I need some time to daydream without thinking of anything. Before getting out of bed, I always try to make my bed by stretching my body and using legs (so lazy, but I found it the easiest way to fix it).

I like to drink coffee to get rid of my drowsiness. The process of making coffee always gives me time to feel calm. Breakfast can be changed on the feelings. I usually eat oatmeal or the dishes which I ate last night. These days spiced banana porridge is one of my favorites! While eating breakfast, I also write a journal and make a to-do list for today.

I'm also trying to make time for exercise and running outside to stay healthy. It is an excellent way to get fresh air and refresh your mind. (Of course, I sometimes skip this depends on my mood.) Recently I listen to the podcast such as "Glenwood HEART TO HEART" or "Bilingual News" while exercising.

2.

No one likes to study, but it's your duty sweetie.

Original photo by Yukiko Takei

Yukiko - since I'm a study-abroad student, but remotely, I don't have any class in the daytime but have from around 5 pm - 10/11 pm. So I usually spend my daytime finishing my assignment and readings and reflecting on the parts I couldn't understand well during the class. I basically create my study plan weekly and divide each task into a small portion, which I can afford to on that day. I don't have a particular study routine, but I like to follow each step of this plan, and if I feel I'm not concentrating on much, I like to play the study playlist from alexrainbirdmusic. 

Aoka - In the fall semester, I mostly have a third and fourth period (around 11 am - 3 pm). Most classes are online classes, so I  usually wear the perfect staying-home style (mostly sweater and sweatpants). I still prefer the course in a real school, but I also like the online style to hear other students asking teachers after the class, and I also can ask with less courage than I used to. Here are some study tips! To make it easier to review before the exam, writing notes in the printed slides could help. Also, if you have stiff shoulders, I recommend using a computer stand! You can find many cool designs in store, but I'm using the shoe storage tools I bought at Seria instead.

3.

How I spend my beloved "Break Time" 

Original photo by Yukiko takei

Yukiko - since my mum and my sister are also working from our home, they will make lunch for me (thank you always!) and have lunch during 12-1 pm. It is fortunate to have lunch with my family since both of my parents work since I was young and have never experienced this type of family time. I usually take a tea break around 3 pm as well, and my staple menu is hot chocolate, matcha latte (fun fact: my dad bought it for my boyfriend, and he liked it, so I asked my dad to buy it for me too), and soy milk tea (my mum is the best for making milk tea). Hmm, you are the winner, Hot chocolate!

Aoka - There is not much time to cook at lunch, so I eat something I can make quickly, such as pasta or side dishes which I already made. I also prepare tea and sweets to focus on the 4th period. I especially love chai tea! It is best to boil it with milk and drink it in a full mug. I often eat nuts and dried fruits for sweets. It's delicious, and I always overeat when I notice it ... When I'm not satisfied, I sometimes make and eat cookies and cakes.

4.

Sunset looks amazing, doesn't it

Original photo by Yukiko Takei

Yukiko - I have either class or group meeting for the class from 5 pm since 10 am in CET. It took pretty much time to get used to living in this time cycle, but now I become used to it. I really like to have a meeting around this time and make sure what I need to do by that time (disclaimer: I cannot get used to taking a class until 10 pm, though, and it's impossible to do in my opinion). I take my dog walk around this time, too, and that's one of my relaxing time and refreshing ideas and thoughts in my brain.

Aoka - Free time begins after class! It depends on the day, but I usually have a relaxing time. At this time, I also do assignments and research for presentations. Here are some tips for relaxing and tackling tasks. Online classes, online meetings, writing reports ... You may have a headache if you keep looking at the screen. In such a case, it is recommended to heal with your favorite scents such as aroma, oil, and hand cream! Surprisingly calms your mind. It is also recommended to work on the task while listening to the type of music called "lofi hip-hop." It has no lyrics and has a calm tone that helps you focus on your studies. 

Ops, there are no ingredients for dinner! I need to go to the grocery store. I do like shopping for food because most of the time I'm thinking about what to make and eat, so it takes me lots of time to choose and buy.  Cooking with friends in the dorm in the kitchen is one of my favorite times. It's exciting to see everyone's making process and learn about different regions and countries' cuisine and culture! 

Original photo by Yukiko takei

Yukiko - I don't have any fancy night routine but just the normal one (eating dinner with my family and chilling out by watching K dramas or youtube), but when I felt exhausted, I usually take a long bath. One worthy product from DAISO is a waterproof Bluetooth speaker (it actually cost around 500 yen, which is way expensive in DAISO but outstanding quality for that price). I really love to spend my time in a bathtub while listening to relaxing music with it.

Aoka - After eating dinner, although sometimes I am busy with assignments and meetings, I enjoy watching movies with my friends, go to public baths, and take a walk outside. I feel so comfortable about dorm life because everyone enjoys spending time together while respecting each other's way of life.

After having a good time together, I often go to bed and watch YouTube, listening to the radio, or reading a book. Especially recommended YouTubers are "mocha," "Ichininmae Shokudo," and "Haruka Kuriyama." Since I'm interested in cooking and nature, I like watching videos about delicious cuisine and a sustainable lifestyle (which makes me so hungry at midnight). Suppose you feel tired about being exposed to blue light and cannot sleep comfortably. In that case, it is recommended to sleep while listening to the radio or podcasts! You can fall asleep while being healed.
Yukiko & Aoka- Basically, that's my normal day! Our life really gets affected by the covid, but somehow we find ways to enjoy even in this situation!