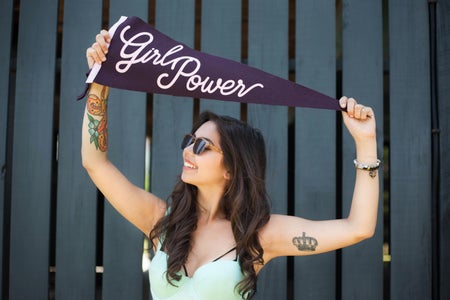 Kristen Bryant / Her Campus
Grammys 2020: How Women Ruled the Show
The 62nd Grammy Awards aired recently, and it was a crazy show full of performances, stars, and tributes. Although an awards show like this can get a bit boring at times, this year's Grammys was a sign of something greater happening- the fact that women are becoming leaders and trailblazers in the music industry.  
Starting off with some of the nominations, many of the categories were dominated by women.  Take a look at album of the year, for example; the nominees included Billie Eilish, Lizzo, Lana Del Rey, Ariana Grande and H.E.R. Not only is it a category with women taking more than half of the nominations, the artists are also very different from each other.  Taking a look at the song of the year category, every nominee is a woman except for one. This is a pattern present through many of the other award categories.  
Regarding the performances, the female musicians had some memorable moments. Lizzo opened the show with a mashup of two of her hits, including her signature flute. Meanwhile, Demi Lovato came back to the show with a power performance, her first live one in two years, and Billie Eilish stunned the audience with a simple yet impressive rendition of "When the Party's Over." Other standouts to me include H.E .R, Camila Cabello, and Ariana Grande.  
Women took home a lot of the awards during the night too. Billie Eilish was the big winner, with awards in the four major categories (best album, record, song, and new artist). Lizzo also took home three awards.  
Although we may think that this time should have come long ago, this is an important moment in the award show's history. Just two years ago, women were told they needed to "step up" if they wanted the same recognition that male musicians are getting after many women were shut out from even being nominated. Now, women are finally being recognized for the unique experiences and perspectives that they are offering in their music.  This is not to say that there is still a long way to go-many other categories are still dominated by men, such as R&B and hip-hop. However, there are big movements being made towards general diversity at the Grammys, such as the fame of genre-blending artist Lil  Nas X. With this kind of change, it is obvious that women will be further embraced by the music industry  in the future.  
Recently, Elton John said that "[ T]he girls are leading the way. They're writing about their life. That's what moves me." (Rolling Stone, "Musicians on Musicians: Elton John and Lana Del Rey, Oct. 24 2019 ). If anything, these year's Grammys are a sign that John was right, and that the music industry should be looking towards women if they want to find the next big hit.