How You Can Help Disney Cast Members After Massive Layoffs
Since March 0f 2020, Disneyland and other theme parks around the world have closed due to the pandemic. Although some theme parks have opened, Disneyland in California has had to remain closed due to the amount of cases in California. In the past year, the Walt Disney Company has laid off 28,000 of their employees, also known as cast members, from Disneyland park and Walt Disney World
In a statement by Josh D'Amaro, who is the chairman of Disney Parks, it was stated that due to the effects the pandemic has had on Disney's business, including the increased physical distancing requirements in California that have prevented reopening, on top of the uncertainty of the duration of the pandemic, the Disney company has had to start reducing their workforce at all levels. The company stated that 28,000 cast members are affected by these massive layoffs, most of which are entertainment cast members, part-time cast members and full-time cast members. These layoffs were effective immediately.
The purpose of this article is to inform how you can help these cast members affected by these layoffs.
There are many resources available for the cast members that have been laid off from the Disney company. Many organizations are accepting food and monetary donations to provide for cast members affected by the layoffs.
One organization is called the Cast Member Pantry. The Cast Member Pantry was started by a furloughed Walt Disney World cast member. This organization's goal is to provide bags of groceries to laid-off cast members in need. The cast member pantry has already helped thousands of laid-off cast members by providing weekly bags of groceries. For those looking to get involved and help laid-off cast members with the Cast Member Pantry, volunteer shifts are available. In these shifts, you can expect to pack the grocery bags and hand them out. There are a huge need for food donations, especially canned and nonperishable items. Those looking to donate food can donate at the Cast Member Pantry's Amazon wish list. Monetary donations are also being collected at the Cast Member Pantry's Venmo.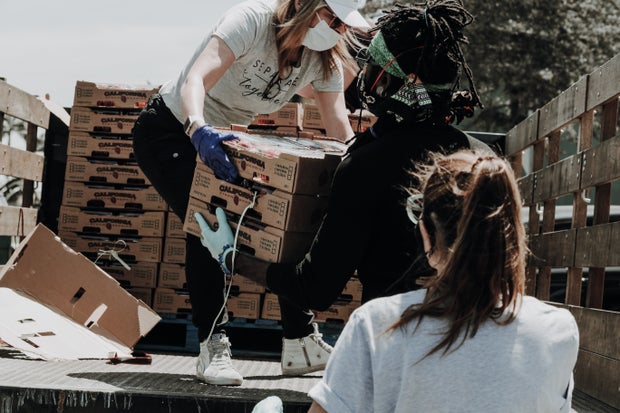 Photo by Joel Muniz from Unsplash
Another organization that is aimed towards helping cast members and their pets is called the WDW Cast Member and Hospitality Pets in Need. This charitable organization's goal is to assist furloughed cast members with providing pet food to those that need it. Pet food donations are being accepted at the WDW Cast member and Hospitality Pets in Need Facebook group.
Perhaps the most direct way to help out laid-off cast members is to consider supporting and purchasing items or services from those with small businesses. A list of links has been compiled of hundreds of laid-off cast members with small businesses. The links to these small businesses can be found in the google sheets titled "Laid off and Furloughed CM Support Sheet".
If you are able, please consider helping laid-off cast members in any way that you can. You can help by volunteering your time or donating to the charitable organizations and small businesses that are mentioned previously. Cast members have provided us with so much joy, so now it's our turn to return the favor.