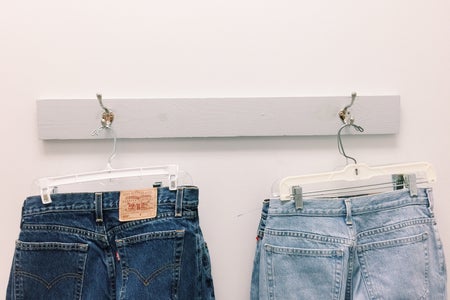 Celina Timmerman / Her Campus
The Issue of Stretch in Denim
My Denim Conundrum 
This past fall season I found myself growing tired of the ultra-tight skinny jean look that's been lingering around since middle school. I can remember slipping back into my jeggings after gym class all too well, which makes me wonder why I haven't strayed from this style of pant since pre-pubescence. As fall began to roll around this year, the silhouette of the skinny jean began to utterly bore me. I had been seeing it on everyone, everywhere, for quite some time now. Not to mention that the stretchy fabric and tight fit began to resemble the leggings I wore to yoga class a bit too closely for comfort. After some thought, I vowed to venture out into new styles of pants and toss my skinny jeans into the donate pile. 
During the warmer months of autumn I gravitated towards wide-leg silk pants, paper bag style cargos, and even opted for some classic work-wear style trousers. But, as it grew colder, I found myself reaching for a trusty pair of jeans that I had yet to incorporate back into my wardrobe. My denim epiphany took place when I tried on a pair of vintage Lee jeans in a thrift store. These jeans fit me like a glove. They were a medium wash with a high waist that made my butt look good. There was absolutely no stretch to these jeans and they had been worn in to perfection by their previous owner. Right there, in the dingy, dark, weird-smelling dressing room of that Parisian thrift store, I saw the light. There was no way I could ever go back to the life of stretch denim that I had been living before. 
Our Jeans and Our Planet
Not only did I begin to collect more pairs of 100% cotton, vintage denim but I also learned that my decision to stop buying new pairs of stretch denim was a sustainable one. Not only is shopping second-hand better for the environment, but the fabrics of the clothes we shop for also matter. Natural fibers like cotton are biodegradable. Synthetic fibers like spandex and lycra, which are found in the fabric of most stretch denim along with other plastics and microplastics, significantly resist biodegradation. With the fashion industry being one of the most polluting industries in the world, it's important to realize the massive impact that our garments have on the environment. Thinking about how many years clothes have been being mass-produced for, makes me think of all the garments that already exist in the world. All the existing pieces of clothing being sold in vintage shops and thrift stores, both of which now exist on and offline, making it easier than ever to buy pre-owned clothing.
There are currently a few designers and retailers working to create new fabric technology that allows their stretch denim fabric to have a low impact on the environment. One of these designers is Stella McCartney, known for her highly successful vegetarian brand and her advocacy for change within the fashion industry to move toward more sustainable practices. The brand is currently working with Candiani Denim, an Italian fabric mill known for creating the world's finest and "greenest" denim in the world. Candiani has their own line of denim but also lends their unique fabric technology to designers like McCartney and Hugo Boss. The Candiani Denim fabric differs from commercial stretch denim fabrics as it uses 100% cotton fabric wrapped around a natural rubber core. This allows the fabric to keep its stretch and resistance qualities while maintaining its biodegradability. Now, I'm not going to sit here and pretend like buying Stella McCartney jeans straight off the runway is an option for a college girl on a budget, so I'm going to share my secrets for finding the best pre-owned denim on a budget.
Finding Your Perfect Pair
There are existing brands that have been producing sustainable denim for some time like Reformation and J Brand that you can purchase a new pair of jeans from, but even those can be pretty pricey as more goes into their responsible production. That is why I recommend searching through second-hand denim before blowing a paycheck on a new pair of pants. I always encourage people to go to a vintage or thrift store and actually try the jeans on in person. I know that trying on jeans can be tedious, and sifting through racks of old clothes doesn't sound glamorous, but finding the perfect pair will make it all worth it. Once you do find a pair you like, try looking for more pairs of the same brand and in the same or similar fits. If the fit is perfect, all you need to do is search for the same garment in different washes. I find that searching online on places like Ebay and Poshmark are key once you find your preferred brand and fit. You can search for exactly what you want and sellers usually list measurements in the description of the item, that way you can ensure that they will fit before you buy them. 
Another tip is to take a look in your parents' closet, I especially recommend looking through your dad's things in the search for good denim as more women's denim typically contains stretch fabrics as silhouettes tend to be tighter. I was lucky enough to find an old pair of Lee jeans in my dad's closet that had just been collecting dust. They were almost identical in fit to my other jeans, just in a lighter wash. My last tip is to not be discouraged by an almost-perfect fitting pair of jeans or jeans that aren't in perfect condition. Whether the pant legs are too long, one of the back pockets is falling off, a button is missing, the zipper is broken, the waist needs tweaking… whatever it is, I promise you that a tailor can repair it and you can leave with your new favorite pair of jeans. 
At the end of the day, it's most important to acknowledge that a lot of resources go into the production of garments and we can be making style choices, like the switch to vintage or 100% cotton denim, that help out our environment. I know that not everyone shares the same sentiment for clothing that I do, but nonetheless I encourage you to look at your clothes with a new sense of consciousness and hopefully the motivation to go and find yourself a badass pair of jeans. Good luck and happy shopping!