Winston Walker is one of my closest friends from high school and is also genuinely one of the most talented, creative and dedicated people I've ever met. He's majoring in Integrated Public Relations and Advertising and for years has been planning a TV show. I sat down to ask him a couple of questions about his show and the process before he makes it big because I know that one day he will.
HerCampus (HC): Tell us a bit about yourself.
Winston Walker (WW): I'm Winston. I'm an only child, so obviously I have always had to make stuff up to have an enjoyable time at home.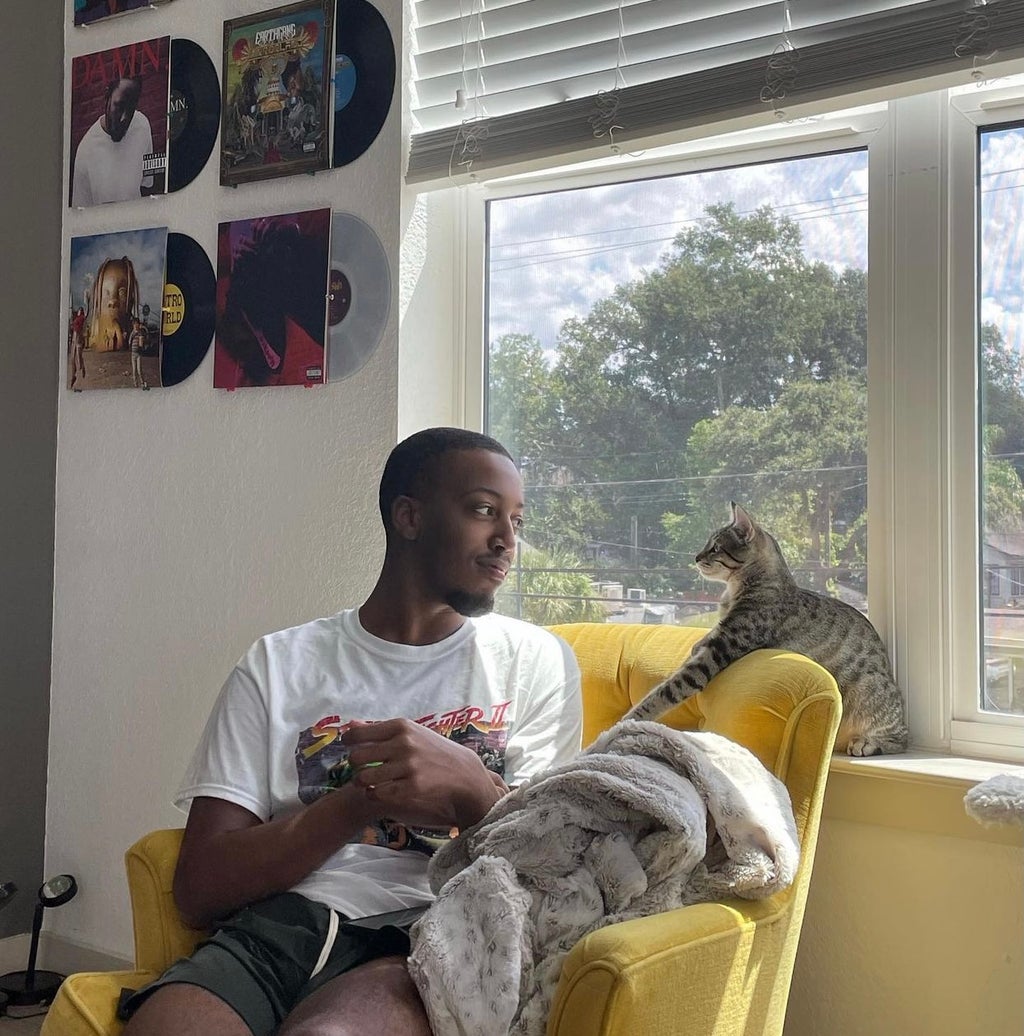 HC: Tell us a little bit about the show itself.
WW: Black to the Future is pretty much about having to accept the past. Even with time travel, you can't really run away from it. Life always moves on, and it can be hard sometimes. That's pretty much what shaped it for me.
HC: Are you going to implement serious conversations and topics into a show that's supposed to be comedic?
WW: I always want to include tough topics in the show. I feel like the best way to deal with any tough topic is to joke about it. I want to talk about black history, how rough it was for people just to be black, and I do that by introducing a completely fictional organization called the BlacKKK. I also talk about depression in the show, and a lot of characters deal with having relationships where they care about a character more than that character cares about them. Some of those topics won't be dealt with in the lightest of ways, but comedy will be included to help the situations.
HC: How did the idea start and what was your inspiration?
WW: It started when I was in eighth grade. I was addicted to anything the Wayans created. I had also watched Back to the Future for the first time. So naturally, as any eighth grader would, I tell myself I'm going to make a movie called Black to the Future. You can imagine how upset I was when I watched Don't Be a Menace to South Central While Drinking Your Juice in the Hood and saw the fake billboard for Black to the Future in the background.
It also originated with a completely different storyline, where the time travelers save Tupac from dying and he becomes president in the future. Since then, I've made a new storyline, following a scientist, his intern and the timeline-consuming robot that they find in the 1920s. No longer is it a movie either, but a three-season animated show.
HC: What are your plans for the show?
WW: The plans for the show are kind of unclear right now. I'm trying to learn how to animate now so I can make some sort of trailer for it to show production companies. So far, it's not going well, so I have been looking for a partner to help create my vision. But outside of that, I want it to be available on some streaming platform, that way a lot more people will be able to watch the show.
HC: Can you describe your thought process while writing?
WW: The thought process while writing is kind of like thinking about my days, using things that influenced me throughout that day. For example, I made Spiritual Airlines in the show after all the trouble Spirit was going through in the news a couple of years ago. I also live next to a palm reader and I was thinking about how they stay in business when I never see any cars there. Then I saw a sign that said that they do readings over the phone. From there, I thought of a scene where the robot I mentioned before is trying to buy a plane ticket at the airport and the lady keeps offering him better palm reading packages if he moved to a different class on the plane. In the end, the lady takes a call, interrupting the process, and does a reading right there over the phone. Stuff like that, I always just take inspiration from my surroundings.
HC: Is there anything else you'd like to add?
WW: If you want to work on a show with me, let me know I really need a digital artist's help.
Follow Winston's on Instagram at winstondw and Twitter at cultofwintology.
Want to see more HCFSU? Be sure to like us on Facebook and follow us on Instagram, Twitter, TikTok, YouTube and Pinterest!