What to Expect When You Watch Disney's Live-Action Mulan
It's no secret Disney has been busy in the film department these past couple of years. With live-action films such as The Lion King, Aladdin, Dumbo, and Lady and the Tramp recently released, it's hard to tell what's next for Disney in the film business.
In July of 2019, a teaser trailer was released for the live-action film of Mulan. Not much seemed different from the original, but many were very excited after waiting almost three years since the film was postponed. On Dec. 5, 2019, the official trailer for Mulan was released on all social media platforms. Right off the bat, viewers knew this version would not be identical to the original animated film. It was quite a shock for many, especially since live-action films like The Lion King and Beauty and the Beast stood pretty similar to the original script.
One of the differences spotted by fans after watching the trailer is the absence of Mulan's love interest in the original animated film, Li Shang. According to BBC's NewsRound, a news magazine keeping young viewers up to date with the latest stories, Li Shang will be replaced by Chen Honghui, a rival to Mulan, played by Yosan Ann. Chen Honghui is said to take a romantic interest in Mulan once her true identity is revealed to all. Many mixed feelings have been surfaced about this change, but there is an even bigger difference that has upset many fans of the Mulan franchise.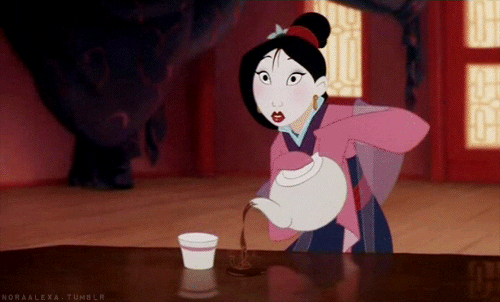 The original animated film of Mulan is not only known for its unique story, but also for its music. The soundtrack won 7 Grammy Awards in 1999 including the Grammy Award for Best Soundtrack Album or Recording of Original Cast from a Motion Picture or Television. When word got out that the live-action version would not be portrayed in a musical aspect, many were disappointed and wondered if this new version deserved all the hype. However, according to DisInsider, a website that releases exclusive Disney news, a source who reportedly saw an early screening of the film shared more about this big change. According to the source, songs from the original animated film are in the live-action. However, they are not performed by the actors, the report states the songs will all be instrumental throughout the film.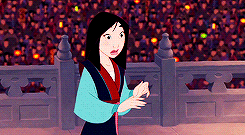 Some changes were present in the trailer such as Mulan's sibling. In the animated film, Mulan is an only child. In the live-action version, Mulan has a sister. Fans were happy to see more family dynamics that would be present on screen due to this new change. In addition, the famous Mushu will not make an appearance. According to the same source from DisInsider, the humorous dragon will be replaced by a phoenix. One can imagine the disappointment when fans heard of the news.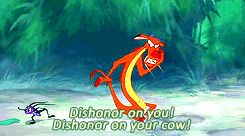 Although there are many major differences in the new film, Mulan is expected to be full of sacrifice, action, and love. Be sure to see it at a theater near you on Mar. 27.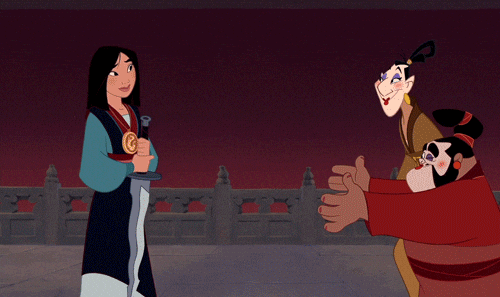 All gifs courtesy of Giphy.
Want to see more HCFSU? Be sure to like us on Facebook and follow us on Instagram, Twitter and Pinterest!