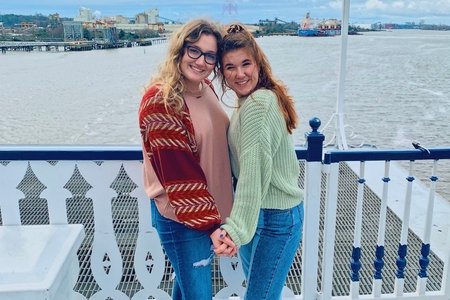 A Week in the Life of a Sorority Girl: Let's Take a Trip to Savannah, GA!
Let me start off by introducing myself. My name is Lindsay and I am a part of the Alpha Gamma Delta chapter at Florida State University. Being in a sorority definitely has been the highlight of my Freshman year, and I can't wait for you all to read my stories!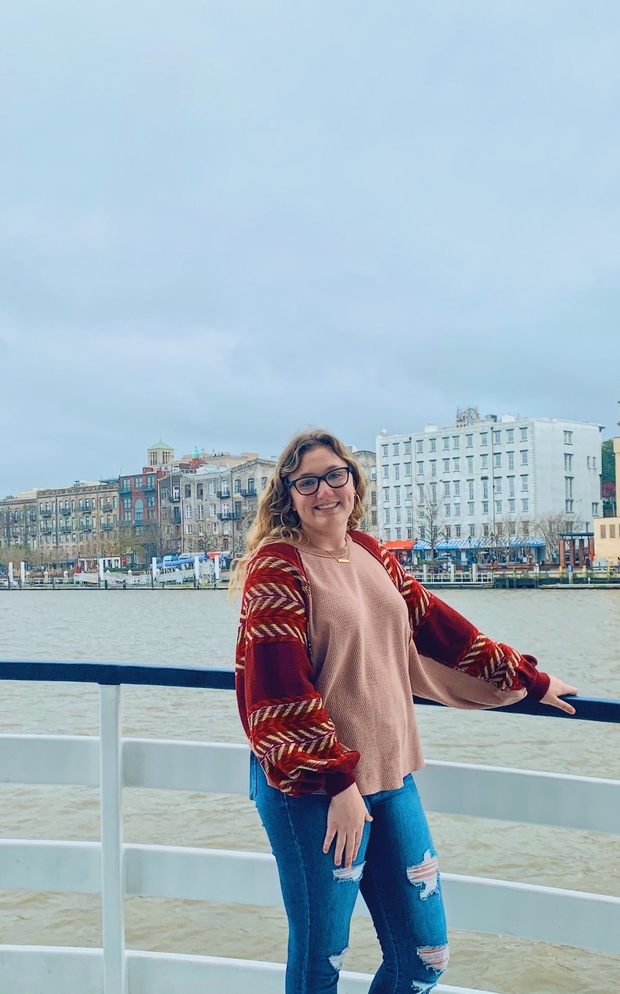 Let's flash back to a couple of weeks ago to a super tall, kind of ditsy girl waiting to get on the ferry to cross the river from her hotel to the city of Savannah. Not only was she running on very little sleep but was also raging in hunger. And for some (very odd) reason, she was secretly hoping that this ferry would somehow be swooped up by superman and flown to the nearest Chick-Fil-A.
Unfortunately, that didn't happen. How would I know, you ask? Well... that girl is me!
That ferry ride did go fast and in almost no time, I was already strutting the streets of Savannah right up to the nearest chicken place with two of my sorority sisters by my side. The infamous restaurant had a southern, rustic feel to it. It almost felt like a hometown Cracker Barrel but trade every food for fried chicken. I mean, I don't exactly remember what the restaurant was called, but a group of women does get a lot of stares from men at that bar!
Anyway, we were seated, and our order was taken in no time. I ordered only what I thought would fit my southern tourist self; hushpuppies and fried chicken. It was extremely delicious, but most likely added four pounds of growing fat to my body. So, I only did what I thought was best: try and walk it off until I got to the next ice cream shop. 
The ice cream I got in that shop was glowing heaven (literally, I took a picture of it and the sun glowed off of it). The cone was dipped in chocolate, covered in Oreos and topped with the best ice cream there is… cake batter. It was so delicious, and I took my precious time to savor that thing up. That short encounter of food was the second-place highlight of my day.
But here is the first.
On every sisterhood retreat for a sorority, you are required to participate in something called programming. These programming sessions are important to each chapter because they allow sisters to get closer to one another. Each session of programming did exactly that.
I don't want to describe all the events. Otherwise, we would be here all night, but let me tell you one that was extremely special: compliment bags. Our event coordinator explained that we would each decorate a bag and then write a compliment to one of our sisters based on the prompt she gave us. At the end of the week, we would receive the bag and the compliments inside.
When I received my compliments, I really realized how much I loved my sorority (even more than food, which is a little surprising). Each compliment gave me a new perspective on the 'why' in my life. Kind words and words of encouragement filled each page causing me to almost cry multiple times. Reading each one gave me a warm, fuzzy feeling inside. I felt so confident and so loved by so many women. 
Joining a sorority, I never felt like I would sincerely belong. I felt that I was just joining another club to keep my time busy. In all honesty, that was not the case. I truly met some women who encourage me to be a better person and love me in my ups and downs. Whenever I am struggling, there is always someone right there ready to help me get back up on my feet. In my five months I have been a part of the chapter, I couldn't have seen myself anywhere else. 
Want to see more HCFSU? Be sure to like us on Facebook and follow us on Instagram, Twitter and Pinterest!