The Garnet and Gold Guys are a game day tradition that may look a little odd but have planted its roots in the hearts of all Seminole fans alike. A tradition that began when two Florida State students and members of the Baptist Collegiate Ministry (BCM), Josh White and Kevin Fulmer, found a new way to express their love for football and boost the crowd's energy back at the home opener game against Duke in 1998. Their creativity sparked a tradition that has been passed down through members of the BCM ever since and provides a perfect picture moment to have as a game day keepsake.
Her Campus (HC): What is the process of becoming the Garnet and Gold guys?
Garnet: When the guys who are doing it graduate they pick two other guys from the BCM for the position. We were asked to do it this year from the guys last year since they both were graduating. You can turn the offer down, but obviously, we were not going to do that. It has been going on since 1998 and has become a football game tradition and was something that I wanted to be a part of when I got asked.
HC: How do you get ready for the games?
Gold: The process obviously involves paint and glitter, but other than that, we aren't allowed to say—blood oath.
HC: How does it feel being covered in glitter and paint?
Gold: Imagine being covered in sand, then wearing a mask with sand on your face and then trying to breathe. It feels like there is sand everywhere. There are no places that the glitter won't reach.
Garnet: It is also very exfoliating. My skin is very smooth afterward, but also really dry. Everything is ashy.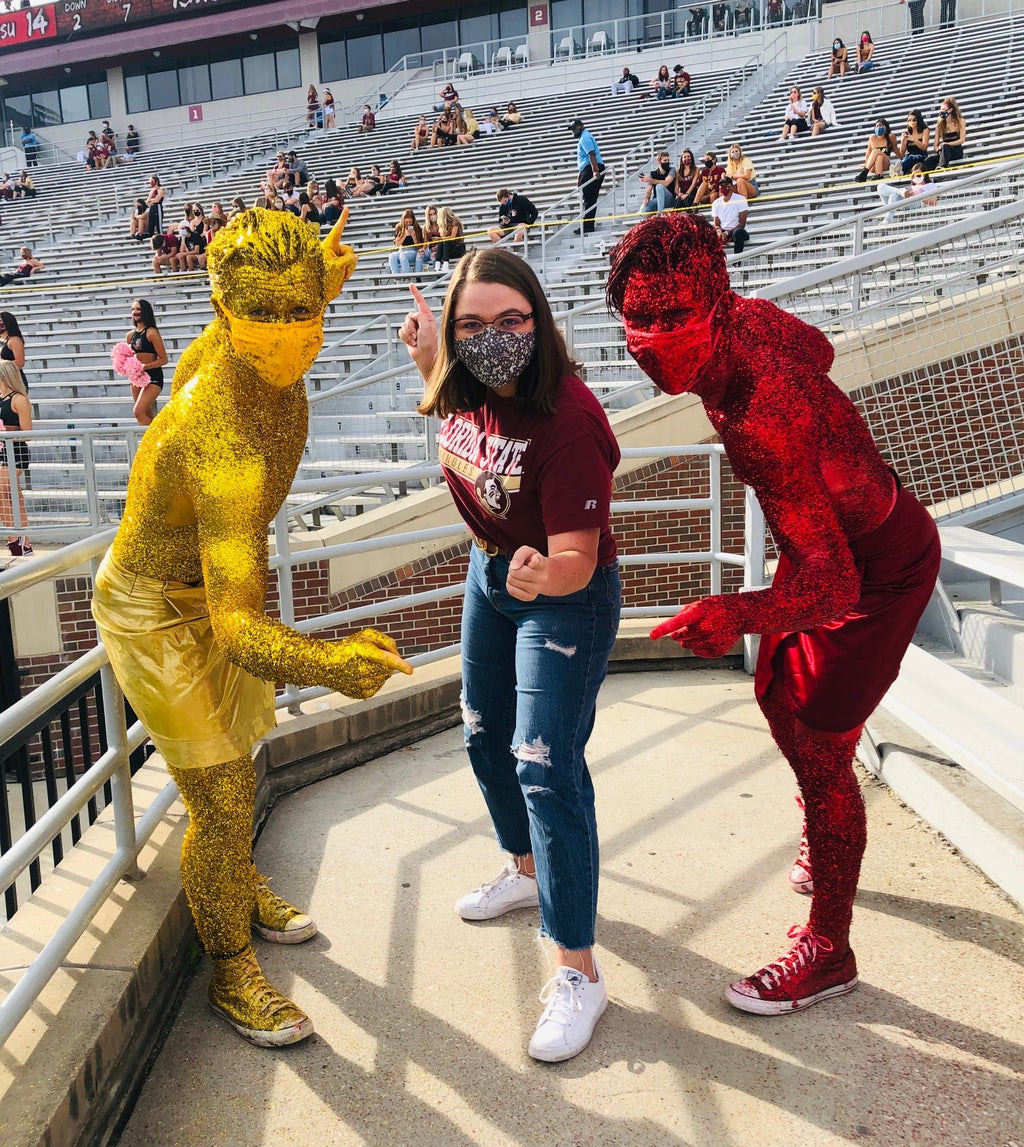 HC: How is the removal process? What is the best way to get rid of everything?
Gold: Long, sad showers. But after the game, phase one of clean up actually happens at the BCM.
Garnet: We hose off outside using Dawn soap, which works wonders.
Gold: The rest of the cleaning up is done at home, and a comb is usually necessary to get the glitter out of the hair. Then the process usually goes into the next several days, just trying to get the paint off. We definitely have paint lines from where our compression shorts are.
HC: So, the next day, are you different colors for a little while?
Gold: Maybe a shade.
Garnet: Yeah, so he favors jaundice, and I favor a bad sunburn. 
HC: What made you want to become these FSU icons?
Garnet: We were both a little hesitant at first, but the fact that we are both graduating this year meant it was the last chance for us to do it. It is a cool tradition to be a part of, and I'm glad that we're doing it now.
HC: Is there any training that you have to go through?
Gold: We had a sit-down session with the previous guys, and they filled us in on what to do, what not to do and what to wear. For instance, as the Gold Guy, I have to wear clear nail polish because that helps prevent the yellow from staining my nails. 
Garnet: We also did a walk through at the stadium. They showed us where to park the bike, where to enter and stand during the game. They tell us what we have to do during the game, and then we change it a bit to fit our personalities.
HC: What were your first memories of the Garnet and Gold Guys?
Garnet: My grandpa has been a season ticket holder since 1973, and I've been going to games since I was four years old. Since I was little, we would always go and say "hey" to the guys. We used to joke around saying that I would become one of them. I would say that I would never do it, and now here I am.
HC: How are you still keeping the spirits up during these socially distant times?
Gold: Just by being happy, I don't know how better to say that. The goal is to exude school spirit, and we try to do that no matter what—no matter the masks, social distance or limited student section. The goal is to make people smile.
Garnet: A smile is all we want, that's why we're there.
Next time you attend a home football game, stop by and get a picture with the Garnet and Gold Guys! Make sure to check them out and give them a follow on Instagram @garnetandgoldguys!
Want to see more HCFSU? Be sure to like us on Facebook and follow us on Instagram, Twitter, TikTok and Pinterest!