Tallahassee's Favorite Influencer: Marina Hane
As anyone with Instagram can attest, influencers are at the forefront of a new, different celebrity culture. These users curate their feeds with impeccable taste and give their audiences a look into the behind-the-scenes of their lives. With brand deals and collaborations, influencers are shaping a new path between companies and their audiences. Among these influencers, stands who I consider to be both Tallahassee's and FSU's favorite influencer, Marina Hane, otherwise known as @hiphane. With her effortlessly cool style and a feed that could rival the KarJenners, Marina is part of the culture that's changing the world as we know it. I recently got the opportunity to speak with her about her rise to influencer status, her hobbies outside of social media, and even about her big plans for the future.
When Instagram came out in 2010, Hane felt an instant connection to the platform. "It was a place I could express myself creatively and freely. I've always loved photography and modeling, so I saw Instagram as an opportunity to do both." But as with anything, building an audience takes time. Hane took the initiative to start her platform, "In my freshman year of high school, I started to go around my local retail stores and would ask if they wanted to do a collaboration and my platform grew from there." Since her start on Instagram, she's amassed a following of over 50,000 people. Her brand collaborations span from local boutiques like Tally + Fin to worldwide brands, like Boohoo and Princess Polly. As an influencer, brand collaborations are only a portion of what Hane does, she is her own brand and her following comes from sharing her life with her audience. "Being my own brand is really cool, I get to market and manage myself in my own creative way. I maintain my brand by pushing and putting myself out there. I post frequently and try to keep up with the latest trends." Outside of brand collaborations and sponsored posts, Hane wants to connect with her audience on a deeper level, past the glamor of being a public figure. "I want people to feel inspired and feel the realness of my page. I am a human that has flaws and while social media can make my life seem perfect, I try to show my everyday normal college life alongside my sponsored ads."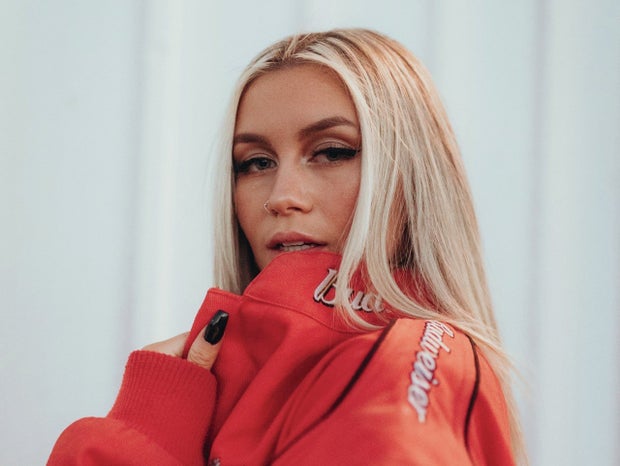 Photo by Katherine Kirk
As someone who built her own platform from the ground up, Hane does have advice for anyone aspiring to grow their Instagram. "You have to put in the effort, be confident and always put yourself out there. I started my brand by contacting companies that I thought would be within my reach, I would make sure I was on top of posting the most high-quality content. That's a key element to growing your brand." Instagram can be a hard platform to catch a lucky break on, with constantly changing updates and an algorithm that no one can quite crack, but Hane has great advice for that as well, "Focus on what you want your brand to be and go from there. Once you establish the purpose of your Instagram, you can then reach out to companies that share your interest and help build your profile." When scrolling through Hane's Instagram, it's very clear that her focus is on her trendy but very chic style and showing that under all, she's a college girl making her way through life.
However, with such a spotlight, there are some unexpected side effects. Hane says, "Since I've built my brand, people will come up to me and ask, "Are you @hiphane?" Sometimes, I don't how to react, I don't of myself as being *known* like that." Even as an influencer, Hane isn't immune to overthinking or staring at a picture for too long. "I feel like Instagram consumes my life. Sometimes I want to cleanse myself from social media and I really can't do that. I also find myself caring too much about what I look like and how my posts look than I want to." Sometimes, it can seem like influencers are uber-cool people with seemingly no worries and wildly luxurious lives, but Hane opened up about managing herself a brand while being a college student.
"Honestly, it's tough. I am a very busy and motivated person, so I have tendencies to do so much because I feel like I can handle all of it. I take 5 classes a semester, work on the Executive Council of my sorority, have a part-time job and work as an influencer." It's clear that Hane has a lot on her plate, but she's very big on keeping a calendar and working on time management. "I have to keep track of my collaborations, the outfits I put together when I've received a package, when I need to take pictures and when I need to post. Doing this helps me to make sure I keep track of everything and to find time in between everything else. While influencing is my creative outlet, it is like a job." Looking back, Hane does wish she could give her younger self some advice. "I wish could've told myself to not worry so much. Once you get a bigger following, it can be overwhelming in positive and negative ways. But we're all human and there's a reason people want to follow you, so just relax and keep doing what you're doing, because it's working." Even though it can seem a tad overwhelming at times, Hane is immensely grateful and humbled to have such a loving audience, and truly believes that Instagram has changed her life for the better. "My college life has changed a lot! I spend half of my time managing and planning my Instagram. I partake in a crazy amount of photoshoots and have made such great relationships with the coolest photographers around town. If it weren't for Instagram, I definitely wouldn't have the connections I do."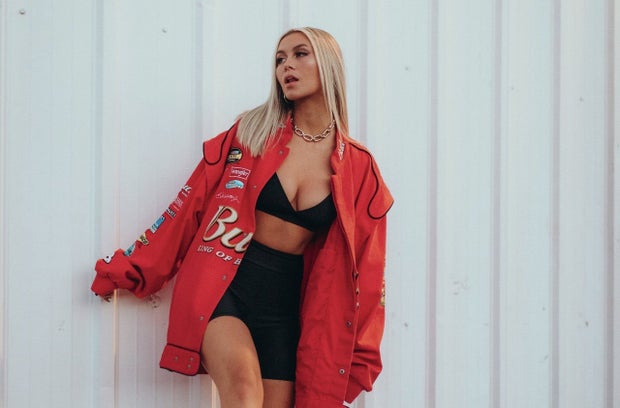 Photo by Katherine Kirk
Outside of Instagram, Hane has a wide range of interests. She's part of a sorority on campus and loves gameday, as is very evident on her feed. "I love to paint, sing, vibe to good music, thrift, eat good food, go on hikes, travel to new places, go on adventures and go to festivals all while being surrounded by my family and close friends." As an FSU student, she majors in Marketing and considers her brand as a real-world marketing experience. "I actually believe that my Instagram platform has helped me learn about the marketing world before taking my major classes. For example, my Promotional Management class is simple for me because I apply all of the concepts to the way I run my brand." Her major and her brand go hand in hand, and in the future, Hane hopes to continue influencing but is also very interested in working social media marketing for a company. "My goal is to be able to be an Influencer full-time. However, if that isn't the case, I will pursue a career in the Marketing realm to feed that part of my soul, maybe in social media marketing or management for a big company."
When asked who or what has inspired and motivated her, Hane gives credit to the following: "Some of my Instagram inspirations are @delaneychilds, @tezza, @sterlingmyers and @jessicawang. They are inspiring, confident, fashion-forward women who have made Instagram such a positive in their life and I strive to do that with mine." Her hobbies outside of Instagram also serve as a major source of inspiration and as a creative outlet for Hane. "Thrifting is also one of my inspirations, I can see an old piece of art or a used piece of clothing and feel inspired to turn it into something beautiful." Above all, Hane credits one particular person as her greatest inspiration. "This may sound cheesy, but my mom is truly my inspiration. She is one of the strongest and most passionate people I know and has helped me get to where my Instagram is today."
It's clear that Hane is a genuine, kind soul with the platform that some dream of. Her collaborations and sponsorships are effortlessly stylish and translate well into day-to-day life. When asked what's next for the @hiphane brand, Hane says, "My next move is to create a blog or write a book. Once I graduate college, I want to focus on putting my perspective out there more. So keep an eye out."
If you're interested in seeing more of Marina, you can follow her Instagram here.
Want to see more HCFSU? Be sure to like us on Facebook and follow us on Instagram, Twitter, TikTok, Youtube and Pinterest!