Terror of Tallahassee is a staple of the capital city. For over twenty years, locals have traveled here around Halloween to get in their annual scare. Those who have attended can attest to the terrifying display the actors put on every year. Their reviews on Facebook speak of a fun and spine-chilling experience.
I had the absolute pleasure of talking with Kurt Kueresteiner, the managing director behind Terror of Tallahassee, business owner, and Florida State Alumni. I reached out to him a week ago and asked if he would be interested in answering a few questions. Due to COVID-19 and social distancing, he agreed to an email interview. He was a complete delight and gave me a lot of interesting information about this spooky and sensational spot!
Her Campus (HC): So, Kurt, tell me about the origins of Terror of Tallahassee (ToT).
Kurt Kueresteiner (KK): I was a former FSU Film School graduate working in TV up in Harrisburg PA, and they had a bunch of haunted houses up there. They were a lot of fun, but I felt they could be even better, especially with all the illusions and lighting tricks I had learned at school and with my research into the traveling Spook Shows. When I returned to Tallahassee in 1999, Brian McAfee helped me convert a closed restaurant building at 2576 North Monroe and we had fun haunting there for four years. When it was demolished in 2003, I moved everything to 826 West Gaines, a much bigger location. The Terror stayed there until 2014 when it was sold and demolished. That's when we found our latest, greatest location: 1408 Lake Bradford. (Only this time we bought the building ourselves so we won't be moved again!) Each year we build on the prior year's success, and now it has grown into a regular Halloween institution.
HC: Awesome! Tell me about monsterwax.com.
KK: I started a part-time business in Film School manufacturing sci-fi and horror related trading cards. (Monsterwax.com). It was a side gig that I could work on whenever I had spare time, wherever I traveled, and it also let me utilize my scriptwriting and story-boarding skills. I thought doing a haunted house would be a fun tie-in with it because it was a seasonal business and horror-related as well. They are both a lot of fun doing and continue to complement each other.
HC: How many employees does ToT hire per year?
KK: We operate as a large community theater, with actors who come from all different walks of life to terrorize patrons, then disappear for eleven months before doing it again. Our cast runs between 25 to 40 people each season. About half of each group are "repeat offenders"—and by that, I mean they return year after year.
HC: What is your favorite part about working at ToT?
KK: I was an adjunct Instructor at Maclay and TCC back in the day. I enjoyed teaching, but always found it frustrating that they rarely remembered the material. (I felt lucky if they remembered it long enough for the test, let alone, beyond the semester!) But it's a known fact that fear and trauma help you remember things long into the future. I run into adults who excitedly recall all sorts of details about our haunts, going back 20 years! Stuff I even forgot (until they reminded me of it), and I'm the guy who first thought it up! So I'd say my favorite part is helping create dramatic memories that can last a lifetime for so many different people. The performance of our staff plays a big role in that as well, as many of those people are real characters, who also make working there a real adventure.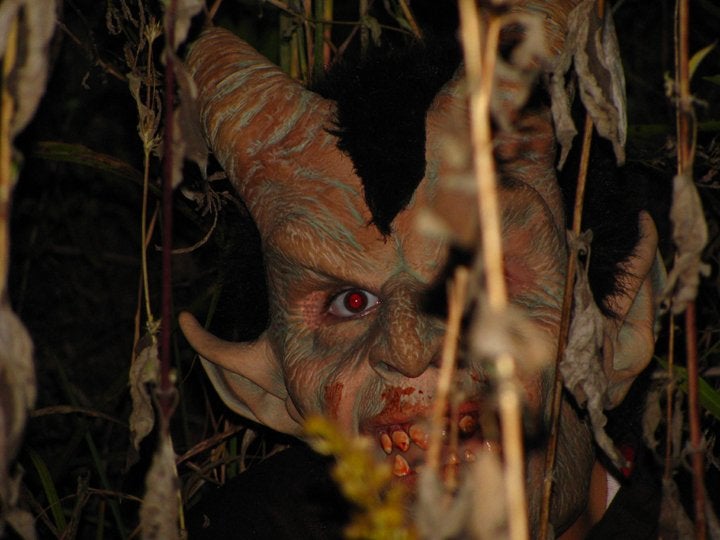 HC: How has it been reviving this capital city staple during the COVID-19 pandemic? Any pitfalls? Silver linings?  
KK: We went through and made our experience completely touch-free. We had great ventilation, to begin with (the ceilings are over 40 feet high), everyone wears breathing masks (staff and customers) and gets a temperature check before entering, plus all the sanitizing stations. We also moved the bulk of our ticket sales on-line to minimize the line and keep all groups socially distanced. Another big change is the smaller group size. Everyone is in their own group, or two very small groups (of 2 or 3 people) socially distanced. So we're turning away over half of our business this year to keep it safe—but we want everyone to stay healthy including ourselves. The plus side is that it makes each group so much smaller, that it is even MORE terrifying because they feel no safety in numbers.
Another thing we've done to work around the Pandemic is to offer a virtual experience of the haunted house. We've made a special trading card series that takes place in the haunt and features a fascinating backstory that gives all the gruesome details about this year's theme. So people who can't get a ticket this year (or are too scared to come) can still experience our frights virtually via this series. It's called Monsters & Maniacs. The campaign is running now and ends at midnight on Halloween.
HC:  What are some of the plans you have for the future of ToT?
KK: I could tell you, but then I would have to kill you. Suffice it to say, we continue to grow and make things even bigger and better. One of the great things about this kind of business is that it's only as limited as your own imagination. (So the sky's the limit!)
HC: What is the best advice you've received?
KK: Do what you love to do, and you'll never work another day in your life.
HC: Ok, now for a few Lightning Round Questions. Favorite classic movie monster?
KK: The Creature of the Black Lagoon (filmed in WillKillYa Springs!)
HC: Favorite horror movie era?  
KK: 1960s.
HC: Haunted house or cabin in the woods? 
KK: Cabin in the woods.
HC: Michael Myers or Leatherface? 
KK: Ash Williams. (I like my killers to kill the dead. But if I had to pick a murderer, I'd favor Michael Myers.)
HC: Favorite scary movie?  
KK: Curse of the Demon
HC: Finally, if 2020 was a horror movie, what would it be?
KK: Beneath the Planet of the Apes
If you want to get scared out of your mind for Halloween, check out Terror of Tallahassee at https://terroroftallahassee.com. And while you're at it, check out their Kickstarter, Monsters and Maniacs!
Want to see more HCFSU? Be sure to like us on Facebook and follow us on Instagram, Twitter, TikTok, Youtube and Pinterest!