I wouldn't say that in my life I have been the most outdoorsy kid. I kept busy, did a lot of recreational sports, but living out in the middle of the farming parts of Florida there weren't many open forests to spend the weekend in or friends who wanted to for that matter.
So, of course, when I got around to college, I did my best to put my foot in the door of getting out there, putting myself into the category of 'outdoorsy girl' no matter how hard I had to push away the city limits around me. Only a few problems popped up with that though: 1. College is expensive and so is being outside. 2. No car no go. 3. You can't exactly go camping in the wilderness for your first time all alone.
So, it took time, patience and a little bit of soul searching. I found an amazing group of people who yearned for crisp clean air as much as I do and soon enough we were splitting a huge tent built for an army battalion. Of course, after we found out about the positive correlation of hotdog consumption to the number of people on the campsite and in the tent, we aptly named the tent 'The Weiner Palace.'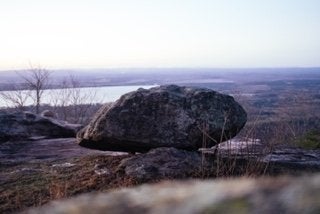 We made the plan then, grouped with our membership in the FSU Climbing Club and found our way about six hours north of here, outside of the EST timezone for the first time in my life in Sandrock, Alabama. Let's just say we did our best to prepare, but we all know what they say about best-laid plans.
Things were left at home, the tent stakes wouldn't stay in the ground, it would drop below freezing temperatures in the night, we would attempt to build a fire with wet logs and much more. Despite the numerous and bumps in the road, it was one of the best times of my life.
Not only was it my first camping trip, but as I said we were along for the trip with the climbing club and so obviously that meant we were getting our hands on some rocks. My own hands had climbed a few times in the local gym here in Tallahassee, so suddenly learning about how to scale a cliff edge in the car ride over went about as well as expected.
I did get off the ground! I only went about five feet up and that's being gracious. Still, it was exhilarating even in its meager stretch and left me wanting even more!
During the night my socks were stuffed with hand warmers, leaving burns to bother within the morning. Under three layers of clothing, a sleeping bag and two extra blankets made the nighttime manageable and in the mornings,  we warmed ourselves with the rising suns and made our sleepy way to the bathrooms. Yes, shake your heads at me, oh wise and seasoned campers, this was not the primitive camping many looks for. We needed the creature comfort of simple toilets and a working sink.
At night, of course, there was a mix of running off into the trees to sit out on quiet ledges making dumb jokes and memories with friends. When a fire was finally made on the second night, we ate nearly sixty hotdogs among the group of us.
By the time we came home, it was somber but welcomed. We were all ready to be warm, showered and to sleep somewhere that wasn't the rocky ground of The Weiner Palace. The memories will stay with me always, the pictures will last through time and by far I know this won't be the last trip with so many amazing people.
Want to see more HCFSU? Be sure to like us on Facebook and follow us on Instagram, Twitter and Pinterest!