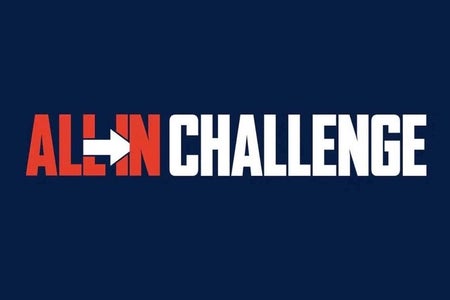 Social Media's Most Impactful Hashtag During a Pandemic
If you haven't noticed already, the world is facing a national pandemic. Lives are being flipped upside down and financial income amongst families are being drastically altered. Although the world is undergoing this crisis, people are coming together (not literally) to help others in more ways than one. The All in Challenge is a movement that is circulating through social media and has the attention of various celebrities. This challenge is now known to be the largest digital fundraiser ever and has a goal of raising $100,000,000 for coronavirus crisis relief. This fund will help provide food to those in need: kids, the elderly and frontline workers.
Almost immediately after being launched, the All in Challenge was trending on Twitter and soon flooded Instagram with the hashtag #ALLINCHALLENGE. Celebrities post videos of themselves accepting the challenge, explain what they're donating and nominate others by tagging them in their post. Tagging other celebrities challenges them to step up as well and spread the word. Magic Johnson was quick to take action as he accepted the challenge by offering to play a game of H.O.R.S.E with one lucky fan. The bidding started at $50,000 and only went up from there. Bubba Watson followed his lead and offered up a round of golf along with other sports stars offering courtside seats and even one on one hangout sessions.
What I love most about this challenge is that people that are accepting the challenge are challenging themselves to auction off the best prize yet. Once Mark Cuban, owner of the Dallas Mavericks, was challenged, he decided to go all in. Cuban is offering one lucky fan a one-day NBA contract with the Mavericks and an opportunity to suit up for a pre-season game. When he announced this incredible prize in his acceptance video, he stated that the team is going to "bring you into Dallas the day of a game, and the very first thing, we're going to sign you to an official NBA contract." The videos go onto explain that the lucky winner will get to suit up and shoot around with the entire team and will also have the opportunity to shoot some free-throws during the game while the crowd chants "M-V-P! M-V-P!" Mark Cuban has set the bar HIGH with this giveaway and I think I want it, right now.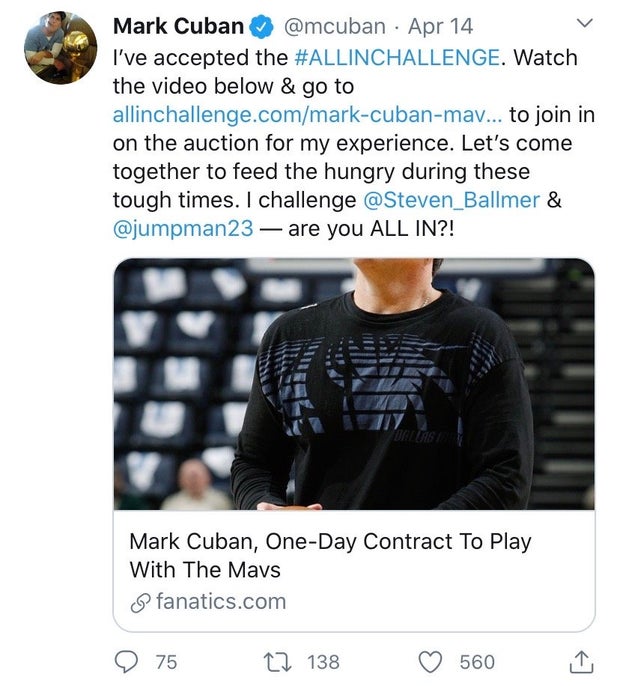 Sarah Gray
Sports legends aren't the only ones stepping up to the plate with this challenge as Rapper Meek Mill is giving away his 2018 Rolls-Royce Phantom, which is worth a nice $200,000. Justin Bieber decided he wants to show up to a lucky fan's house and serenade them with "One Less Lonely Girl" which has every fan reimagining their 2010 fantasies. To top everything off, Kevin Hart also went out with a bang and is offering up the ultimate movie start experience by offering a lucky fan with a speaking role in his next movie. If everything goes well, you might even need to get Kris Jenner to be your momager!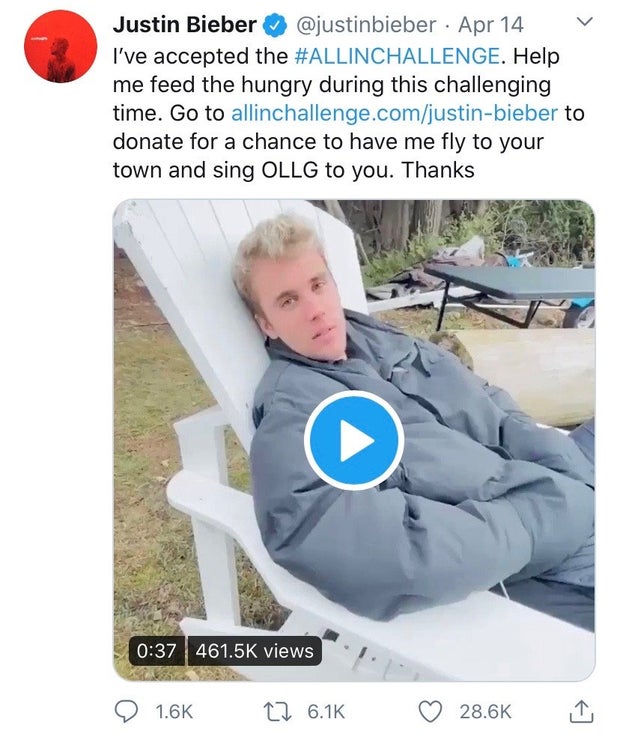 Sarah Gray
At the end of the day, these are some extremely generous and luxurious prizes that are going to make so many dreams come true. Even though theses prizes are exciting, I hope everyone can remember the real reason for the #ALLINCHALLENGE and help donate to provide food for the coronavirus pandemic because we're all in this together. 
Want to see more HCFSU? Be sure to like us on Facebook and follow us on Instagram, Twitter and Pinterest!