Everybody and I mean EVERYBODY that knows me is aware of the fact that when it comes to shopping, I literally cannot stop myself. For some reason, spending money has always been my weakness but through my extensive shopping experience, I've been able to compile a list of tips that help me save money while still feeding my addiction. 
Invest in your clothing
It may be annoying to make the initial investment in a white tee shirt or pair of jeans but I promise you that in the long run, it'll save you so much money. Start by looking at the staple items in your closet that you wear most often and make sure you're buying good quality pieces that will last you for a long time. This doesn't necessarily have to mean spending hundreds of dollars on a clothing item because everyone's budget looks different but research what brands use higher quality materials and try purchasing from them instead. Using this method not only saves you money but it also limits your consumption of fast fashion which is a habit that I've really tried to adopt recently in order to be less wasteful. This doesn't just apply to clothes, it's also a good thing to do when purchasing undergarments and accessories as well but it's really all about prioritizing what you wear the most and making an investment in it.
Some of my must-have basics:
Levi's 501 Crop
Hanes x Karla tee shirt
Nike Air Forces
Hanky Panky Underwear
Save influencer discounts
My notes app has an ever-growing list of influencer discounts that I always use at checkout to save a few dollars or get free shipping. Whether it's $5 or $20, you're still saving money! 
A few of the discounts that I frequently use:
Necessaire- SN10
Best clean body products. I swear by the lotion and body scrub but everything I've tried has been amazing.
Act and Acre- MWH20
I've talked about Melissa Wood Health workouts in past HC articles but I've yet to touch on the fact that she has insanely gorgeous hair. I used her discount code to buy Act and Acre products which she swears by and while they're pricey, I can't lie and say they aren't magical.
Lili Claspe- SIVAN15/JULIA15
My favorite jewelry brand. Everyone constantly asks me where my earrings are from and they're all from Lili Claspe. The jewelry is well priced for the quality and I love supporting a smaller, female-run business.
Hype and Vice- FSU15/GIGI15
Had to plug my own discount code because I'm not exaggerating when I say that Hype and Vice makes the ultimate game day apparel. Their stuff is seriously high quality, ethically made and cute enough that I would actually wear it on any given day regardless of if we have a game or not. 
Princess Polly- 
Pretty much any influencer who posts a Princess Polly ad will have a 20% discount for the month and this store is my go-to for fun and trendy pieces.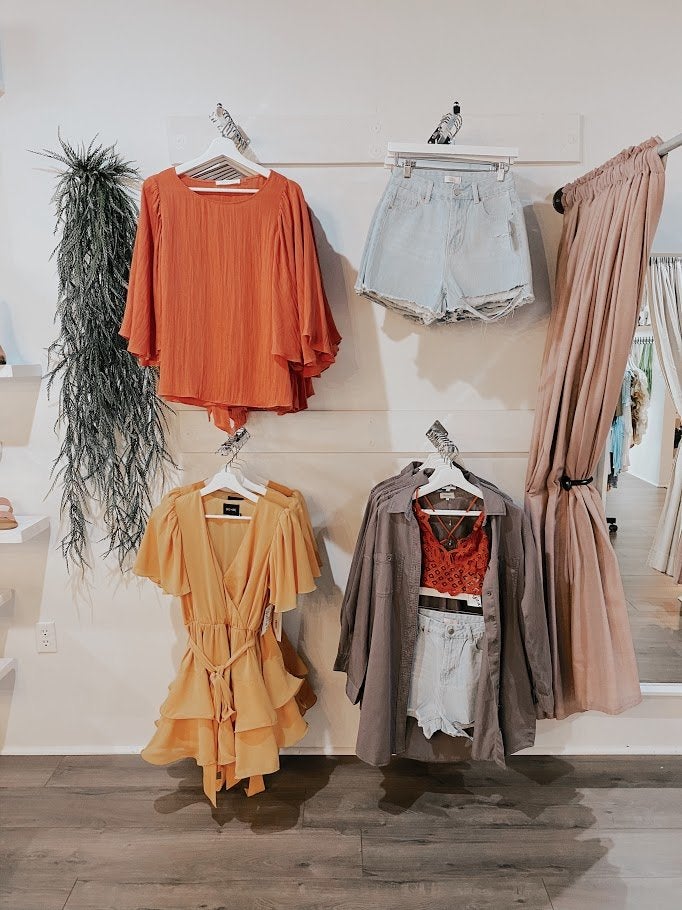 Buy travel/mini-sized products
I'm well aware that shopping a lot can be extremely wasteful so to cut down on that I always purchase makeup and the occasional skincare product in travel size. I feel like it's rare that we ever use up the entirety of our beauty products which means we're literally throwing away money. A much more cost-effective method for me is only buying full sizes of things that I absolutely love and know I will use up and then purchasing smaller sizes of everything else. Sephora has a travel size section on its website and I will pretty much always browse through there if I'm looking to try something new.
Selling/donating your clothes
This is another way to try and help reduce the waste we create by shopping so much. Depop and Poshmark are my go-to places to sell and clothing that I know I won't be wearing anymore. Not only does this help you make some money back but rather than throwing clothes away and contributing to landfills, the clothes are being passed on to someone else that will wear them. I also recommend seeing if your friends or family want anything or finding a reputable donation center in your local area.
Want to see more HCFSU? Be sure to like us on Facebook and follow us on Instagram, Twitter, TikTok and Pinterest!