Ruth Artze's Upcoming Podcast for All Things Girl-Talk
Looking for a place to spill your secrets, rant about roommate troubles or get some advice on your love life? Look no further than Ruth Artze's brand-new podcast "And that is okay." Debuting on May 4, Ruth Artze is making a space on the internet for honest conversations and heartfelt recommendations. She felt inspired to start her podcast and explained that "life is really difficult and sometimes small issues seem impossible or like they're immensely hard to navigate." She was careful not to impose rigid expectations on herself or her show, giving the podcast a chance to flourish into its own creation. Her main goal is for listeners to simply relax and have a fun time while tuning in. To her, listening to others and wanting to help soothe their issues comes naturally. The podcast has been a passion project in the making for the past year.
Artze feels that her own life experiences have allowed her to gain expertise on all different kinds of topics. It appears that nothing will be off-limits when it comes to this podcast. Viewers may listen to conversations on sh*tty exes, wild nights out, bizarre encounters, withering friendships or confusing love lives. The episodes aren't solely focused on talking out the negatives, however. Viewers may also share positive experiences and may find the "And that is okay" podcast to be a space of kindness and motivation. All participants of the show are encouraged to embellish their stories with fake names to create a level of anonymous protection. "I know there are some situations that won't lend themselves to being lighthearted, but if I can make at least a handful of listeners laugh and tune in to the next episode, I did my job," Artze explained.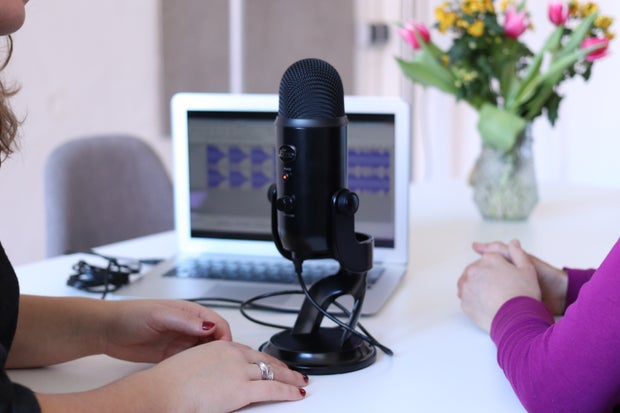 Photo by Cowomen from Unsplash The podcast will also feature special guests throughout its episodes. "My second episode is going to have a very interesting guest that we all know and love. It's like fun chaos. The Katya to my Trixie," Artze gleamed. So, stay tuned to find out who will be the first featured speaker! Though it is a mystery for which other guests may appear on the show's upcoming schedule, we can expect that their individual interests and expertise will help on whatever matters are discussed. Artze envisions the podcast as a conversation between friends. "I think it'll be a great combination of both advice, but also just vibing and telling stories about our lives," Artze affirmed.
The concept of her talk series is loosely based on the podcast, "Don't Blame Me" hosted by Meghan Rienks and Melisa D. Monts. This duo describes themselves as givers of "questionable advice from fellow works of progress." Artze also admires podcasts like "Sofía with an F" created by Sofía Franklyn. Similarly, these podcasts are all raunchy, real and the reassurance we desperately need sometimes.
If you're hoping to be featured on any upcoming episodes, there are a few ways you can contact the "And that is okay" podcast. First, you may call the phone number (305) 814-0138, or if you do not want to talk on the phone, you can send in your stories to [email protected]. You may either send in an audio file for your recording to be played on-air or can send in a written email too.
Please follow the Instagram @andthatisokaypod for more updates and additional information!
Want to see more HCFSU? Be sure to like us on Facebook and follow us on Instagram, Twitter, TikTok, Youtube and Pinterest!