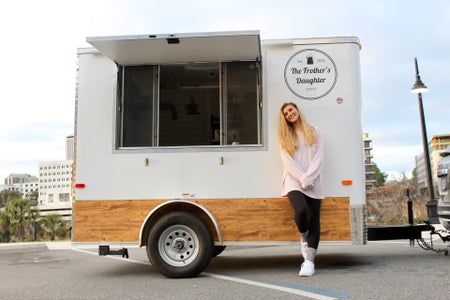 Rosalyn Chased Her Dream So You Can Chase Her Mobile Coffee Trailer, The Frother's Daughter
The Frother's Daughter has become no stranger to the streets of Tallahassee—or social media. Ever since Rosalyn Wilsey opened up her two-wheel shop in February, she has seen her business flourish both in-person and across social platforms. I had the utmost pleasure chatting with Rosalyn and learning about her mobile caffeine treats!
Her Campus (HC): Tell us a little bit about who you are, where you went to school and what you went to school for.
Rosalyn Wilsey (RW): My name is Rosalyn; I was born in Sanford, Florida and moved to Georgia before I could even speak. But it's important to know that I've always been a Florida girl. In Georgia, there is a wonderful support system backing me up: two awesome parents and a terrific older sister. A fun fact about us, all of our names begin with "R"—including the pets.
I went to school at Florida State University (Go Noles!) where I received my undergrad in 2019 for marketing along with a minor in entrepreneurship—which I like to think I am putting to good use. I chose Florida State for meteorology but quickly decided that it was not the career path for me, which may or may not be because a meteorology major requires a double minor in mathematics and physics!
HC: What inspired you to start your own small business? And why coffee?
RW: Growing up, my dad had a small pizza shop called Daddio's. I used to love helping him roll out the dough, testing my skills to see if I could be an undiscovered pizza-tossing prodigy and being the store's best, and most persistent, cookie taster.
I believe my entrepreneurial spirit began to sprout at this point in my childhood. I could host one mean lemonade stand in my neighborhood. I also grew up drinking coffee, thanks to my mom. We would spend our mornings making each other cups and she would never let me leave for school without a cup of joe in my hands.
I began to fall in love with coffee and adored going to coffee shops, swearing that one day I'd open a coffee store on the beach. When COVID hit, as unfortunate as it was, it cleared a lot of obstacles for me to begin the journey to my dream.
HC: How did you get started? And are or were there any challenges that you are overcoming or overcame?
RW: The whole process was challenging because I didn't have any knowledge about mobile concession trailers. There is a lot you don't think about when you're just beginning to entertain the idea. Where do I want it to be set up, how much is it going to cost, how to register my business with the state and the list rattles on. But the challenges are honestly what makes it all worth it. A day is never boring, with its pros and cons, but I truly cannot see myself doing anything else. I am so beyond happy to be The Frother's Daughter.
HC: Is there a particular moment or memory that stands out for you since the start of your business?
RW: So many memories come flooding my mind when I think about my business. Let's start with the not-so-good so it can end on a good note!
After waiting a whole month for it to be done, my dad and I drove from Atlanta to Ambrose, Georgia to pick up my little six by 10 trailer and take him home to Tallahassee. About one mile down the road, the trailer jumped off the hitch after hitting a bump and crashed into the back of my dad's truck. Not five minutes of me owning a business did things begin to crumble! Luckily, nothing was damaged, and we were able to get everything fixed in about 30 minutes.
A fun memory I have is the coffee tasting I hosted for a few of my friends and family a week before opening. Everyone came over to the house and I served samples of my specialty menu coffees. It felt like I was in a scene from a movie, a blissfully happy moment I wish I could frame.
One incredible moment I can frame, however, is being featured in the Newspaper! Big shoutout to Abby Cloud for writing an incredible piece that made it into the Tallahassee Democrat and FSUView & Florida Flambeau news. This town has shown me so much love in the little time I've been open, and I cannot even begin to describe my gratitude.
HC: Are there any personal aspects to the menu? How did you use your creativity to make it unique? What would you recommend to a new customer?
RW: The whole Specialty Menu has a variety of drinks that are all named after a loved one I hold near and dear to my heart. I have a weekly post on my Instagram and Facebook where I feature a drink from the Specialty Menu and give a backstory behind each beverage!
As far as creativity, I imagined what drink would embody each of my loved ones. For example, my dad's drink, The Frother, is a Diet Mountain Dew because he, ironically, does not like to drink coffee and prefers this soda for his main caffeine fix.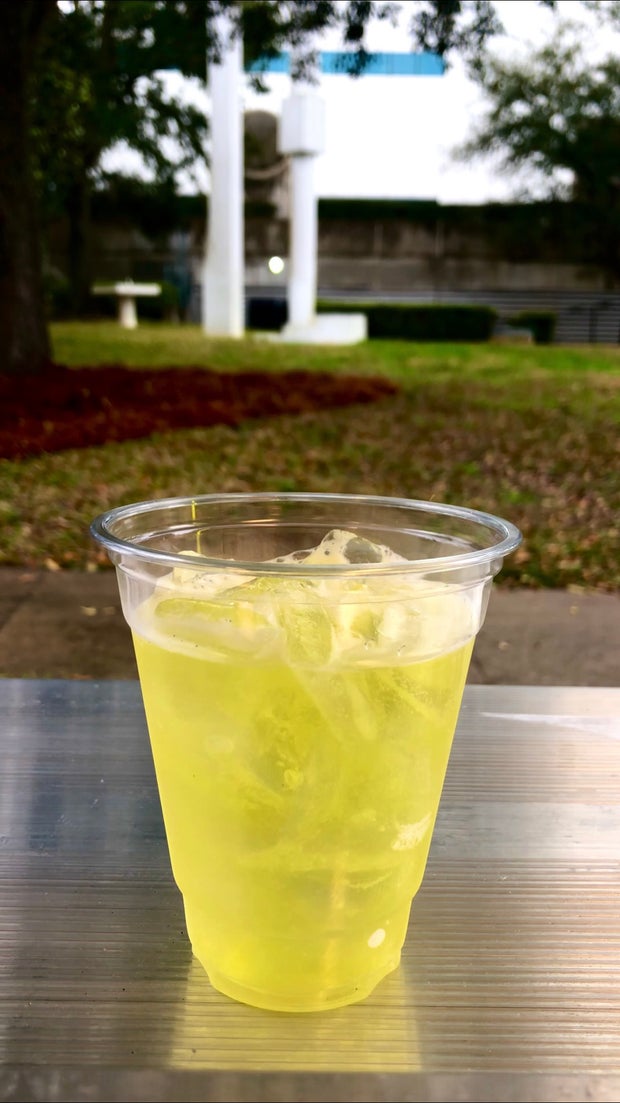 Photo by Rosalyn Wilsey
I also love to give the customers a chance to be on the menu as well. I put out a raffle for a chance to create a drink flavor and name to be featured for a few weeks on the menu! I would personally recommend The Frother's Daughter—it is a sweet caramel dream! However, I may be a tad biased considering the name.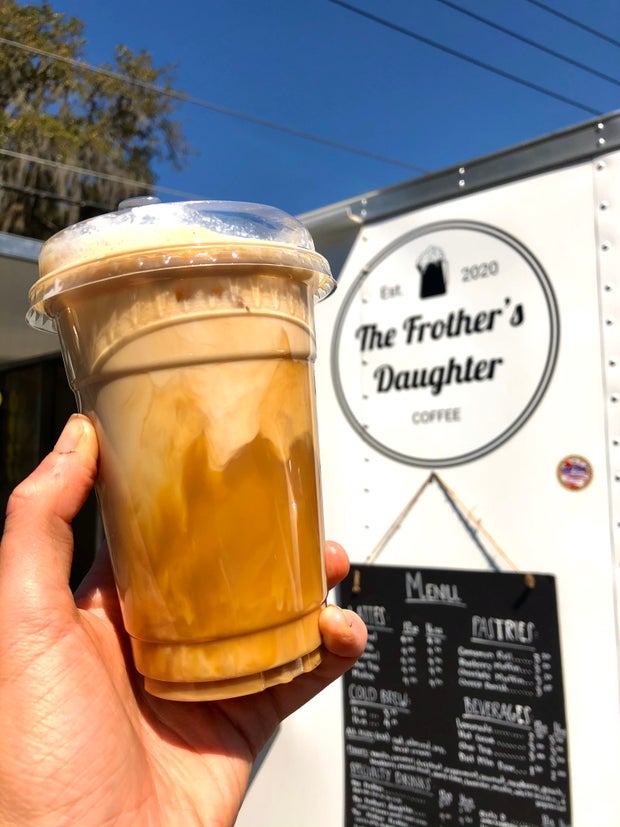 Photo by Rosalyn Wilsey If you're not a sweet coffee person, I'd recommend Love You A'Latte. If you don't like coffee in general, you can never go wrong with a Chai Tea, Flavored Lemonade or even The Frother with a splash of raspberry and cream!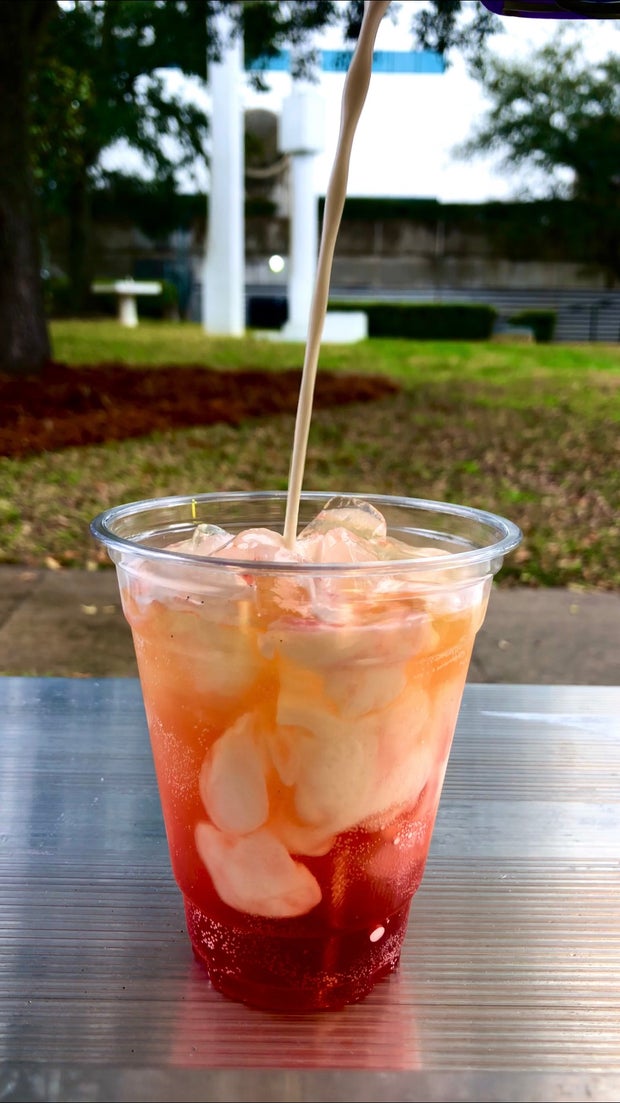 Photo by Rosalyn Wilsey
HC: What do you see in the future for The Frother's Daughter?
RW: Oof, that is a loaded question! I hate to say that I am honestly not sure because I love to keep my options open. I think two options that I am considering are: one, creating another trailer to move around town, that way I'd have two mobile stores circulating Tallahassee and two, getting a storefront for my daily hours and then using my mobile coffee trailer for events.
I would also love to hire an employee or two soon so I can begin to expand comfortably! So definitely keep an eye out for all of that jazz!
In regards to the business as a whole, I want to find ways to give back to the community and also continue to create fun, new flavors and experiences for my customers. I also hope to make merchandise soon! So as I begin to unfold my future endeavors in regards to The Frother's Daughter, just know I plan to stick around and continue to roll through the streets of Tallahassee.
Get your caffeine fix and check out these links: The Frother's Daughter's Website, Instagram and Facebook.
Want to see more HCFSU? Be sure to like us on Facebook and follow us on Instagram, Twitter, TikTok, Youtube and Pinterest!