Adam Lawrence, better known as Avello, is a junior studying Marketing at Florida State with a passion for making music. While trying times with COVID-19 have put a halt on him performing live, he's had the opportunity to produce tons of new music for his fans to hear with big plans in the near future.
Her Campus (HC): What first got you into music and was there anyone who specifically inspired you?
Adam Lawrence (AL): Yeah, absolutely! I would not be making music if I had never heard Illenium. He is so incredible, and I first heard his music probably like three years ago. It was my senior year of high school and I was just going through a ton of sh*t and my friend sent me his album that he dropped in September 2017 called Awake and I just listened to that on repeat. I loved that music and, I mean, I just had no idea what electronic music could really be until I heard that. The emotion, the vocals, the production—everything that went into it was just insane. It just blew me away. So, I don't think I'd be making music if I had never heard his music.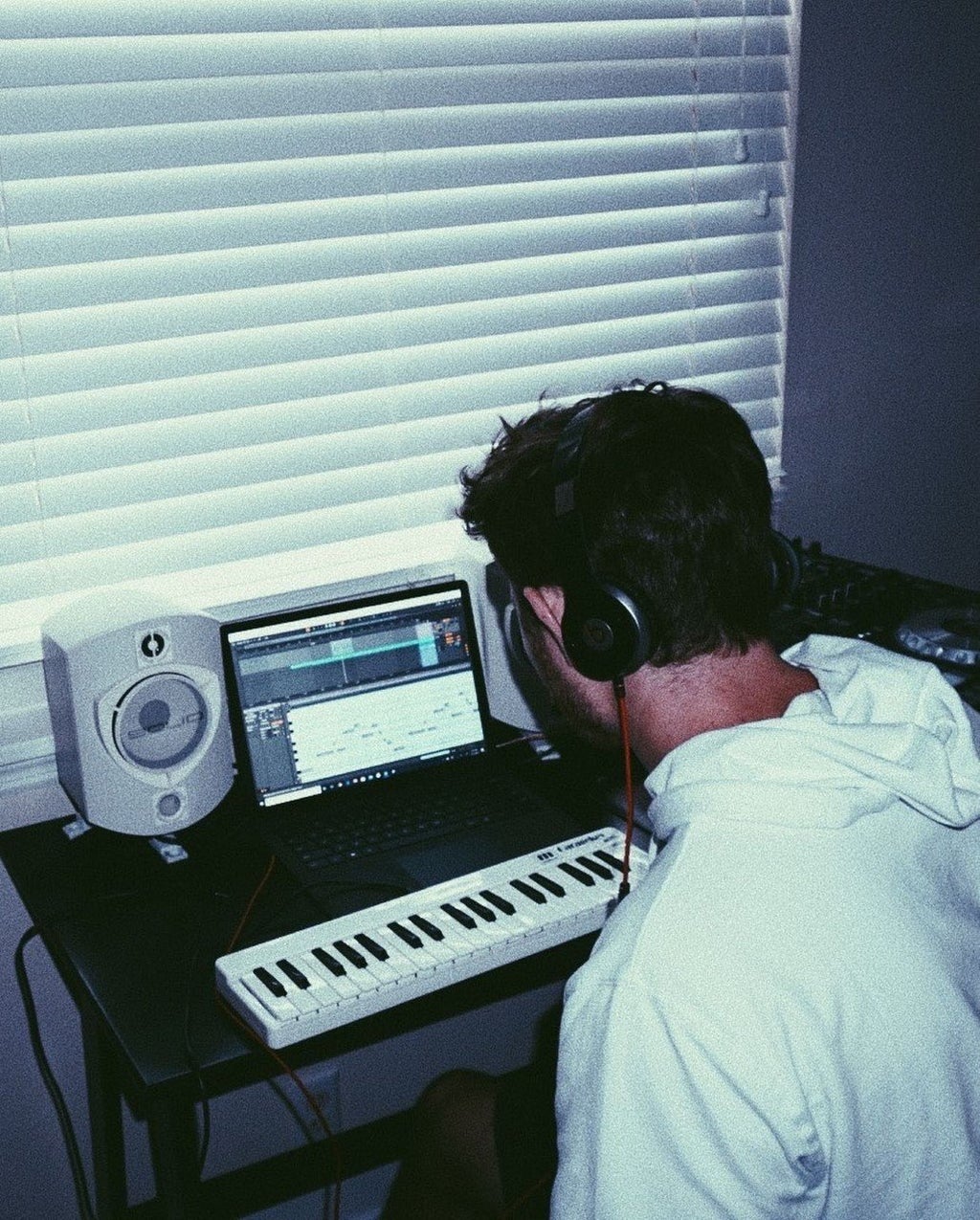 HC: When did you start making your own music? Did you have any early passions for it? 
AL: I always loved music. I've enjoyed electronic music for as long as I can remember. Since middle school, when I first heard Odeza, I really liked them, but I didn't really get into it until my senior year. When I was a kid, I played a little bit of guitar, but I just never really picked it up, so when I started making music, I really didn't have any knowledge at all. I knew nothing. I officially started doing it in November or December of my freshman year of college. So, almost two years ago. That's when I sat down and said, "Ok, I really want to do this", because I think about 6 to 9 months before that I got the trial version of the program and every three months I would sit down, play around with it, and then put it away—I just never got serious about it because it was hard. It's really hard. It was just so overwhelming. I remember I would just sit there and be like, "Yeah, I'm just going to make some music!", and I just opened it up and went, "Uh, I guess I'm not. This isn't for me." So, end of November, early December of freshman year I said "You know what, forget it. I'm just not going to stop no matter how hard it is. I'm just going to watch a ton of YouTube tutorials all the time until I learn how to do it."
HC: What is your creative process like?
AL: So, the first thing I do when I'm starting a new song is just lay down some piano chords—some super basic, very minimal piano chords and I kind of make something that has some kind of emotion to it. Most of my stuff is probably more sad or, like feels-y I'd say. So, I just try to make something with emotion and then, if I can get a good chord progression down and a good melody, the rest of the song just comes. It just flows for the most part. That's the biggest thing—just the basic music structure. I know with EDM there is just a ton of sh*t going on and it's all fancy, but if it doesn't sound good on piano and if it doesn't sound good on guitar, it's not going to sound good electronic. 
HC: What is your favorite song to perform and what song has been the most fun creating?
AL: That's really hard because I haven't gotten to play like a ton of live events in the last few months with COVID and everything, but I think the song I would most enjoy to play live is this song I just released this past Saturday and it's super cool. I think the drop is super unexpected and unique and I think that's what I'm most excited to play live. The one that I had the most fun creating— that's so hard, because I make so many. I make so many, like the amount of songs I actually release is probably 5% or 10% of what I'm actually making. Some days I will sit down and make a whole song in one day, or like two songs pretty much done in one day. That's just practice. You don't really like it that much, but you just kind of have to get that stuff out to get to the stuff you really do like.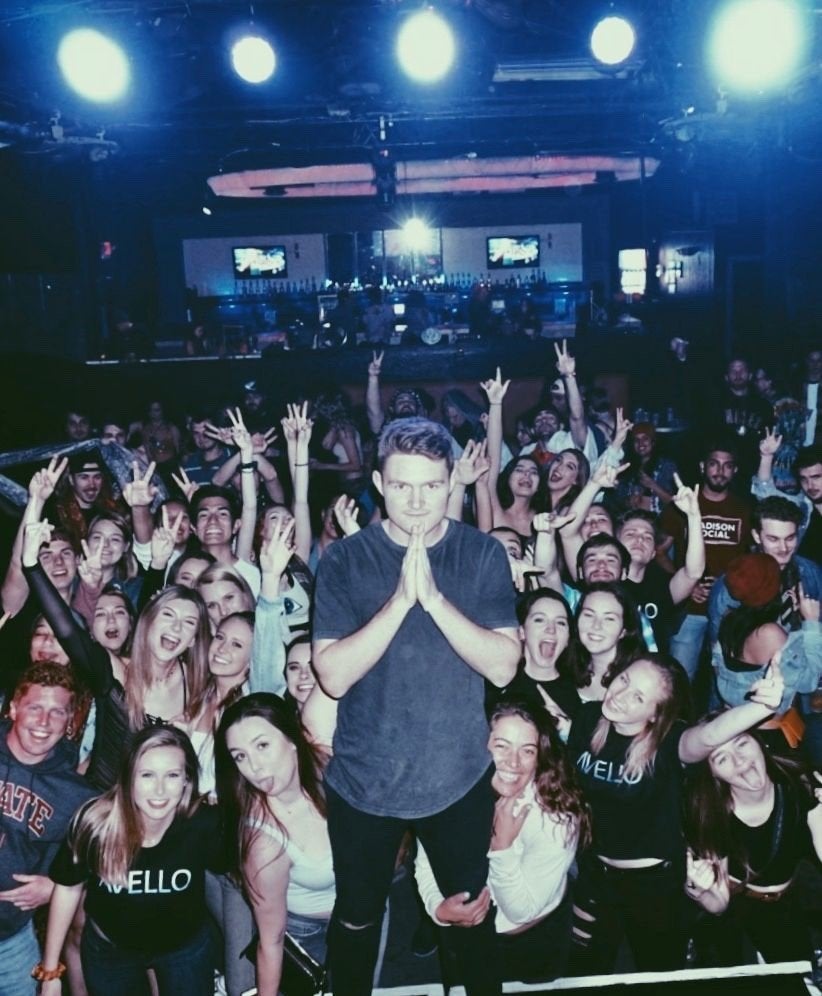 HC: Which famous artists do you admire? I know you had mentioned Illenium earlier, but is there anyone else?
AL: Yeah, so, I love Illenium, San Holo, Seven Lions—I like pretty much every melodic dubstep artist, honestly. I like Said the Sky, Allison Wonderland, and all those people. I think their music is just so cool. 
HC: If you could open for anyone, who would it be?
AL: Illenium, hands down! That would just be insane. 
HC: You had kind of mentioned this earlier, but how has COVID-19 affected making music or performing? What are some other challenges you have had to face or are currently facing? 
AL: So, with COVID, there has pretty much been no events. I think I played maybe like one party, just me and my friends hanging out, so that's a little frustrating. So, on the DJ side of things, that has kind of put a hold on advancing there. On the producer/artist side of things, like making my own music and my own remixes, COVID had been steroids for that. I just have so much free time. My routine basically is most days I'll wake up, sit down at my computer for like 5-6 hours, hit the gym, take a break, come back, and then maybe spend a couple more hours in the night. When I was back in Tally this past year, I was making 20% or 10% of the amount of music that I have the time to make right now. So, in that sense, I think since COVID has started I had maybe 60 Sound Cloud followers before and now I have about 460. Being able to have so much time to make music, focus on that, and then consistently release has really helped. Listening back on the stuff that I was making pre-COVID just sounds like garbage. I was trash. I've been able to get a lot better from doing it so much. That's been a huge benefit of COVID. 
HC: I thought I saw on social media that you just recently did a live stream somewhere. What was that?
AL: Yeah, so I just did this little virtual festival for a fundraiser for this organization called We Are Water Collective that does all kinds of beach clean ups and river clean ups. The guy that has founded this organization also really likes EDM. About a month or two ago he came across my Sound Cloud and my Instagram and he loves my music. He is probably one of my biggest supporters. He is always reposting, DM-ing me, liking all my songs and commenting on them. He put together a little live stream event, because he likes EDM, to raise money for his organization and he put me on the lineup. They had me record a live set on video and streamed it out and people could tune in on Twitch and donate. 
HC: What are some goals you have for the future and what's next for you?
AL: My overarching goal is to play festivals, to get into that festival circuit, because it's a lot of the same artists that are cycled through those events. That's a major goal. A current and smaller goal that I have to get up there is that I'm just trying to build my discography. I want to get out a lot of music that's my sound that I'm really proud of, probably like 10-15 songs. Then, after that, the main goal is really landing on some major YouTube channels or big labels. I don't want to have one great song that gets picked up by a label or a YouTube channel and people are like, "Oh, this is pretty good. I'm going to go check him out," and there is nothing else when you look at my actual profile. So, I want to have a good discography. Then, the goal is to get onto these big labels or big YouTube channels, and then from there, potentially opening up for some other artists, and then work my way into festivals. I'm actually going to be playing my first festival in May. It's the Inaugural Space Coast Music & Arts Festival in my hometown of Brevard County, Florida at this little park that I used to camp at for Cub Scouts. One of my close friends is working with the booking for that festival, so he said he is going to put me on the lineup, so that will be my first festival to perform at! 
AVELLO's newest release, Balance, as well as the rest of his music can be found on Spotify, Apple Music and Sound Cloud. To stay up to date with his latest projects, follow him on Instagram @dam_lawrence! 
Want to see more HCFSU? Be sure to like us on Facebook and follow us on Instagram, Twitter, TikTok and Pinterest!