Rating 2021 Fashion Trends So Far
I can already tell that 2021 is going to be a year for great fashion. As the world begins to open up and we gain more control over this pandemic, I am so ready to make the switch from sweatpants to jeans. I've been loving what I've seen so far! Fun colors, trendy pieces and structured designs are giving me life. To follow along with my favorite trends, check out my "2021 Fashion Trends" Pinterest board linked here.
10. High Neck Basic Crop Tops
This is a must-have basic in everyone's wardrobe. A ribbed cropped shirt in all of the basic colors can set you up for so much opportunity in your wardrobe. These tops can be worn with sweatpants for a casual trip to the grocery store or dressed up with jeans and fun jewelry for a more put-together look.
9. Blazers
The blazer trend is literally all over my Instagram feed right now. It's the perfect piece to dress an outfit up a little and add some flare.
8. The Color Green
Is it just me, or is light green going to be 2021's color of the year? I've been seeing it everywhere, and I'm obsessed.
7. Shoulder Bags
I absolutely love that shoulder bags are making a comeback. It's the perfect addition to complete any look. I've been seeing black snakeskin ones everywhere and I think I need to purchase one immediately.
6. Colorful Statement Pieces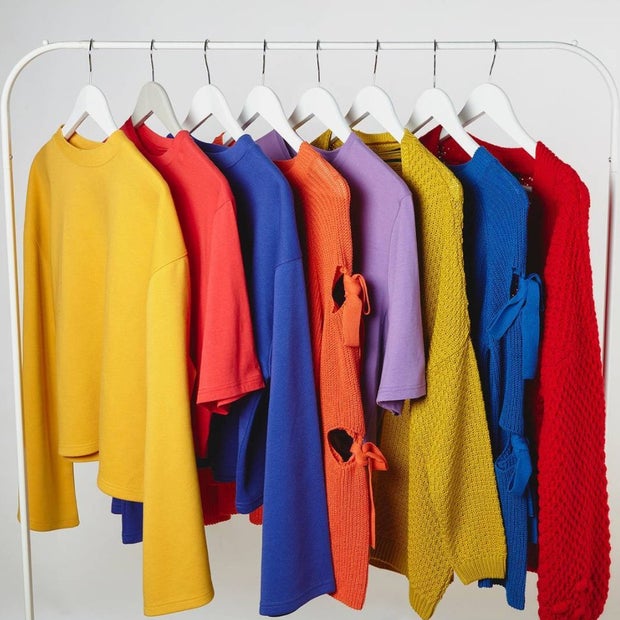 We definitely need some color in our lives after last year. I've been seeing super colorful pieces with funky prints everywhere, and it's a trend I did not expect but have come to love. We all know that one green dress that Kendall Jenner wore, right? Yeah—to die for.
5. Leather Pants
I'm not sure if wearing leather pants every day is the most practical option, but I will absolutely be doing it anyway. They are so easy to style but definitely add a little bit of spice and edge to your look.
4. Corset Tops
I have been seeing so many different variations of corset tops lately, and I am so glad they are in! I think that they elevate an outfit so much and make it look like you tried so hard without doing anything.
3. Those Asymmetric Button Jeans
I know this definitely became a trend last year and that everyone and their mother have them now, but I definitely think they should stay. I love how they add a little flair to any outfit and are just a step up from regular jeans.
2. Wide Leg Trouser Pants
Switching out jeans for a pair of trousers is totally the new move, and I am here for it! I feel like I always find myself wearing the same pair of jeans with every outfit, so trouser pants would definitely solve this problem!
1. The Color Brown
This has to be my absolute favorite trend so far. I feel like it is so easy to create outfits using brown pieces, and it literally flatters everyone.
What's your favorite trend this year? Again, be sure to check out my Pinterest board linked here for outfit inspiration!
Want to see more HCFSU? Be sure to like us on Facebook and follow us on Instagram, Twitter, TikTok, Youtube and Pinterest!