You may be familiar with the term K-Drama, but if not, let me introduce you to it. K-Dramas are television series produced in South Korea (now you know what the K stands for) and are spoken in Korean. Just a little disclaimer that once you get into this genre, there's no getting out. There's just something about K-Dramas that reel you in and rile up every emotion you never knew you had, like extreme happiness, extreme sadness and especially extreme cringe. But, you'll love every second of it. According to Soompi, K-Dramas are like the perfect cupcake with typically 16 one-hour-long episodes that can be binge-watched in a week or two. No more waiting for that second or third season!
Now that you know the basics, here's a list of K-Dramas carefully curated by yours truly, perfect for any first-time viewer to choose from.
Do you like … Fantasy/Murder-Mystery?
Then check out: "W – Two Worlds"
Where to watch: VIKI
"A surgical resident is pulled into the webtoon world of W, which was created by her father, and becomes entangled in a murder mystery." This is a suspenseful drama that keeps the viewer on the edge of their seat at the end of each episode. Just when you think you know what happened, you don't!
Are you into … Girl-Boss Comedy and Mystery?
Then check out: "Strong Woman Do Bong-Soon"
Where to watch: VIKI
"A woman born with superhuman strength is hired by the CEO of a gaming company, to be his bodyguard." This show is hilariously heartwarming. The relationships that the main character, Do Bong-Soon, has with both of her love interests (as well as the love interests' relationships with each other) will have you laughing out loud. It will also tear you apart as you decide who to root for. But it's not all about the love story here, it's ridden with an anxiety-inducing crime/mystery storyline about the search for a serial killer and kidnapper known for primarily targeting women.
Maybe you're into … Historical/Period Dramas?
Then check out: "Hwarang: The Poet Warrior Youth"
Where to watch: VIKI with Viki Pass
"An elite group of young men called Hwarang discover their passions, love and friendship in the turmoil of the Silla Kingdom." This period drama draws inspiration from the Hwarang Warriors and King Jinheung, the 24th king of the ancient Silla Kingdom on the Korean Peninsula (57 BC-AD 935). Although some details may not be historically accurate, the show remains enjoyable, even for those who may not consider themselves history buffs. If you need one reason you should watch this, it should be because of the talented, star-studded supporting cast: award-winning Park Seo-Joon, Park Hyung-Sik and BTS' Kim Taehyung (also known as V).
How about … Sci-fi, Crime and Mystery?
Then check out: "Are you Human, Too?"
Where to Watch: VIKI
"When the heir to a corporate conglomerate Nam Shin is poisoned and falls into a coma, his scientist mother creates an artificial intelligence robot to take his place." Actor Seo Kang-Joon assumes the impressive role of both human Nam Shin and AI robot Nam Shin III, juggling issues ranging from attempted murder to developing real feelings! Here's a fun fact: Nam Shin III has a built-in lie detector, so when someone holds his hand and tells a lie, a wink will subtly confirm it.
Do you prefer … Coming-of-age and social issues?
Then check out: "Itaewon Class"
Where to watch: Netflix
"An ex-con and his friends fight to make their ambitious dreams for their street bar a reality." This show is absolutely heart-wrenching and is an emotional rollercoaster. You'll root for the main character, Park Saeroyi, and experience every single obstacle that comes his way. There isn't a single episode that doesn't make you feel more frustrated than the last, but that's not a bad thing! Each character in this show has their own detailed background and hardships that allow you to see the characters for who they are, therefore making the show a fan favorite in Korea. I have a personal vendetta against the villains in this show and I know you will too.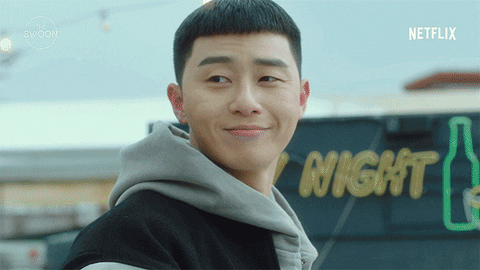 Would you rather see … a cute friends-to-lovers trope?
Then check out: "Fight My Way"
Where to watch: VIKI with Viki Pass
"Despite an increasingly hostile world, Ko Dongman and Choi Aera decide not to give up. No matter what others say, together they make their way to live a happy life." Here we are again, the third K-drama listed to feature Park Seo-Joon. Can you tell he's a favorite of mine? Praised for the realistic plot, Fight My Way follows Ko Dongman's journey to regaining status as an MMA fighter and Choi Aera's struggles to be a professional announcer as both begin to realize their feelings for each other that sprouted from their childhood.
(GIF translation: "Just do something that makes your heart beat faster.")
If you decide to watch any of these K-Dramas, I'd love to know what you think. I enjoy discussing them with people. Plus, I want to take credit for putting you on to your next favorite show!
Want to see more HCFSU? Be sure to like us on Facebook and follow us on Instagram, Twitter, TikTok, Youtube and Pinterest!