Earlier this week, I was fortunate enough to interview an inspirational young professional—and my best friend—here at Florida State: Kendall Roy. In this interview, Kendall Roy shared with me her experiences in Phi Alpha Delta, the largest pre-law organization at Florida State, and what advice she has for those interested in joining. 
Her Campus (HC): What is your major and what is your position within Phi Alpha Delta?
Kendall Roy (KR): I am a sophomore with a double major in political science and media communications. I currently serve as the Philanthropy Chair for Phi Alpha Delta (PAD), but before I used to be the Advertising and Marketing Chair as well as a member of the Fundraising Committee.
HC: How did you become involved in PAD?
KR: I joined PAD my first semester of college after meeting one of the exec members in a comparative politics class. I was looking for ways to get involved on campus and for a community of students with similar interests, so a pre-law professional Greek organization seemed like the perfect opportunity.
HC: What can someone looking to join PAD expect to gain from the experience?
KR: When I say the list is endless in terms of what I have gained from joining PAD, I am not exaggerating. The benefits go beyond the normal associations with a law fraternity such as test prep, networking and lessons about law school. While these are all factors that I sought out upon joining, I have also gained invaluable friendships and life lessons in addition to the preparation I have gained for law school.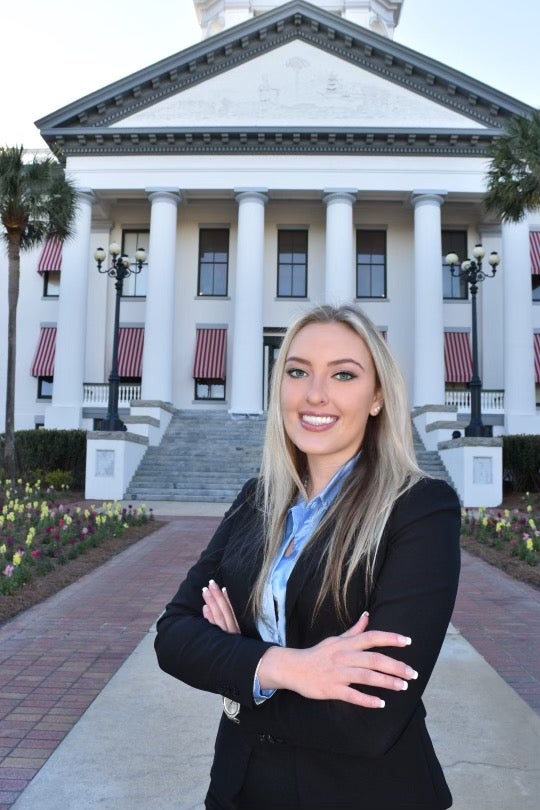 HC: Is PAD exclusively for students interested in a career in law?
KR: A common misconception and question people ask me when expressing interest in PAD is, "Do I have to be on the pre-law track or in a certain major to join?" My answer is: not at all! I am a firm believer in not being dead set on your major or future career, so to be exposed to a subject you were not initially considering is a great pathway to actually making decisions about your future. I personally have learned a lot about what parts of law I am and am not interested in through guest speakers, law immersion and advice from older brothers.
HC: Why do you think students should consider joining PAD?
KR: Our RSO is a diverse, motivating and gratifying organization. Anybody looking for great leadership and networking opportunities within an accepting and driven community can find that and more within PAD. One of the best parts of PAD is that it is an easy organization to join and has numerous benefits like test prep, office supply discounts and more that are virtually free when they typically cost a lot of money.
HC: What is your favorite part about PAD?
KR: I would have to say my favorite part about being in PAD is the bonds I have created with the other members and amazing memories I have made at events like retreats, socials and even chapter meetings. I was not expecting to gain such awesome friends out of something that I originally joined for academics and study buddies with common interests. However, retreats are by far the best bonding experiences and I think everybody should get experiences like them in college.
HC: How can someone interested in PAD join?
KR: All you need to do to join is come to a general body meeting (GBM) or one of the first chapter meetings (they usually are around involvement fairs at the beginning of the semester), so you can fill out an application. Then, you will be in the fraternity and after initiation, you will officially be a brother. The application is also on PAD's international website, but we usually only take applications at the beginning of each semester. More information is on our Instagram @phialphadelta_fsu.
Want to see more HCFSU? Be sure to like us on Facebook and follow us on Instagram, Twitter, TikTok, Youtube and Pinterest!