My Favorite Disney Halloween Movies
It's the spookiest time of the year, but that's not exactly the best thing if you aren't someone who loves thrillers and jump scares. I definitely fall into that category and cannot tell you how much I don't enjoy horror movies. But there is one thing I do enjoy, and that is Disney, so when this time of the year rolls around, I like to pull out these Disney Halloween classics that I have grown up watching and love dearly. These films have just the right amount of spook and mystery while still being lighthearted. They will give you all of the friendly spooky vibes so that you won't have to experience any FOMO (fear of missing out) this season and will provide you with a great movie night.
1. The "Halloweentown" Series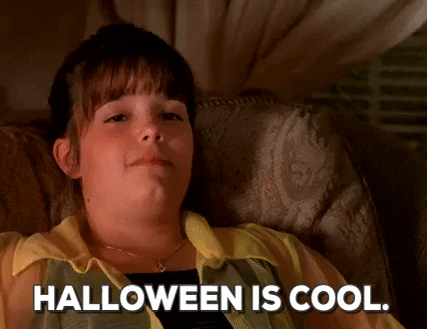 The Walt Disney Company / Giphy
These movies have rightfully earned their spot at the top of my list. There is not a Halloween season that comes by where I'm not playing these movies on repeat. There is something so timeless and comforting about these movies that I never tire of watching them. I love the fall aesthetic, the magic and the family relationship. It is everything. I wanted to be just like Marnie and still do. I used to wait for the day my grandmother would reveal that she was secretly a witch, meaning I could too. Honestly, though, I'm still holding out hope on this one.
2. "Twitches" 
On their 21st birthday, Alex and Camryn meet only to discover that not only are they twins, but they also have powers since they come from another magical realm? Played by the iconic Tia and Tamera Mowry, these relatable and fashionable sisters provide just another reason for me to believe I have magical powers that are waiting to be revealed. Also, if you are ever missing those sweet early 2000s trends, look no further as these girls serve some serious looks throughout the film.
3. "Phantom of the Megaplex"
It is the night of an important movie premiere at the megaplex, and there is no room for error at the theater, especially at one where a rumored "phantom" is known to haunt. If you know this one, then you are a true Disney channel original movie fan. As one that typically goes under the radar, it always gives me a nostalgic feeling while watching it. With the mayhem caused by the mysterious phantom, you'll be wondering what'll happen next and who is behind it all.
4. "Hocus Pocus"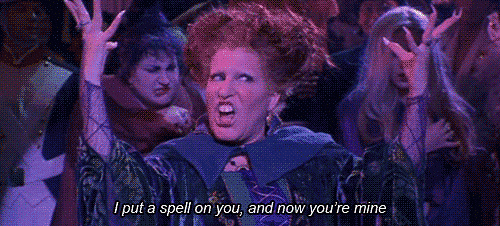 Walt Disney Pictures / Giphy
It wouldn't be a complete Disney Halloween movie list if this classic was left out. I don't think I need an explanation for this one. It is a must-watch for Halloween movie marathons. I always like to watch this movie on October 1 to ring in the season and help put me in the mood. The Sanderson Sisters have made their mark on mainstream media in recent years, and all I can say is that if you haven't seen this one, what are you doing?
5. "Mom's Got a Date with a Vampire"
When the Hansen siblings are grounded by their mom on a night when they all have big plans, they are more than happy to encourage their mom to go out with a mysterious stranger. It isn't until the youngest brother Taylor has reason to believe this man is a vampire that the kids set out to save their mom from danger. This was one of my first Halloween movie memories, and I vividly remember being frightened of the vampire, even though he's not scary. It's safe to say that this is when I started being easily scared of things.
6. "Now You See It..." 
While this movie doesn't have a Halloween focus, there is a magical and spooky element to the story that earns this film a spot on this list. When a magic reality tv show has young magicians competing against each other to find the best kid magician, there is one contestant whose tricks seem too good. Almost like real magic. I stand by my opinion that this is one of the better Disney channel original movies. It has a solid mystery and intrigue throughout the film that leaves me wondering what will happen, even after re-watching it for the hundredth time. Also, how cool would it be to be able to do magic? There seems to be a common theme of me wanting magical powers on this list. Well, maybe one day, until then…
Happy Halloween!
Want to see more HCFSU? Be sure to like us on Facebook and follow us on Instagram, Twitter, TikTok, Youtube and Pinterest!