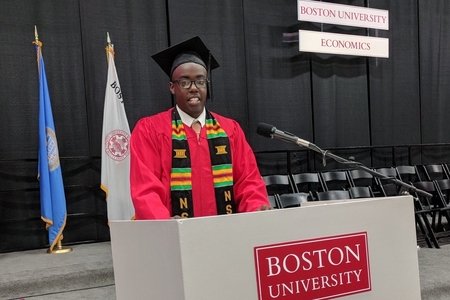 Meet Tim Pam: A 23-Year-Old Working in Times Square
All of my life, everyone has told me that if I go to school and work hard, I can get into a good college. Then, if I go to college and work hard, I'll find a good job after graduation. But that's not how the story plays out for everyone. Post-graduation unemployment is a reality for a lot of people, and it doesn't mean they didn't work hard, or that they don't deserve a job, it's just the way the world is. Even though I'm only a freshman in college, I am constantly thinking about what clubs I need to be joining to boost my resumé, and the best ways to network with my professors so that I can hopefully secure a job after graduation.
Even though it seems like every day there are more and more examples of overqualified college graduates that are unemployed, or couldn't find work in their major, there are however some cases that give me hope, and one of them is my big brother. I interviewed my 23-year-old brother, who graduated from Boston University in 2018, and asked him what he did to secure a job in his major fresh out of college, and what tips he had for the rest of us who are trying to do the same.
Her Campus (HC): What is your profession?
Timothy Pam (TP): Trading Operations Associate at an NYC based FinTech.
HC: What do you do on an average day as a Trading Operations Associate?
TP: Ensuring that our new trading products get rolled out successfully to the market as well as doing financial modeling to help show the revenue impacts of any commercial price changes. When I am not doing Excel modeling, I am communicating future commercial changes to our Sales team to ensure that they know what they are going to be selling as well as to give them a heads up about upcoming price changes. 
HC: Where did you go to school? Do you think where you went to school played a big role in the interview process?
TP: Boston University. Yes, I think it played a part in my interview process as my interviewer mentioned. There were several other BU alumni working at the company, which lead me to believe that BU was a school that my employer liked hiring from.
HC: How did you avoid post-graduation unemployment? What tips do you have for others who want a job right after graduation?
TP: I avoided it by treating the job application process like it was a full-time job in its own right. I applied to dozens if not hundreds of different opportunities all over the country until I got the offer at my current company. I also utilized my school's job portal and academic advisors to get a sense of what industry I would fit the best in.
HC: What was your major in college? Did you ever change your mind?
TP: Economics. Yes, I started as a Biochemistry major but by Sophomore year I realized I was genuinely unhappy in all of my science courses and decided to make the switch to Econ. I enjoyed math and I enjoyed the out-of-the-box thinking that Economics constantly requires.
HC: What did you expect to do with your major? Did this job fit your plan?
TP: I expected to do something in the Finance industry. Yes, this job fits my plan completely.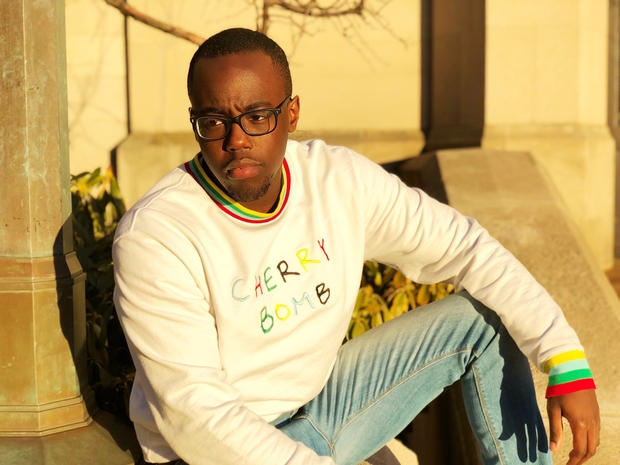 HC: What's your favorite and least favorite thing about living in New York?
TP: The best thing about living in New York is meeting so many different people on a night out or through your friends. A lot of amazing people have decided to make New York their home and many of them have amazing stories and/or are doing amazing things. The worst thing about NY is the packed subways and the smell of Manhattan in the summer. It is downright awful.
HC: Have you met anyone cool living in New York or Boston?
TP: Yes, I have met Neymar and the Brazilian national soccer team in Boston. In NYC, I met one of Tyler the Creator's merchandise and tour security people.
HC: What's next? Do you plan on continuing working or do you want to go back to school?
TP: Continue working for a few more years and then go back to school and get an MBA in Finance.
HC: What advice do you have to any college kids who may have a similar career goal, or who might want to be in your shoes one day?
TP: "Faith, Consistency and Hard Work Pays Off"- Jaylen Brown. That is my mantra that I repeat to myself on the days that I have to stay late in the office or when I was up all night studying. While studying may be painful in the moment, the rewards of it can last you a lifetime if you are able to secure a job in a profession that you really love. Another piece of advice I would give is to try to network as much as possible and also practice your interview skills because in order to get any job you have to be comfortable being interviewed regularly.
Want to see more HCFSU? Be sure to like us on Facebook and follow us on Instagram, Twitter and Pinterest!