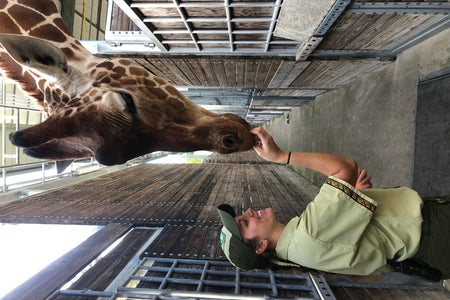 Meet Tiara Collier: FSU Alum and Keeper at Animal Kingdom Lodge
Tiara graduated from Florida State University in May of 2015 with a double major in environmental science and psychology with a minor in biology. She was involved in on-campus organizations such as pre-vet and biology clubs. She also served as Vice President of Finance for her sorority, Alpha Chi Omega, her senior year. Tiara also interned at the Tallahassee Museum in the animal department her senior year to obtain her directed independent study credit for her degree, which is where her fondness of animal husbandry came to light.
Her Campus (HC): How'd you get started as a keeper at Animal Kingdom Lodge?
Tiara Collier (TC): When I landed my first paid job as a keeper, I was actually a swing keeper. This means that I worked in all parts of the zoological facility with almost all of the animals in the entire collection. I learned a little bit about a lot of animals, but  I loved that because it gave me the opportunity to see in which species my passions lied. I quickly realized that I wanted to become a more specialized keeper and work more closely with a certain collection; so, I applied at Disney's Animal Kingdom Lodge in hopes of getting to work with your very popular African Hoof stock- Giraffe, Zebra, Wildebeest, Eland, Okapi, etc. The hiring process does take a while; after applying, it took 3-4 months before I  heard back about an interview. Following my interview was another 3-4 months of waiting for the offer of employment. 
HC: How long have you been a keeper? Is it everything you imagined?
TC: I interned as an animal keeper in 2014 at the Tallahassee Museum, unpaid. Since then, I have consistently worked with animals in some capacity- whether it be educating guests at exhibits, training/performing with animals in shows, or working as a keeper at a couple different zoological facilities. I am incredibly grateful for my mentors at the Tallahassee Museum because they allowed us, as interns, to dabble in all things animal care. We cleaned exhibits, educated guests, assisted in veterinarian procedures/administering of medications, creating and preparing animal diets, etc. This job is not a glamorous one, I knew that from the beginning; it is a lot of hard labor. But it is a job of passion, for sure. I feel incredibly lucky to spend my days caring for exotic animals whilst educating the general public about how to care and conserve these animals and their wild counterparts. 
HC: Were you nervous at first? How long did it take for you to get accommodated with your new job? 
TC: Being an animal keeper at Disney was always the long-term goal for me, my ten year+ plan. Landing my dream job at just 25 years old was unbelievable. I was incredibly nervous at first because I was such a  new  keeper compared to some of my coworkers who had been working with animals for 10, 15, 20+ years! It was rather intimidating if I'm being honest, but I was hired for a reason, so I focused on my training and I worked my butt off. The training component (learning the various animals, barns, savannas, tours, etc) took about 3 months for me to learn. During that three month span, I was consistently with another keeper. If I had questions, she was right there to guide me. So, I felt very confident in my abilities once I was able to work solo. Being on my own though, it did take a few weeks to master the routine and my time management skills. From there, I was able to pick up other training teams and tasks such as being a lead diet point for my barn- working very closely with our animal nutritionists at the Animal Kingdom Theme Park to perfect our animals' diets based on species natural history and body condition. 
HC: Did you always know you wanted to pursue your love for animal conservation with Disney? 
TC: I always knew that I wanted to work with animals in some capacity. When I was younger, I wanted to be a marine biologist. As I got older, that dream branched into becoming a veterinarian. I worked as a vet technician in college and quickly realized that it was not the job for me. It was really my senior year internship at the Tallahassee Museum that sparked my interest in animal care. Landing my dream job at Disney as an animal keeper is what sparked my love for conservation in animals. It was kind of a snowball effect. 
HC: What has been your favorite experience so far as a keeper? 
TC: Most people have no idea what an Okapi is, and I absolutely love that. They're an incredible species native to the Democratic Republic of Congo, the only living relative to the giraffe. They have a beautiful dark brown, velvet coat with white and black striped legs (similar to the markings of a zebra). They were my dream species to work as a new keeper and I get to work very closely with them every day at Disney. One of the females, Zelda, became pregnant and gave birth  Oct. 1, 2018 to a male, Dazi. Having the opportunity to experience the birth of an animal that many people who LIVE in the Congo have never even seen has been something that I cannot even explain. Getting to watch him grow up every day and reach milestones is just an added bonus. 
Want to see more HCFSU? Be sure to like us on Facebook and follow us on Instagram, Twitter and Pinterest!