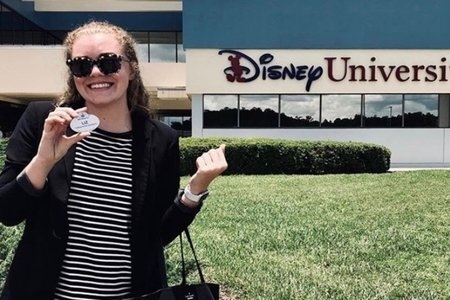 Meet Disney Merchandise Intern Liz Casey
When you step through the gates of Walt Disney World, there are nearly a thousand different moving parts that help make the magic happen. Employees are at the heart of it all, and many undergraduate students dream of a career at Disney and wonder what it is like working for one of the biggest companies in the world. Is it really as magical as it seems? I chatted with Global Product Merchandise Strategy Intern Liz Casey to find out the ins and outs of the job.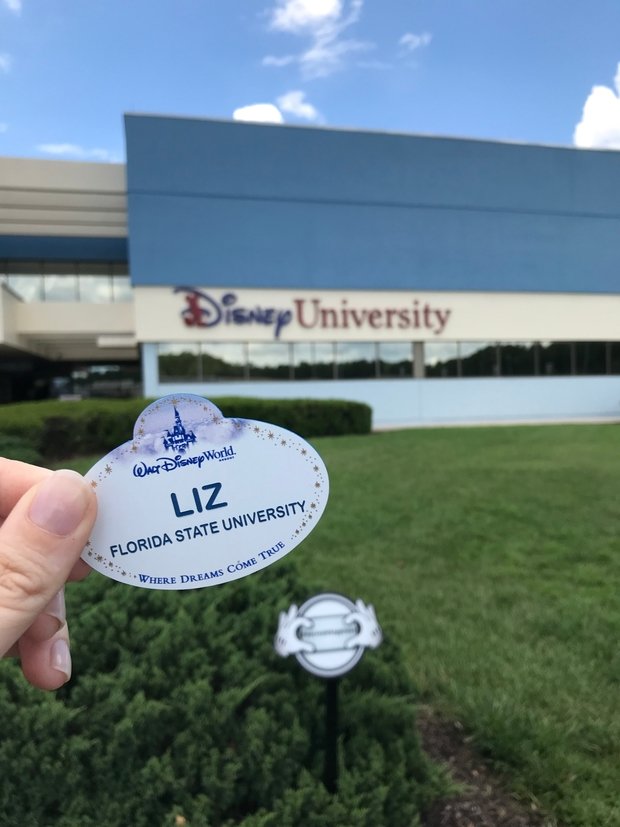 Courtesy: Liz Casey 
Her Campus (HC): What is your position's official title?
Liz Casey (LC): Global Product Merchandise Strategy Intern for Women's apparel, accessories and co-brand! 
HC: What does the application process look like?
LC: For me, the application process was somewhat unconventional. I was really struggling to land an internship, until I was talking to a co-worker of mine who had a really successful career in HR for some big retailers, including Disney. She mentioned that she had some friends still with the company and that she would see if anyone could give me some advice or help me connect with anyone in the industry. She connected me with her friend from Disney who worked in merchandise operations, not quite my wheelhouse, but he was really helpful and eventually connected me with a recruiter. After an out of the blue email from a Disney recruiter, I did a pre-screening interview, where they asked me really basic questions about eligibility, housing, the start and end dates, and more. Then a few weeks later I did a formal phone interview with the leaders I support today! Then after returning from a trip abroad, I got a phone call offering me the position! 
HC: It's a typical day at work. Walk me through your day — what kinds of tasks do you usually need to get done? 
LC: I honestly don't think I have had a normal day since I've started. Every day is really fast-paced, with so many things that need to be done. After routinely checking emails in the morning, I check in with my team and get a feel for the goals that need to be accomplished for the day. We attend meetings with other Disney partners, we meet with our technical design team, and sometimes meet with vendors who help us get beautiful merchandise on stage. I am so honored to be trusted with a great deal of responsibilities for our team. I send out a lot of comments and approvals for the "puzzle pieces" that make up our apparel items, like making sure the shirt fits how we want, or ensuring that rhinestones are placed just right, and even making sure that Minnie's bow is the perfect shade of red! 
HC: In what ways has this internship boosted your career goals?  
LC: This internship, like many opportunities with Disney, is an incredible networking tool. I've had the pleasure of meeting everyone from interns, to people just starting out, to people who have been with the company for 30 plus years. Outside of Disney cast members, I have met people from other companies that help to support Disney merchandise. Each and every person I have met has truly impacted my experience and encouraged me to be curious about this enormous industry. I find that I am seeking out people who are successful and figuring out how they got to where they are. Meeting these people and figuring out how they did it is a big part of the Disney internship process.
HC: What is the best thing you learned from your internship experience?
LC: I think the best thing I have learned so far is to BE CURIOUS! Asking questions, ask for clarification, wonder how things work, create solutions to problems! All of these things foster my curiosity and only make me want to stay with the company. I have also learned that Disney is - to no surprise - an enormous company and that I have so much more to learn.
HC: What is your favorite memory from your internship?
LC: Definitely one of my favorite things I have done while at Disney was getting to attend the 10th Anniversary Dooney & Bourke signing event. I got to meet our incredible partners from Dooney & Bourke, as well as getting to see Disney lovers come out for the 10th-anniversary collection release. For someone who loves both Disney and retail merchandise, getting to combine both of those things is probably the coolest thing. I also can see the top of Expedition Everest from the parking lot, so that's fun! 
HC: What is the biggest perk about working for Disney (and did you receive any special discounts, free passes, etc.)? 
LC: Other than discounts and admission, one of the best perks about being a cast member is getting to see and experience the new things around the property! I got to visit Star Wars Galaxy's Edge and ride the Skyliner before they opened to guests and they were such fun and exciting experiences. 
HC: Now the flip side — what has been the least enjoyable part of the job?
LC: I joke that my toughest days are still the very best days because after all, I'm at Disney. I think one of the hardest things I've had to face in my internship is getting over the hump of knowing absolutely nothing and being dependent, to being mostly independent and knowing how to solve the problems that arise. Another thing that I work on professionally and personally is knowing when to ask for help. It's something I continue to work on (and to no surprise) I feel so relieved when I can delegate things to people who can help!
HC: What is something most people wouldn't know about working for Disney that a non-employee would find super interesting? Any insider info you can spill?
LC: I can't spill a ton about my job because I work with a lot of top-secret merchandise, but one super cool "insider" thing is that in one of the rooms in Splash Mountain, there is a little beaver that sticks his head out of the ceiling and says "FSU!" Legend has it that one of the Imagineers that worked on the ride went to Florida State University and found a way to incorporate her school spirit! 
HC: If someone was applying to be an intern at Disney, what are the 2 biggest tips you would tell them? Any crucial advice?
LC: If you love Disney, talk about it! Gush about it! Now that I've met lots of Disney cast, I can confirm that there is no such thing as too much love for Disney. I cry over the magic of Disney almost every time I'm in the parks and I know I love talking to people who feel the same. One of the best tips I have ever learned, that I try to incorporate into my professional career is "no one cares about how much you know until they know about how much you care." 
Visit Liz Casey on Instagram (@heylizcasey) to follow all of her Disney adventures! 
Want to see more HCFSU? Be sure to like us on Facebook and follow us on Instagram, Twitter and Pinterest!