Like several other hundred FSU students, I saw a post on Facebook over the summer, mentioning that a new hiking club was taking action to start in the fall. Although I'm not the most adventurous person out there, I had done a bit of hiking before, so I decided to join the fun. After seeing how much interest and exciting plans were involved, I interviewed the club president, Dahlia Bagheri about all the details. 
Her Campus (HC): Thank you so much for answering these questions today! What inspired the hiking club? 
Dahlia Bagheri (DB): I've love hiking and have always had a passion for it. I also struggled a lot in the past with depression and found that getting outside and exercising decreased my depressive mood drastically. I know that many people struggle with mental health and physical health, and I wanted to provide an outlet where individuals were able to free their minds and exercise in beautiful nature.  HC: What are you most hoping to get out of this club?
DB: One of the major things I want out of this club is community/environmental philanthropy. We are going to be fundraising for the Sierra Club, one of the United States' leading eco-organizations. We will be doing a backpacks-from-backpackers where we will be doing a 5K walk with backpacks on. The cost of admission will be the cost of one backpack made by an FSU grad student. The backpacks and extra proceeds will be going to elementary schools in Tallahassee! 
HC: The first hike was last week. Tell us a little bit about it and how you think it went!
DB: I think the first hike went well. Everyone had smiles on their faces, it was beautiful weather, and I feel like people were happy to get outside! 
HC: How are you guys handling the COVID-19 restrictions?
DB: For COVID precautions we have decided on doing a mask mandatory day (for people who are high risk or are around others who are high risk, or for people who feel more comfortable wearing a mask) and an optional mask day (where we still maintain 6ft distance as per CDC guidelines).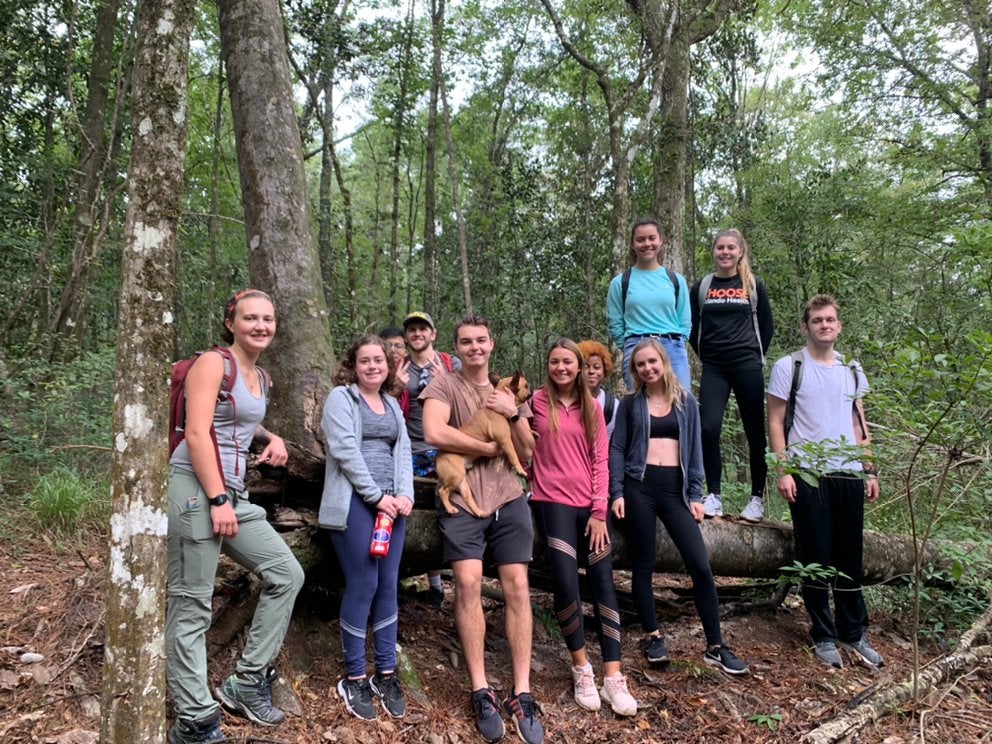 HC: What are some trips you're planning in the future (explain something this semester and also beyond)? Dream trips after restrictions are lifted?
DB: For this semester, since we have to stay local to Leon county, we are going to be tackling the local Tallahassee trails! We have Phipps park coming up, which is a gorgeous trail. We will also be doing more hikes in the national forest. After restrictions are lifted, I want to hike a lot more in Georgia, Alabama and other parts of Florida. The dream trip would be Panther Creek Falls in GA. It was one of the most beautiful hikes I've been on with the most rewarding waterfall at the end. Nothing better than hiking hard and getting to swim in a waterfall after.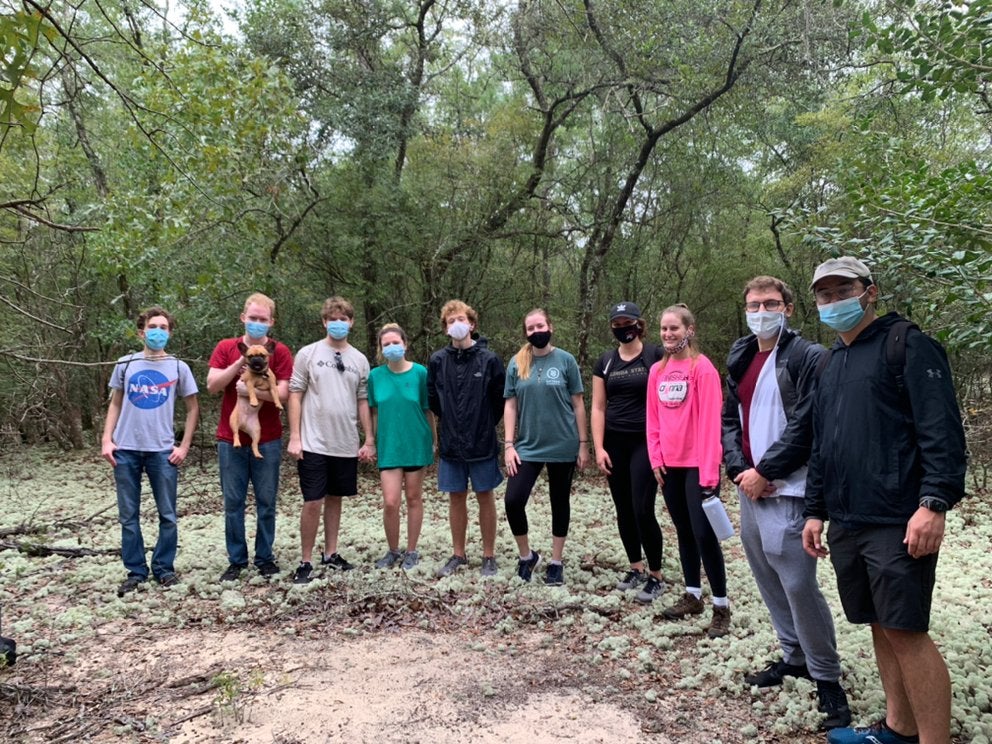 HC: What would you tell someone interested in the club who has no experience?
DB: I would tell them that you've been walking more or less since you've been born, hiking is pretty much just a fancy term for walking long distances. If you can walk, you can hike. You don't have to have a fast pace which comes with experience, you can always make your own pace and just enjoy yourself! The club is not a competition. I want everyone to feel welcomed and have fun no matter their experience level. 
HC: Now for some fun questions: You can only take three things on a super intense/isolated hike. What would you bring?
DB: On a super intense isolated hike, if I could only bring three things assuming I would have a backpack, I would bring: – Water purifier w/ bottle (sawyer) – Granola – Cell phone (for All Trails app— works without service to show you where you are and where the trail is)
HC: Any fun stories from hikes you've been on?
DB: One of the most fun hikes I had ever been on was actually to Panther Creek Falls, which I had mentioned earlier. I went with my boyfriend, and it's a six-hour drive from Tallahassee. We got up at 5 am, left around 5:30 am and started our agonizing drive. Actually, it was a really beautiful drive, especially when we got north, but it was super long. Anyway, as soon as we parked, the clouds started to darken. I couldn't help but laugh because we had just driven six hours without checking the weather app, and now we were about to get caught up in a storm. We agreed that we would just go for it anyway, and sure enough, it began thunder storming.
Somehow, this was literally so lucky, we found a cave on the trail that two other hikers and we took shelter in. We decided to wait it out and keep going. It actually turned out to be a lot of fun. We chatted with the hikers and watched the rain; it was really beautiful. After the rain stopped, we hiked the rest of the now-slushie trail, trying our best not to slip off the edge of the trail. We hiked about 4 miles to the waterfall, and just as we arrived, the sun came out. It was probably one of my favorite moments. I was so overwhelmed by how beautiful it was.
HC: Tell us about the little "trail leaders" in the club (dogs!)
DB: The trail leaders are my favorite part of the club! I love dogs so much and my dog, Cooper, absolutely loves hiking. He may actually like it more than me which I know seems impossible. I encourage everyone to bring their dogs. I love seeing dogs running and playing, it's super heartwarming and enjoyable to watch. Cooper has been hiking with me since I got him about two years ago, and funny enough, I actually asked the vet when I first got him if he could go hiking/running with me, and they said they don't advise it because French Bulldogs notoriously have breathing problems. I eased him into it anyway, and his breathing actually improved ten-fold since hiking. He's a trooper and the coolest trail leader ever. Dogs were made for running, I encourage everyone to bring theirs!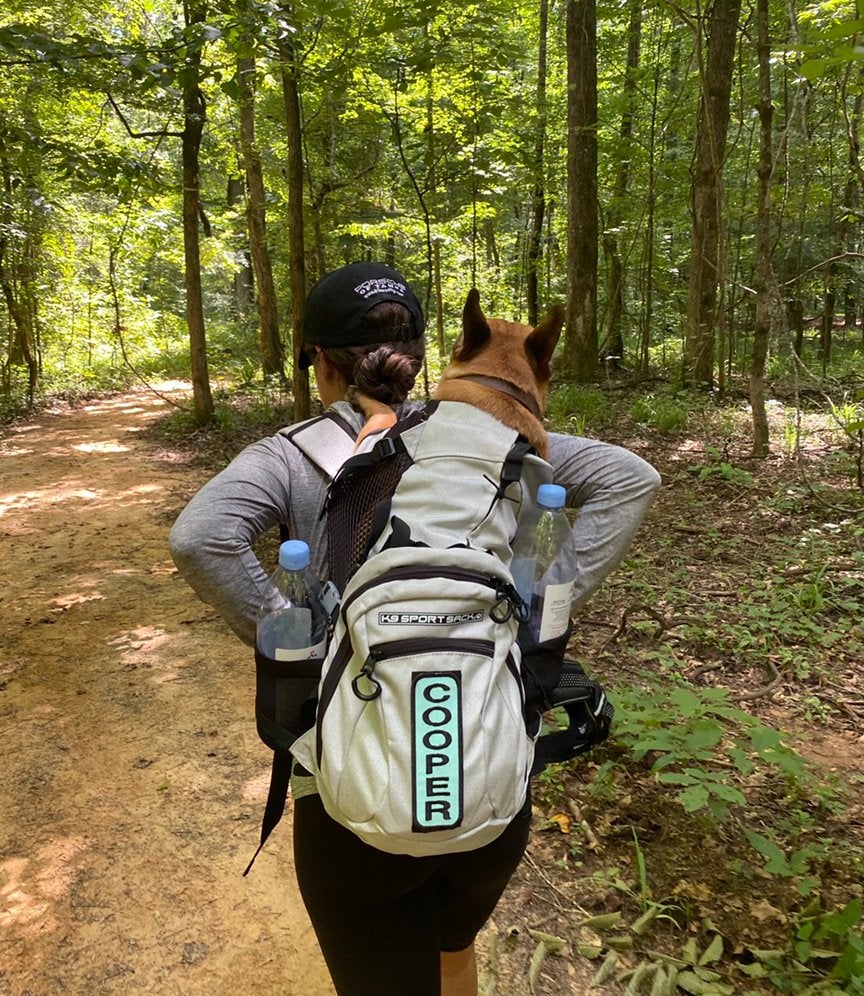 HC: Thank you so much for answering these questions! It sounds like this is a club that will be bringing a lot of interest to FSU students currently and in the future. 
You can follow the hiking club instagram @hikingclubfsu for more information and updates!
Want to see more HCFSU? Be sure to like us on Facebook and follow us on Instagram, Twitter, TikTok and Pinterest!