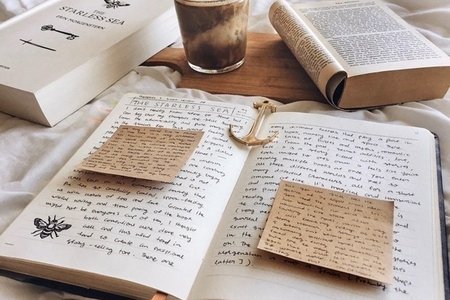 Cath from Instagram profile @cupsandthoughts
Meet Cath: The Woman Behind Cups and Thoughts
In the midst of all of the current uncertainty in the world, it's natural that humans look to art for a sense of calmness and safety. Because of this, internet users everywhere thank book blogger Cath for using her platform, Cups and Thoughts, to provide and share art for her followers to enjoy; she is an incredibly well-read and artistic individual who creates inspiring work that continually betters the lives of those who consume it.
Her Campus (HC): Tell us about yourself! Where are you from? What are you studying? Where are you studying?
Cath (C): I'm from Jakarta, Indonesia! However, I'm currently living in Perth, Australia for my studies; I'm a third-year civil engineering student!
HC: How did you decide to study civil engineering? What's your favorite part? What's the most challenging part?
C: I love math and problem-solving in general, and civil engineering is broad in a sense that it covers different humanitarian and scientific concepts – both of which I'm interested in.
HC: What are you currently reading? How do you like it?
C: I'm currently reading Dreams of Gods and Monsters by Laini Taylor – the third book in the daughter of smoke and bone trilogy. I am LOVING it! The first two books were amazing, and I have a feeling the last book will be just as good! There's so much political intrigue, a forbidden romance, angels, chimaera, beautiful writing and so much more!
HC: What are your three favorite novels? Which one had the most significant impact on your life? Can you describe the impact it had?
C: My three favorite novels are Eliza and Her Monsters by Francesca Zappia, The Shadow of the Wind by Carlos Ruiz Zafón and The Night Circus by Erin Morgenstern. If I had to choose one, Eliza and Her Monsters probably had the most impact on me because of its contemporary setting and relatable main character. It was hard-hitting for me because of how well anxiety was portrayed in the book. It was the first book that made me cry, and it taught me that I am not alone in this world.
HC: How has reading impacted your life (in a more general sense, as opposed to one novel)?
C: Reading has given me the escape that I so badly need at times when reality gets way too ugly. It's personally very accessible to me, and because of this accessibility, as well as its diversity, I've grown to rely on reading for my own happiness and leisure. It's helped me in lots of cases that require me to write and read a lot. Reading has just been so helpful to me mentally!
HC: Do you have a specific memory of when you first fell in love with books?
C: Yes! I first fell in love with books when I was sick with measles back in year 6. I could not be around my friends and family for two weeks, so all I had were books! This was the first time I picked up and genuinely LOVED IT! It was Roald Dahl's The Witches, and I remember reading it on the couch with such pure joy and wonder. I have fallen in love with reading since then, and the memory and book still hold such a special place in my heart!
HC: How have your blog and social media presence impacted your life?
C: No one really knows of my social media presence, so not much has changed; however, it's given me lots of opportunities to grow and even earn a little bit as I study! I don't know what I would do without my blog, and I definitely wouldn't trade it for anything else in the world.
HC: How do you balance your blog/social media presence with your studies?
C: It's all about prioritizing! Time management is also very important. Falling behind is one thing but being lazy is another. You just have to push yourself to work hard! There will be sleepless nights, tears, frustration, but it's reassuring to know that it's all worth it!
HC: If you could have dinner with any person, living or deceased, who would it be?
C: I would probably have dinner with Erin Morgenstern! I want to know what the inspiration was behind her books – The Night Circus and The Starless Sea – and how she found her writing styles! I think having afternoon tea with her would be absolutely lovely!
HC: If you could guarantee that you could impact the world in one way, what would you do?
C: I would create much more effective facilities in Jakarta, Indonesia. It's always been a dream of mine to make the country rise to its true potential and create better living standard for all Indonesians. Better dams? No more corruption? Accessible libraries, schools, and museums? Maybe one day.
HC: What's your favorite book quote and why?
C: My favorite book quote would have to be "You're both the fire and the water that extinguishes it. You're the narrator, the protagonist, and the sidekick. You're the storyteller and the story told You are somebody's something, but you are also your you," because it's so simple and TRUE!
HC: When reflecting on the most difficult experience you've ever had, did books help you get through it?
C: Yes and no! Books make you think and reason with yourself. It helps you think straight and get back on your feet. However, I can't only rely on books to get me through difficult situations. I need to write and do other physically relaxing things to soothe any mental tension that I may have!
In addition to her blog, you can find Cath on Instagram, as well as at her adorable online shop. 
Want to see more HCFSU? Be sure to like us on Facebook and follow us on Instagram, Twitter and Pinterest!