Live from Tallahassee, It's Homecoming Weekend! Pete Davidson for FSU Pow Wow 2019
This year's Pow Wow headliner will be SNL's Pete Davidson and special guest Ricky Velez! Both NYC-based comedians will be performing at the Donald L. Tucker Civic Center on Friday, Oct 25 at 8 pm, doors opening at 7 pm.
Photo Courtesy: FSU Homecoming Twitter
This event is free for FSU students and you can get banded all day outside of the civic center on the day of (don't forget your Student ID!). General admission and reserved seating tickets will go on sale this Friday, Oct 4 to the public as well as discounted tickets for FAMU and TCC students.
A little history on FSU's biggest pep rally of the year:
Pow Wow has been a long-standing tradition at Florida State University. And I mean long-standing – since 1948. If you don't know what it is exactly, Pow Wow is essentially a massive pep rally currently held at the Donald L. Tucker Civic Center the night before FSU's homecoming football game. It is one of the biggest events of Homecoming Weekend! The high-energy event features an assortment of performances by different FSU organizations such as o­­ur Golden Girls, the FSU cheerleaders, various dance groups, and the Marching Chiefs (prep your arms for the Tomahawk chop!). It all leads up to a special comedian performance, which is different every year.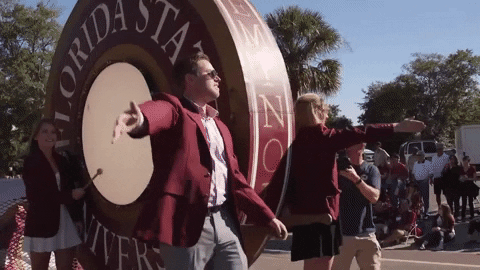 Courtesy: Giphy
In the early days of Pow Wow, FSU used to gear toward more musical performances, instead of hiring comedians, featuring notables such as Ray Charles (1968), the Beach Boys (1981), and Talking Heads (1983). Nowadays; however, the University features headlining comedians rather than musical groups such as Adam Sandler (1995), Dave Chapelle (2000), Jimmy Fallon (2008), and Amy Schumer (2015).
And this year? We will officially be welcoming Pete Davidson as our headlining comedian for the 2019 Pow Wow event. Davidson is a Staten Island native, actor and SNL comedian. He is also well-known for his roles on MTV's Guy Code and Wild 'n Out. Ricky Velez, also a New York native and actor/comedian, will be our special guest for the event. He is most known for his work on Master of None, Crashing, and The Nightly Show with Larry Willmore.
We can't wait to see what these comedians have in store for this year's show. Happy Homecoming, 'Noles!
Want to see more HCFSU? Be sure to like us on Facebook and follow us on Instagram, Twitter, and Pinterest!