This Thanksgiving weekend, I traveled from Miami to New York. Traveling during COVID-19 is definitely an experience, so let's talk about it!
I'd like to start off by saying that anyone who knows me, knows that I absolutely love New York. I'm a little obsessed, if you will. That being said, this will definitely be a romanticized recollection of my little weekend getaway.
Now we can actually start! First up is the airport. I arrived at Miami International Airport absolutely nervous about traveling during a pandemic. I passed through TSA and had my negative COVID-19 test on file just to be safe. I filled out a rather extensive traveler's form that was required to enter New York state. Even though it was nerve-racking, I appreciated the precautions the state was taking to ensure everyone's safety. The law enforcement teams that were set up in the airport made sure every flyer filled out the traveler form before leaving.
I was eventually allowed to go out and tour the city once I arrived. I started my weekend in the Bronx. Personally, I don't think you've really been to New York if you don't explore outside of Manhattan at least once. I took advantage of the little time I had available and went on a mini-tour around the borough of Salsa. I went to Orchard Beach and City Island.  Now, being a Miami girl and hearing Orchard Beach and City Island, I had to go check it out for myself. Much to my surprise, the beach was actually a beach and the island closely resembled The Florida Keys. I was expecting it to be let down, but of course, it's New York, so I wasn't. After that, I headed to Wall Street (I rode a ferry to Manhattan, which to New Yorkers is typical but for me, it was foreign to casually hop on a ferry.) Not much to see there, at least from what the public can tell because things are closed off due to COVID-19. I did manage to see the Charging Bull in the financial district, which is just steps away from Wall Street. 
Once I finished there, I headed to the Gramercy Park area to meet up with a friend. We took the subway to Times Square and walked around to look at all the extremely lit up billboards and signs. Side note, I've been to New York a good handful of times and I never get tired of Times Square. Once we'd walked around enough, we went to Magnolia Bakery at the Rockefeller Center. The Rockefeller Center is my favorite building in New York and Magnolia is hands down the best bakery in the city, so I was in heaven. The Rockefeller Christmas tree was something I was so excited to see, but we didn't realize it wouldn't be lit until later that week. However, I did catch the tree lighting on TV! I was pretty beat after all that running around so I went home and immediately fell asleep. And that just about sums up my first outing in New York.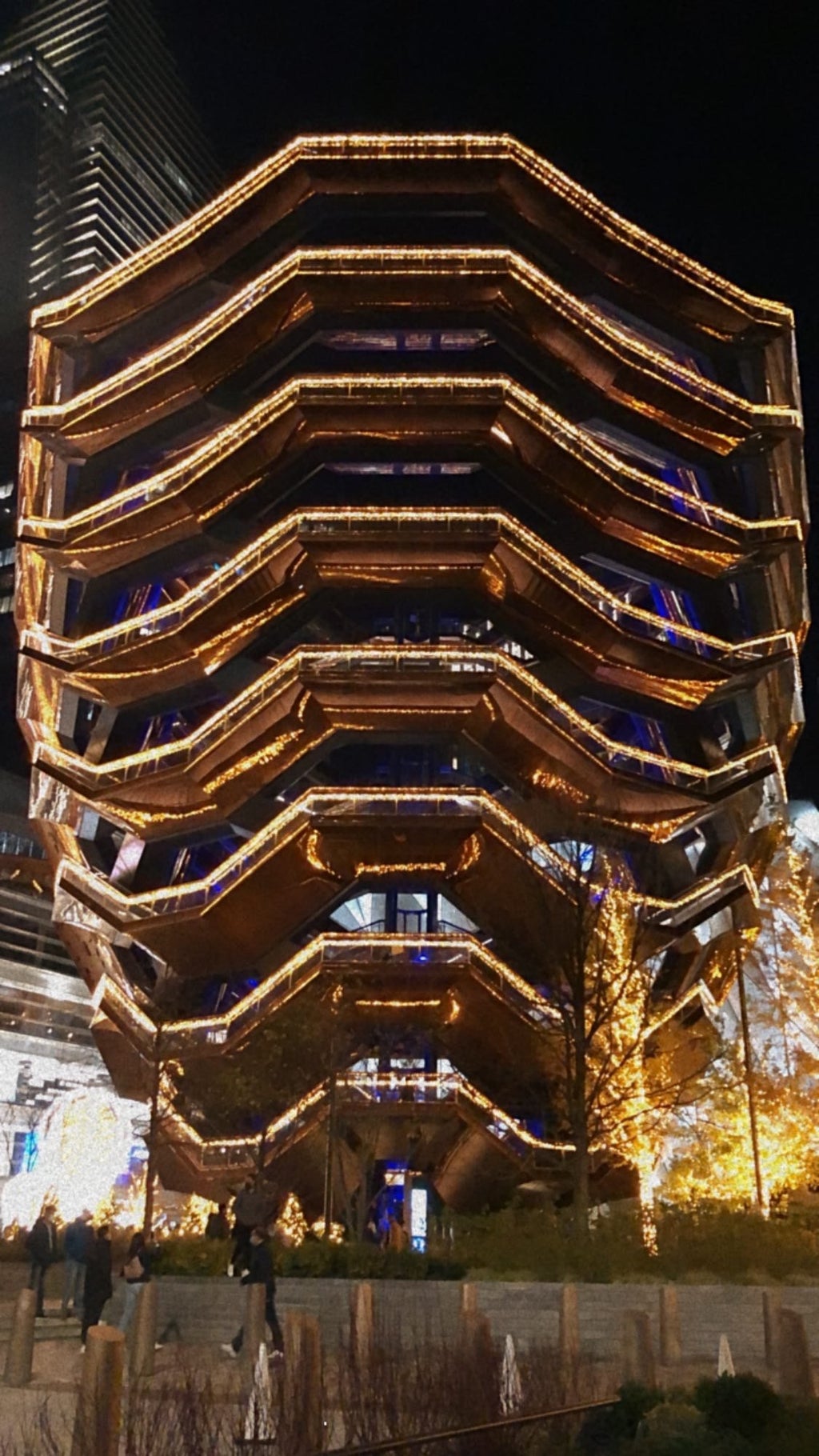 If that wasn't enough, the next day I did it all over again. I began my day in Manhattan at Mimi Cheng's Dumplings. I'd been eyeing the place since the last time I was in New York, but I finally got to try it this time around. All I have to say is that it's worth the hype, and I 11/10 recommend getting yourself some when you're in the city. A subway ride later and I was in SoHo, one of the most aesthetically pleasing places in the city. I walked, shopped and took pictures as one does when in SoHo. I can confirm this is where all of my money went with no shame. 
After roaming around lower Manhattan, I went to the West Side of Manhattan to Hudson Yards. Almost immediately after getting off the subway, I saw the Vessel, a structure and visitor attraction built as part of the Hudson Yards Redevelopment Project. It was lit up at night, giving all the holiday vibes. To close my last night in New York, I visited the Shops at Hudson Yards, a shopping plaza very well decorated for Christmas, might I add. I had little energy left to really explore the mall but from what I did see, it was beautiful!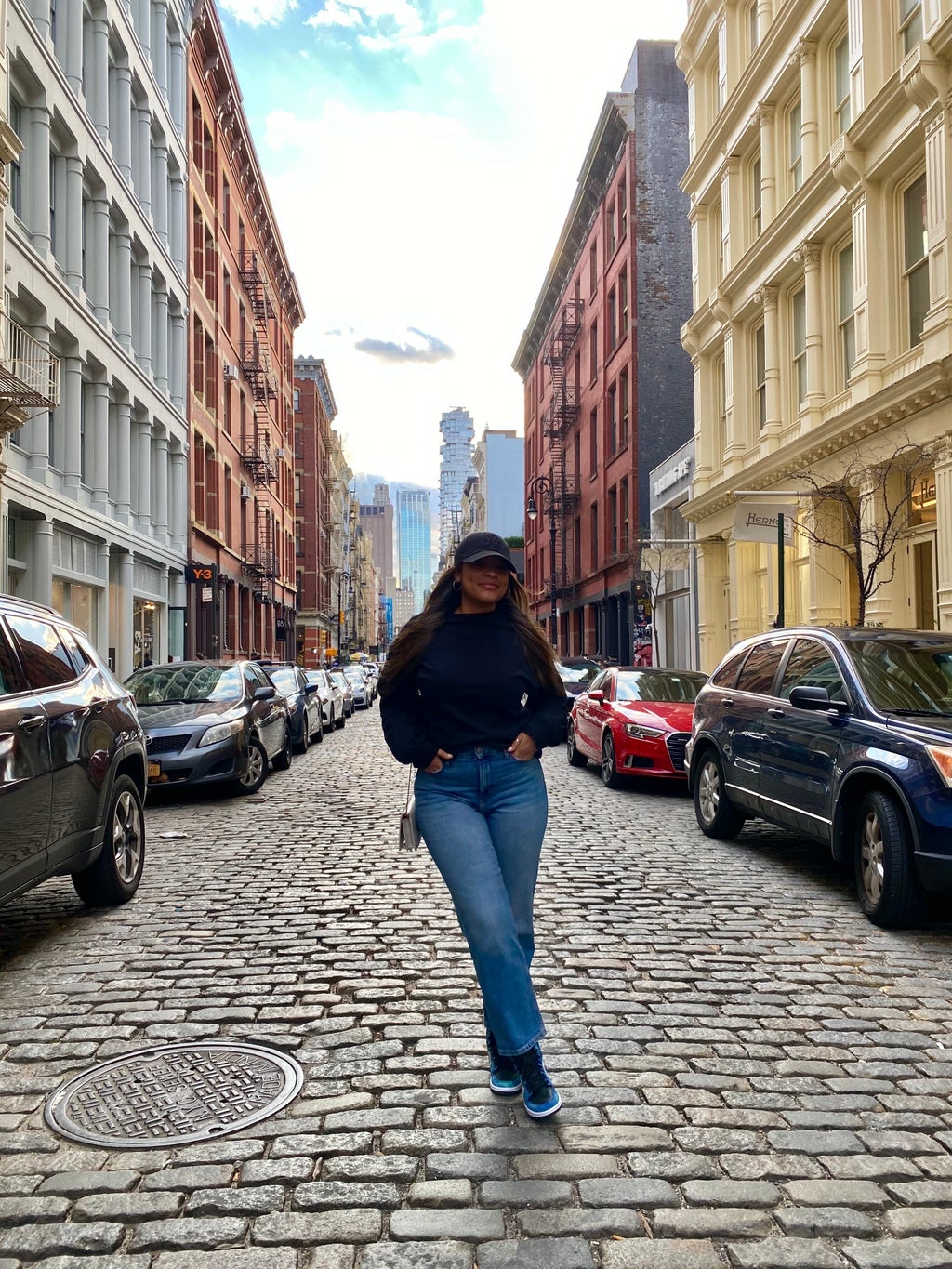 Wrapping up my weekend getaway to New York, I had a great time. The atmosphere of the city from the people to the food is immaculate. I enjoy myself every time I go, and this time was no different. As for traveling during COVID-19, it is a little nerve-racking but still worthwhile so long as precautions and safety measures are being executed. So, if you're thinking of going to New York soon, be prepared and go for it!
Want to see more HCFSU? Be sure to like us on Facebook and follow us on Instagram, Twitter, TikTok, Youtube and Pinterest!