Those of you who are familiar with my articles may remember when I wrote an article profiling Patty Ortiz, a Florida State University student with a nobly driven mind. Patty Ortiz is ambitious and certainly admirable; I wrote an article describing her time working with the International Rescue Committee (IRC). During that time, she was affiliated with the IRC teaching immigrants, getting them ready for the citizenship exam, focusing on reading, writing, and speaking. 
She is once again the subject of one of my articles, but this time it's for her brand new business: Glitz and Glam by P.  
Patty herself recently celebrated her twenty-first birthday, and many of her friends in her circles have been celebrating their twenty-first birthday with the pomp and pageantry expected of a milestone birthday. This, coupled with a monotonous day-job inspired her to seize the market for customized drinking in Tallahassee.   
She was encouraged by a friend who also specializes in the market of customized items to begin creating glitzy liquor bottles; Patty recognized that she was crafty and talented with glitter, glam, rhinestones, etc., and her friend suggested she attempt to customize a couple of bottles. Deciding to give it a try, Patty realized she really enjoyed the process and the final product: she wanted to create more distinctive glittery bottles.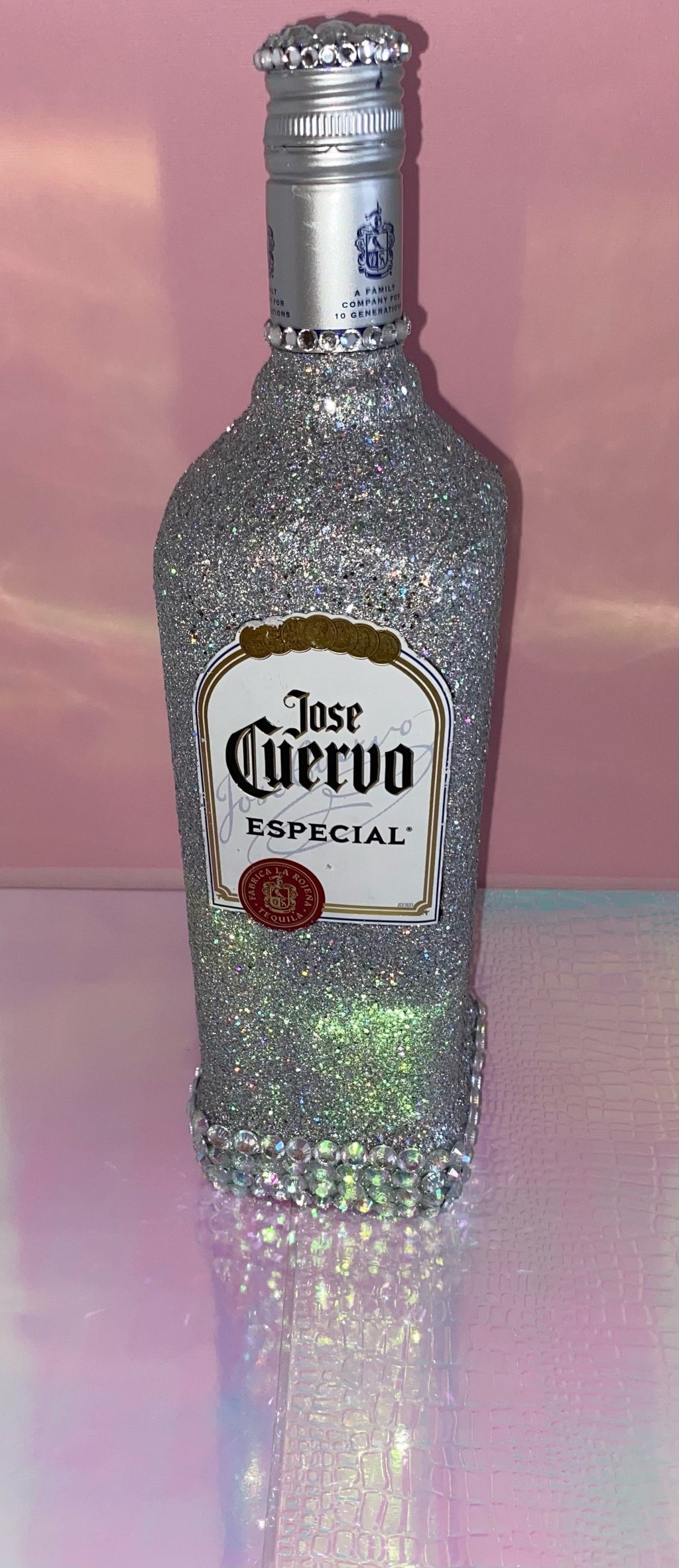 Patty describes her bottles as statement pieces, something entirely unique that no one can judge you for or devalue, as well as something that can reflect you as a person. As they are customizable, she can make almost anything. She would like to expand. as her business is brand-new, and it would be a big achievement if Glitz and Glam by P became a trendy gift for graduates, twenty-first birthdays, etc. 
Glitz and Glam by P is currently a one-woman operation; she has created each of these unique looks by herself alone. Although she admits it's a lot of work, she enjoys the process and the creative measures needed in order to create each distinctive look.  
In order to combat the rapidly growing trend of underage drinking, Patty will not sell to anyone who is unable to provide confirmation that they are at least twenty-one years of age or older. Not only that, but she requires her customers to sign a contract stating that A. They are at least twenty-one years old and B. They will be the only ones drinking the purchased alcohol.  Patty states that it is the buyer's responsibility to keep the drink out of underaged hands once they have made the purchase. 


Interested customers can currently purchase these decorated alcohol bottles by direct messaging her at her Glitz and Glam by P Instagram. She's told me that she is comfortable with customizing anything, so feel free to leave a request for a specific bottle to be customized! Currently, Patty is planning on expanding her products to include wine bottles, shot glasses, flasks and much more, so keep an eye out for more Glitz and Glam by P products that will be released soon!
Want to see more HCFSU? Be sure to like us on Facebook and follow us on Instagram, Twitter and Pinterest!