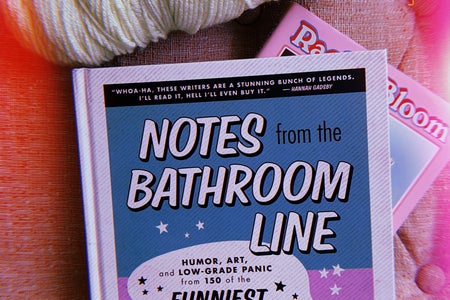 Original photo by Minnah Stein
An Interview With Amy Solomon From the Bathroom Line
What do you get when you give 150 women comedians free range to write about whatever is on their minds? A collection of everything, anything and 150 essays that are obsess-worthy. In her new book Notes From the Bathroom Line, Amy Solomon channeled her passion for comedy into a love letter to women comedians everywhere. Filled with humor, art and low-grade panic, Notes From the Bathroom Line features essays from 150 of the funniest women in comedy as they discuss everything from Cecily Strong's instructions for her funeral, to the honor of gaining access to Rachel Sennott's Finsta, to Sarah Naftalis' advice for how to effectively tell your boss you watch Bravo without losing their respect—and every wildly funny story in between. 
All of the essays were curated and edited by Amy Solomon, the only person who rivals my obsession with comedy. After being gifted a VHS box set of old Saturday Night Live episodes for Hanukkah, Amy became hooked on funny women. This fact hit a little too close to home for me, as I was ironically gifted a box set of The Carol Burnett Show for Hanukkah, and it had the same effect on me. I guess box sets of VHS comedy shows are the gateway to a comedy addiction.
Becoming obsessed with the comedian Gilda Radner, Amy Solomon threw herself into all things Gilda—Gilda movies, Gilda shows, Gilda interviews and a Gilda book titled Titters: The First Collection of Humor by Women. Titters was a time capsule of leading women comics in the 1970s, featuring a collection of their essays, one of which was penned by Gilda Radner. As you may have guessed, Amy has a very well-worn copy of Titters that served as the inspiration for her new book.
Always looking for and loving the funniest women in the industry, Amy decided to combine her extensive circle of comedic friends and her desire to show off their comedic talent to the world by creating a second time capsule of leading women comics: Notes From the Bathroom Line.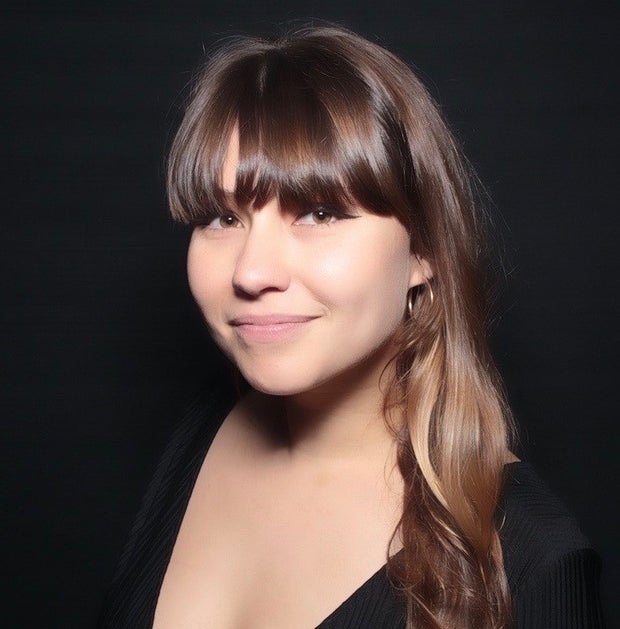 Photo by Amy Solomon Her Campus (HC): What made you feel like 2021 was the right time to create another time capsule of women's comedic voices?  
Amy Solomon (AS): It was mostly that it had been WAY too long since the last one! Titters was published in 1976—it was so insane to me that there was never another collection of humor by women after that. So eventually I was like, okay I'll do it myself if I have to! I do think it was good timing though because, oh my God, we are living in a strange time. I'm glad we got these amazing voices on paper right now.   
HC: In addition to being a best-selling author, you are also an accomplished television producer, producing shows like Barry and Silicon Valley. What advice would you offer other young women who are dreaming of a job in television production?  
AS: This is gonna sound goofy, but I'm being totally serious: write thank you notes! When you get advice from someone or they refer you for a job or whatever, write them a thank you note. Often an email will suffice, but if they really helped you out, do a handwritten one. It really sets you apart. And keep in touch with people generally, just not when you need a favor from them. 
HC: We actually came to love comedy in very similar ways—watching the greats. You loved Gilda and I loved Carol. Which influential women comedians from the past do you think aspiring women comedians today should study?
AS: Gilda Radner is my all-time favorite and biggest inspiration. Everyone should watch everything she ever did. Also, Phyllis Diller! Carol Burnett! Moms Mabley! Lucille Ball! Just to name a few. 
HC: Women comedians often don't get the credit they deserve. Who are your top three picks for most influential women comedians of today and why? 
AS: WOW, this is so hard because there are so many. I would say Issa Rae is a huge one; she's doing such amazing work both on-screen and behind the scenes as a producer. I'm a HUGE Sharon Horgan fan. She's another genius who's so amazing onscreen (Catastrophe!), but she also has a production company. And then I'm gonna go with Maya Erskine and Anna Konkle because I think PEN15 is truly visionary, and I can't wait to see what they do next. But I'm missing one million.
HC: I couldn't agree with you more! Personally, I think PEN15 is one of the best television shows ever; it's absolutely ingenious. In curating the pieces to be included in your book, which do you think delivers the best laugh to help us get through the pandemic?
AS: This is hard too because they're all my babies at this point. Throughout the book there are these group questions that a ton of the contributors answered, stuff like, "Describe your parents' parenting style in one sentence," and "Have you ever accidentally sent a text to the wrong person?" There are such funny answers, so those pages are good pick-me-ups if you ever need them. 
HC: I can attest to the power of this book to make you laugh. I LOVED LOVED LOVED the Ernest Hemingway spoof by Alexandra Petri. Just typing this, I'm laughing again! I love that Notes From the Bathroom Line showcases women comedians in a way that celebrates their genius and creativity. Why do you think comedy was thought of as strictly a man's world for so long? And how do you think that's changing?
AS: Men love to claim things for themselves, so naturally they tried to co-opt comedy too. It's been a long, slow process, but we're finally getting some amazing women in positions of power (see my answer about Issa Rae and Sharon Horgan!) who make it their mission to elevate other women's voices, and that's so cool. 
HC: Why is a woman's perspective so important in comedy?
AS: Women are half the planet! So, it's insane to just let the dudes do all the joking around.  
HC: In the book, you give the contributors prompts that ask them things about their experiences and opinions. So, I have a prompt for you: All women everywhere know that there's never any toilet paper in a public restroom when you need it most desperately. Do you have any conspiracy theories about where that toilet paper goes and who takes it?
AS: Hahahahaha… I'm not sure, but one of my dogs loves to tear up tissue, napkins and toilet paper, so maybe it's her? Nan, bad girl! 
Iconic comedian Carol Burnett tugged on her ear, and Tracy Ullman said, "Go home!" to conclude each episode of their hilarious comedy shows. But despite their famous conclusions, their influence is seen most in their ability to inspire young women comedians to not go home and never stop. Thanks to the great women who came before us and revolutionary books like Titters, we have people like Amy, who by showcasing today's funniest women in her book, shows the world women are just as funny as men—maybe even more so.
Women comedians can get a laugh backwards, in heels, with IUDs, migraines, breast augmentations, constraining labels and an array of other issues all addressed in this incredible book Notes From the Bathroom Line. As Amy says in the introduction, "I encouraged the contributors to write about whatever was on their minds, and I'm hoping it resulted in a hilarious time capsule of our own. If you agree, please shout it from the rooftops." Picture me up on my roof: GO BUY THIS BOOK! YOU WILL NOT REGRET IT. 
Want to see more HCFSU? Be sure to like us on Facebook and follow us on Instagram, Twitter, TikTok, Youtube and Pinterest!