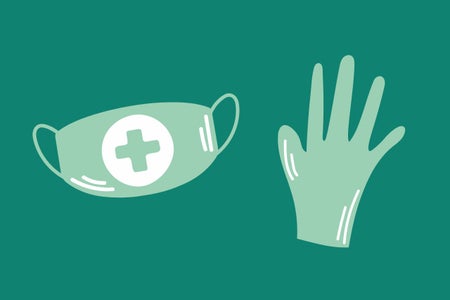 Health Experts Are Against Reopening the Country
Many states have issued orders to open their businesses including Florida, Tennessee, South Carolina and Georgia. This past Monday, the governor of Georgia, Brian Kemp, issued a statement where he says he could "see the terrible impact of Covid-19 on public health as well as the pocketbook." His plan to reopen businesses such as gyms, hair and nail salons, bowling alleys and tattoo parlors is set to go in motion on Friday, with dine-in restaurants, movie theaters and other entertainment centers to follow the next Monday. The Governor plans to implement fever screenings, spacing workstations and having workers wear gloves and masks in order to combat concerns over spreading infection. Other governors, such as Kristi L. Noem of South Dakota and Tate Reeves of Mississippi, have also given their reasons for opening their states as repairing the economy.
Some politicians are expressing concern over Kemp and other governor's choices. Mayors of Georgia's major cities combatted his choice, as well as President Donald Trump, who said of Kemp that he wants the Governor "to do what he thinks is right" although he believes "it's too soon."
Despite the precautions Kemp is supposedly taking, health experts are warning that reopening the country so soon would be detrimental to flattening the curve of Coronavirus, which was the point of quarantine in the first place. They believe that the virus could spread out of control if businesses are reopened prematurely, causing a flare in cases that could be astronomically devastating. Michael T. Osterholm of the University of Minnesota expressed his concerns to the Washington Post, saying that decisions like this show that Americans aren't prepared for surges in the disease that release from quarantine could cause.
"The way you prepare people for a sprint and marathon are very different," said Osterholm. "As a country, we are utterly unprepared for the marathon ahead."
The increasing amount of cases in the state of Georgia alone has drawn many health experts to these conclusions as well. As of April 23, Georgia has over 20,500 cases and 860 cases. At Wednesday's White House briefing, Dr. Anthony S. Fauci, the director of the National Institute of Allergy and Infectious Diseases, also spoke against the decision Kemp made, emphasizing with the "desire to move ahead quickly" yet still believing that "as a health official and as a physician" he would not have reopened the state. Fauci gave Kemp a warning that "he should be careful."
Want to see more HCFSU? Be sure to like us on Facebook and follow us on Instagram, Twitter and Pinterest!