Florida State University senior Olivia Hopkins was officially crowned Homecoming Princess for the 2019-2020 school year at the homecoming football game against Syracuse. She is involved in many campus organizations and has had many achievements in her college career, including being a Florida State Golden Girl and recently being initiated into Alpha Kappa Alpha Sorority, Incorporated. I've worked with Olivia in the past through the Women Student Union (WSU), so it was a pleasure to catch up and interview her. 
Her Campus (HC): Where are you originally from, and what are you currently studying? 
Olivia Hopkins (OH): I am originally from Greenville, South Carolina, and I am a Dance major with a minor in Business. 
HC: What made you choose Florida State? 
OH: I chose FSU for the Dance program because it's the best in the southeast region. 
HC: How long have you been a dancer? 
OH: I have been dancing since I was two years old; however, my professional dance career started when I was about 15 years old. 
HC: If you could describe yourself in one word, what would it be and why? 
OH: Silly! I love to joke and have a good time. I think I'm kind of funny because my friends tell me I am and say I have a way of bringing a lighter energy to certain situations. 
HC: What organizations are you affiliated with on campus and in the Tallahassee community? 
OH: I am involved in the Women Student Union, Golden Girls Dance Team, Alpha Kappa Alpha Sorority Inc., Student Athlete Advisory Council, School of Dance Student Advisory Council, 621 Gallery, and Community Arts Initiative.  
HC: What is your favorite part about being a Golden Girl? 
OH: My favorite thing about being an FSU Golden Girl is meeting and dancing for Seminole fans who share the same passion and enthusiasm for the school as I do. I take great pride at the opportunity to represent this preeminent university, and nothing beats the excitement I feel being able to cheer for the Noles, especially during the War Chant—it gives me chills every time.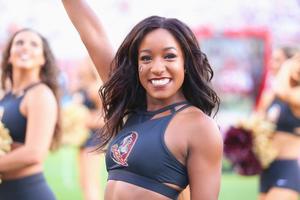 HC: Have you studied abroad before? If so, highlight your experience. Where do you want to go next and why? 
OH: I studied abroad through FSU International Programs' Dance in Paris Program. I had the absolute best time of my life. I was able to do what I love—dance—in the city I grew to love! Paris is rich in culture and food, which made every day full of sites and historical landmarks to see. It was a lot of walking around and getting lost, but overall it was the best thing I could've ever done in college. However, I learned more about myself, not just about a foreign country. I really want to go to Asia next. Either Japan or South Korea because my cousins recently studied abroad in those locations, and they loved it. 
HC: What does it mean to you to be a part of Alpha Kappa Alpha Sorority, Inc.? 
OH: Being in Alpha Kappa Alpha Sorority, Inc. is a great honor and means the world to me. A late family friend who I considered my second dance mom sparked my interest in the sorority. Because of her influence, Alpha Kappa Alpha Sorority, Inc. was the only way. I would not love this organization as much as I do if it had not been for her and her love for it. There's no greater feeling than being a representative and continuing service to all mankind.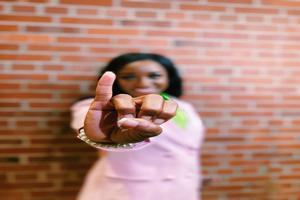 HC: What is the most fulfilling part of being on the WSU executive board? 
OH: The most fulfilling part is when we host a successful program with educational and interactive aspects. After the event when there are few deltas (cons) but many pluses (pros), makes me feel like all our hard work paid off. I also really love being an advocate and representative for other women on campus. Being on e-board means meeting and working with other strong, driven women. 
HC: What do you plan on doing with the title of 2019 Homecoming Princess? 
OH: I plan on being a positive role model for students on this campus. I remember my freshman year, I really looked up to the members on the court and the homecoming princess and knew that I wanted to be just as impactful. I hope that I am given the opportunity to speak to students. If so, I will tell them that anything is possible, especially for minority, out-of-state student-athletes and agency members.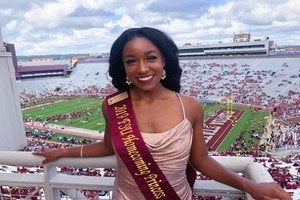 HC: What was your experience like being on homecoming court and finding out you won? 
OH: I had the best time! I got to know 11 other strong, influential campus leaders on a personal level and some great friends along the way. It is more than just winning; it is attending all the homecoming events and participating in bonding before the week. If it had not been for court, I wouldn't have been able to attend all the week's events due to my practice schedule, but I was so happy to see the hard work many students put into making this a wonderful, memorable week. 
HC: What has been the most challenging part of this semester? 
OH: The most challenging part of the semester has been getting enough sleep. I always make sure I fulfill my obligations and complete my homework, and sometimes I had to sacrifice a couple of hours of sleep. 
HC: What do you plan on doing after undergrad? Where do you see yourself in five years? 
OH: Immediately after graduation, I plan to get my MBA in marketing at the College of Charleston. Hopefully, in five years, I am either dancing professionally in a company or working as a marketing manager for a major dance theater or company. My long-term goal is to open my own performing arts talent and marketing agency. 
HC: What advice do you have for women who are new to Florida State? 
OH: I advise new lady Seminoles to find something to get involved with as soon as they can. Whether it's a sorority, an agency, a club, a sport, etc., it's important to experience what it's like to be a student at FSU, which is more than just attending classes. Engaging in the campus community is so rewarding, and you will not regret your time here. 
Be sure to follow Olivia on Instagram, and if you see her on campus, don't be afraid to interact! 
Want to see more HCFSU? Be sure to like us on Facebook and follow us on Instagram, Twitter and Pinterest!