Get To Know Sharon Zilberman: Health Insurance in the Time of COVID
In today's times of COVID, people all around the world have been struggling with their personal lives, work lives, and sometimes the challenge is combining the two. Sharon Zilberman, the executive Vice President of operations at Apple Insurance, a contracted agency for Florida servicing the whole state from Boca Raton, gives us an insight into her personal and work life in the time of COVID.
To begin, here is some of Zilberman's background with the organization. She has been there for the past 11 years, since the beginning. Zilberman came in as a sales agent with a background in human resources. She then continued to work every position, allowing herself to work up the charts. Marketing, finance, commissions, sales—you name it. In a phone interview with Zilberman, she said "When you combine all of those things [positions] it allows you to have a good view of the organization." After all these years of experience, Zilberman is now a resource and a mentor to her coworkers.
Then COVID came. Days of going into the office stopped and Zilberman started to work from home. "It was a big transition for me to move home. I was used to being the first one in and out and had my hands full constantly."
Actually, Zilberman stopped going to the office earlier than many of her coworkers did due to her autoimmune disease Lupus. On an average year, she ends up with pneumonia due to her complications of Lupus. "As everything started happening with COVID I was in a situation where I moved out before I got sick."
Now working at home since early March, I asked Zilberman if anything became a challenge. Zilberman responded, "I think because I had worked every position in the organization it made it easier to manage the organization from home instead of in person." She went on to say that she believes that working from home actually makes your time more valuable and productive. "At the office, there's always someone to talk to. You can walk into the lunchroom and talk about what was on TV last night. When you're working from home and doing everything over the phone, you really don't have the extra time to do that, so it makes your time more efficient."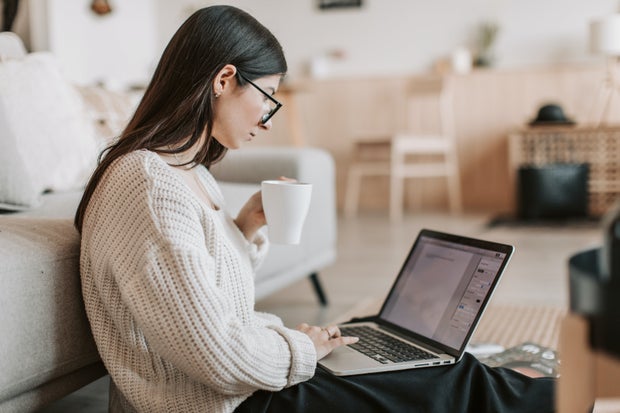 Photo by Vlada Karpovich from Pexels
Zilberman is someone who has a strong, determined work ethic. This helped her transition of moving from a bustling working environment to a quiet, sometimes lonely workspace out of her home. To help her stay in the groove, she said "I used to never make my bed. But now that I work from home I make my bed, I shower, I get dressed, and that helps me put a little more of a mindset that I'm going into work." Zilberman's motto is that when you do something consistently, it helps you build more discipline.
Something that I was looking forward to asking Zilberman about is how her work life intertwined with personal/ home life. Zilberman said, "When COVID hit, we were all home. It was a big shock, my husband wasn't working and my daughter wasn't in school all summer. They were playing but I was still working. With everyone being home I was a little jealous. They could go into the pool or take a nap while I had to keep the discipline since I was still working. Now my husband is back at work and my daughter is doing school online."
Family is the most important thing for Zilberman. She gives credit to her husband for allowing her to work the hours she worked while building up her career. Zilberman's husband stayed home with the kids at night, while Zilberman got them up in the morning. Although she worked later in the day, Zilberman always made sure she was home for dinner. She said, "We found that if we were not all sitting there for dinner, we lost that sense of balance."
When I asked Zilberman for any final remarks, she said "I've become very successful through a lot of hard work. The one thing you cannot change about a person is their work ethic. You either have it or you don't. What I would say to any young woman in college is: Treat whatever you're doing as it was your own because you'll end up continually growing with that business. I've never considered anything I've done as a job, I've considered it as my business."
Want to see more HCFSU? Be sure to like us on Facebook and follow us on Instagram, Twitter and Pinterest!