Get Involved and Get Creative: Ally Jones on Her Experiences and Passions
Following your passions and interests is arguably one of the most important steps in developing your lifestyle. Florida State University student Ally Jones has utilized media and social organizations as creative outlets and has created a pathway to follow her dreams. I sat down with her to talk about what her college experiences have been and the steps she has taken to create her future.
Her Campus (HC): As a Delta Zeta sorority member, how have you gotten involved in your chapter?
Ally Jones (AJ): This past year, I have gotten involved in multiple committees in Delta Zeta, including recruitment team, new member education and bid day. I absolutely love having a small part in what goes on inside our chapter and being able to impact my other sisters' experiences as well.
HC: How has joining a sorority impacted your life as a college student?
AJ: Delta Zeta gave me amazing friends, a creative outlet and a home away from home in my short time here. It has made every day here on campus brighter. We can all agree that college is hard. Sometimes having that safe space to fall back on can give you all the confidence and love that you need to keep going.
HC: You are also involved with Clutch Magazine; what type of work do you do? Has this given you any experience in your desired career field?
AJ: Being part of Clutch Magazine has really expanded my creative horizons as well as my network on campus. I work as a casting director, so I work directly with all the models and photographers to coordinate all the photoshoots. While it doesn't relate directly to the career that I want in my future, it has definitely allowed me to expand my knowledge as to jobs that are out there. There are so many opportunities inside Clutch, and I can't wait to see what I may have the chance to do in the future.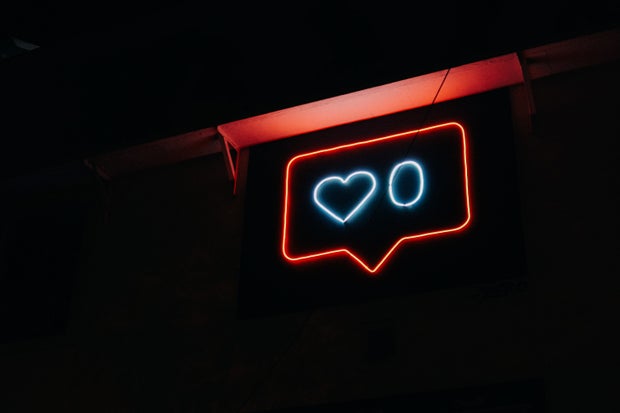 Photo by Prateek Katyal from Unsplash
HC: What inspired you to make your Instagram page, and what is your motivation behind that?
AJ: My Instagram page, @moodsofal, is where I started to express my love for graphic design in the last few months. I was inspired by similar accounts that I had seen and wanted a place where I could post my own creations and create my own "world" while keeping it separate from my regular Instagram. I really enjoy creating content for my account, and it's definitely something I look forward to, as that's what I typically spend my free time away from school doing. I would love to take it farther and make prints or other physical items down the line, but for now, I'm just experimenting with what I want to post.
HC: Is there a quote or motto that inspires you? Why this one?
AJ: One of my favorite quotes is: "She believed she could, so she did." I'm a big believer in self-motivation and think that not enough people realize the power that it holds. At the end of the day, it is only ourselves that can truly get us to where we want to be. The sooner we realize this, the more time we can spend bettering ourselves and chasing our dreams. You can't go through life waiting for someone to do things for you; you have to go out and seek them for yourself. We hold all the power that we need inside of us, and once you find that power, there really is nothing you can't do. Self-motivation and positivity are the most powerful tools there are!
HC: What advice do you have for your peers in regard to chasing their dreams?
AJ: My advice is to take advantage of every opportunity you can, whether that be an outside opportunity or a personal idea. If there is something that you think could benefit you in some way, why wouldn't you try it? Failure is scary, but especially at our age, we have so much time to try new things and test what works for us. Help yourself in any way that you can! Your future self will thank you.
HC: What plans do you have for yourself in the future?
AJ: My future plans are to graduate and hopefully have a job with a major retail company doing some sort of visual merchandising or buying. Part of my major is entrepreneurship, so I can totally see myself starting my own online store one day, but I would love to gain some work experience from an established retailer before doing so. But I'm open to almost anything in the fashion industry, there are so many great jobs now, and I want to gain as much exposure as I can. Mostly, I'm just excited to get out there and see the industry from the inside.
Ally has already accomplished so many things during her time in college and I am excited to see what greater success she achieves in the future. It was a pleasure getting to interview her.
Want to see more HCFSU? Be sure to like us on Facebook and follow us on Instagram, Twitter, TikTok, Youtube and Pinterest!