Framing Britney Spears and Women in the Public Eye
One of pop culture's most well-known moments within the last 25 years is Britney Spears' mental breakdown in 2007 that caused her to shave her head bald. Following this instance and a couple of other erratic decisions, such as attacking a photographer's car with an umbrella and being admitted into a psychiatric facility twice, Britney was put under a conservatorship.
This gave her father, Jamie Spears, the legal right to oversee decisions about Britney's estate and health, including negotiating business deals and restricting who can see her. As of now, Britney is still under the conservatorship that was supposed to be temporary.
In Feb. 2021, the New York Times documentary on Britney's situation, Framing Britney Spears, was released on Hulu. The documentary goes into detail about Britney's attempt to regain control of her life from her father. Not only does it examine Britney's legal battle, but it also exposes the toxic culture experienced by all high-profile women of the 90s and early 2000s.
In the 90s and early 2000s, the media used headlines covering high-profile women that made them seem less dimensional than they were in reality. Oftentimes these were sexist headlines that negatively affected the perception of women by the public eye. Such coverage included a Rolling Stones Magazine cover from Nov. 2003 naming Jessica Simpson "The Housewife of the Year," as she poses in her underwear holding a vacuum.
These media headlines were not the only responsible source of this kind of negative and sexist coverage. Anna Nicole Smith was described as "obtrusively voluptuous" in her own obituary. The 90s were a different time, and the Framing Britney Spears documentary is being seen by the younger generation, who has a fresh perspective on the situation, allowing it to be re-examined. This has opened up a broader scope of high-profile women of the 90s and early 2000s who were disrespected by sexist headlines and stories at the hands of the media and its toxic culture.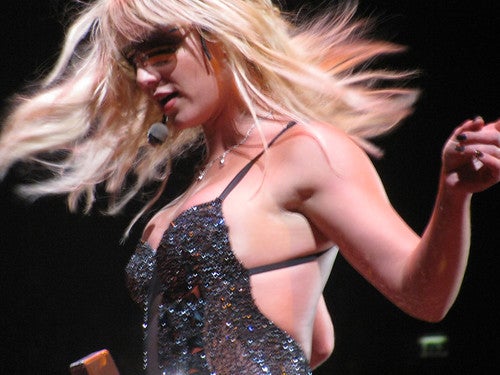 Photo by SuperSamPhotography distributed under a CC BY-SA 2.0 license
These women include Janet Jackson, who was blacklisted after a wardrobe malfunction at the Superbowl halftime show in 2004 after her top was pulled down to reveal her right breast. Although Justin Timberlake, who pulled her top down, continued to rise in fame.
The partying habits and rehab stints of celebrity women like Lindsay Lohan and Paris Hilton were written in magazines and coined Girls Gone Wild from a male perspective. This narrative suggested that these women had a bad influence on teenage girls in the U.S. when they were just young women themselves making all of their mistakes and growing up in the spotlight and under the scrutiny of the public eye.
Girls Gone Wild was not only damaging to high-profile women but to women in general. From 1997 to 2003, the creator of Girls Gone Wild, Joe Francis, and his film crew followed drunk college girls exposing private areas of their bodies on film.
There was even a Girls Gone Wild magazine with headlines like "The Bachelor's Shayne Lamas Reveals it All: An Uncensored Pictorial" and "The Naughty Girl Next Door: Kim, Hot Pics Inside." These headlines and the material inside the magazine itself sexualized and fetishized women, stripping them of their sexual autonomy. It portrayed women as one-dimensional sexual objects who only exist for a man's sexual gratification when in reality, these were real three-dimensional women with lives and character.
Want to see more HCFSU? Be sure to like us on Facebook and follow us on Instagram, Twitter, TikTok, Youtube and Pinterest!