Everything You Need To Know About What's Happening in Russia Right Now
The U.S. has a bunch of its own issues going on at the moment, especially with Donald Trump's much-anticipated impeachment trial currently happening in the Senate, that it can be hard to keep up with global current events. While Americans were facing domestic threats to democracy other countries such as Russia and Myanmar are experiencing their own political turmoil.
One thing is certain, history is in the making and it is essential to understand what is going on abroad as much as what is going on domestically. Russia is currently experiencing a wave of political protests. These can be tricky to understand so here is a break down with some historical context and background:
August 1999: Before Putin was to be Russia's president for 20 and counting he was an obscure security chief until he was appointed as Russia's acting Prime Minister by Russia's President at that time, Boris Yelstin.
December 1999: Yelstin resigned due to poor health and appointed Putin as the acting President.
March 2000: Putin won his first Presidential election.
March 2004: He went on to win a second term in 2004 with more than 70 percent of the vote.
May 2008: Putin becomes Russia's Prime Minister after he is unable to serve a third consecutive term due to constitutional limits of two consecutive terms. Dmitry Medvedev, an ally of Putin's, wins the Presidency.
September 2012: A congressional decision is made to extend the presidential term from four to six years and Putin wins the Presidency a third time. Although he won 60 percent of the vote, a variety of anti-Putin protests took place with allegations of voter fraud.
March 2018: Putin wins re-election.
June 2020: An amendment to abolish the constitutional limitations to the consecutive Presidential terms passes after Russians vote on it. Putin's current term is going to end in 2024 but with this amendment, Putin's Presidency could last until 2036 if he decides to run another two times. Putin's opposition leader and anti-corruption activist, Alexei Navalny, referred to the results of the amendment as a "fake and enormous lie."
Opposition Leader, Alexi Navalny, is Arrested and Imprisoned
On Jan. 17, Alexi Navalny was arrested after flying into Moscow from Berlin because this travel allegedly violated the terms of his suspended 2014 money laundering conviction, which Navalny claims were unlawful. Navalny was recovering from a fatal military-grade poisoning in Germany which occurred in August 2020 while he was visiting Tomsk, Russia. Navalny accused Putin and his government of the poisoning, these allegations have been denied.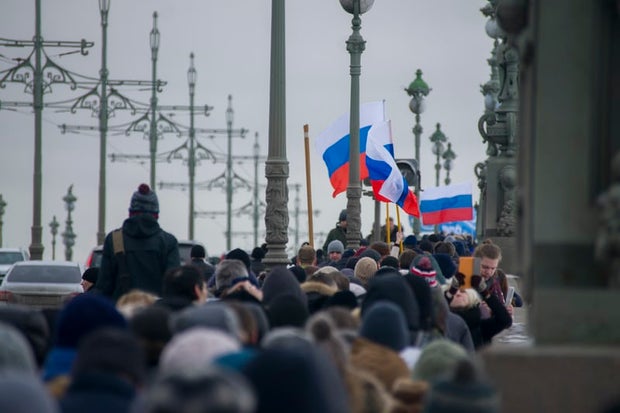 Photo by Кирилл Жаркой from Upslash
Protestors Storm the Streets in Support of Navalny, Demanding he be Released From Prison
On Jan. 23, protests waved across the nation as large crowds gathered in numerous Russian cities throughout the country demanding Navalny's release from prison. This resulted in the arrest of at least 3,000 people and numerous police beatings. The protests are still currently happening. So far 11,000 have been arrested and the Russian government has condemned the protests as illegal and dangerous. Valentine's Day protests have already been planned by Navalny's ally, Leonid Volkov, and an international arrest warrant has been issued for him.
Want to see more HCFSU? Be sure to like us on Facebook and follow us on Instagram, Twitter and Pinterest!