Growing up in Central Florida means growing up around theme parks. During the pandemic, myself and others across the Central Florida community felt the loss of theme parks closing (and the furloughs that came along with that). While I'm happy the parks are open now, I am also hyper-aware that they could close again at any moment. Following proper safety guidelines is the only way to ensure that doesn't happen.
As I compare the safety guidelines of Disney World and Universal Orlando, I will also be comparing my experience in the parks. The last thing to note is that I visited Universal a few times back in August and haven't been since. The last time I visited Disney was this past Tuesday (Dec. 1). Hopefully, Universal hasn't changed much since I was last there!
The Basics
Face Coverings: Both parks require face coverings. I saw this upheld at both parks. Universal does have some questionable "U-Rest" areas where guests can take off their masks, but Universal also had the most vigilante employees reminding guests to wear face coverings properly.
Temperature Screenings: All guests entering Universal had their temperature checked. While the Disney website said temperature screenings were only required for "some locations", I saw all guests getting checked upon entry.
Social Distancing: Both parks had social distancing marks in the queue lines for rides and stores. 
Hand Sanitizer: "The aloe!!" That was a phrase my friend and I whispered constantly throughout the day at Universal. The smell of hand sanitizer at that park could fill up a whole room. Employees were stationed before the start of a ride to physically pump sanitizer into our hands. Both parks had hand sanitizer stands available before and after rides. I could not find hand sanitizer stands located anywhere else throughout the parks.
Virtual Queue Lines: Both parks have a virtual queue line in place for their most popular rides. At Universal, you can skip the long wait for "Hagrid's Motorbike Adventure" and the Jimmy Fallon ride, while Disney has a similar experience for "Star Wars: Rise of the Resistance".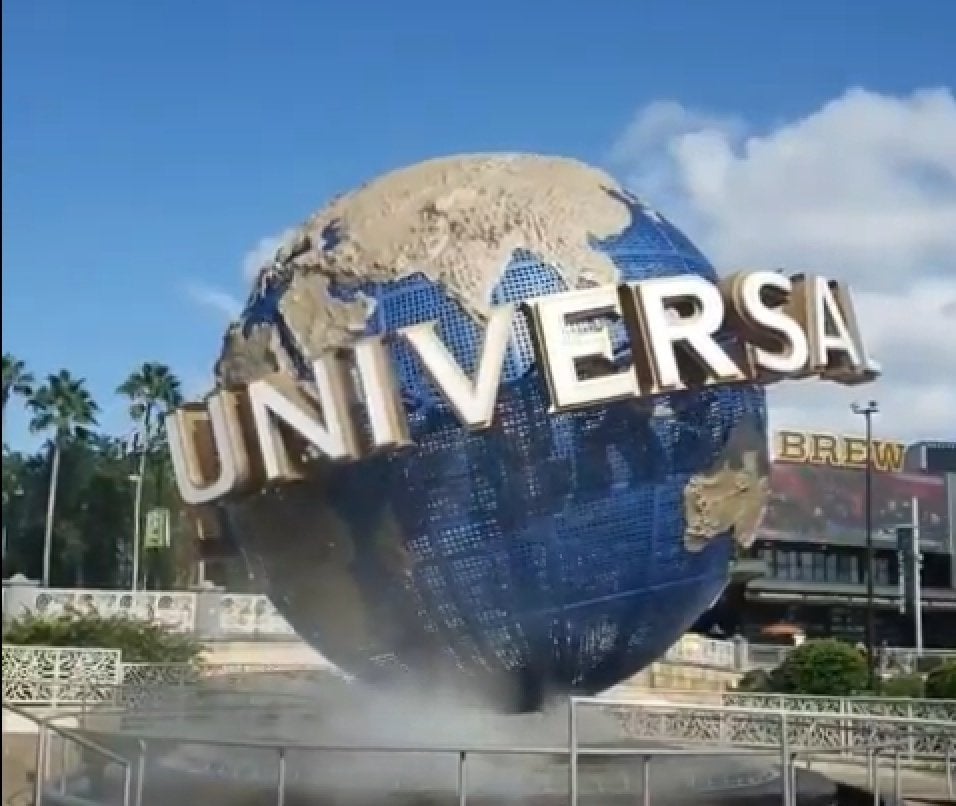 The Crowd Levels
The biggest concern for my brother and I was choosing which theme park to go was the crowd levels. Disney's Hollywood Studios (and their new Star Wars area) was out of the question, as was the ever-popular Magic Kingdom. Epcot interested neither of us, but Animal Kingdom had the lowest crowd level predictions. 
Animal Kingdom may be the largest theme park by size (at five hundred acres), but it has the least amount of space in terms of attractions to visit. It wasn't as obvious in the morning, but as crowds drew closer to the only two thrill rides in the park, I began to feel uncomfortable.
By the end of the day, my brother (whose main motive for coming to Disney was merchandise for his friends) was practically running out of the stores to avoid bumping into other customers.
On the other hand, Universal Orlando was a breeze. Whether I was at the Islands of Adventure or the Universal Studios park, crowds seemed evenly spread out. Guests at Universal seemed less respectful of the safety guidelines than at Disney, but I can't hold that against the parks. 
Final Notes
Disney World has the unique challenge of being the most popular and most visited theme park ever. It seems almost unfair to pit that against Universal—a park known to attract more young adults and teenagers than families with small kids. Still, if you are planning to visit any theme park over the holiday season it's important to keep these safety guidelines in mind.
Want to see more HCFSU? Be sure to like us on Facebook and follow us on Instagram, Twitter, TikTok, Youtube and Pinterest!