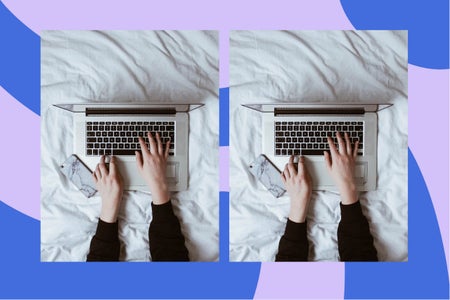 A Day in My Life: Quarantine Edition
Hopefully, by now, we are all heeding the CDC's instructions to stay inside. It can be difficult settling into a routine, as this becomes our new normal. This is a little snip-it into my new daily routine. 
9:00- Rise and shine! Normally I set my alarm for 9 am, but I stay in bed on my phone for about 30 minutes. 
9:30- Make a pot of coffee. I like to drink one cup of hot coffee in the morning, then put the rest in the fridge to make iced coffee later in the day. The days of driving thru Starbucks or Dunkin are over, so for now, this will have to do. 
9:45- Make breakfast. Since I am home and can control what I eat, I'm trying to eat as healthy as possible. This morning I mashed up an avocado, spread it on toast and topped it off with a fried egg. 
10:00- Shower and get ready. I've found what works best for me is putting on make-up, doing my hair, and putting on a cute outfit. Even if I'm not leaving the house, it makes me feel more productive, and I tend to get more work done as opposed to if I would stay in my PJ's all day. 
11:00- Class. My first class via Zoom starts at 11. I created a nice workspace for myself, to focus more. 
1:00- Time for lunch! Again, I've been trying to eat healthy. Today, I made myself a salad. One of the good things that have come out of the Coronavirus is my bank account is not going down! Since I'm not eating out anymore, I'm not spending as much money on food. 
1:30- Back to work! After lunch, I continue my schoolwork. 
3:00- Time to get outside! It's important to take mental and physical breaks. I normally take my dog for a walk at this time. 
3:30- Activity. It's also important to keep your brain stimulated. Lately, I've been painting. 
5:00- Exercise. Since I am home, I have been working out every day. This normally means going on a run through my neighborhood. I try to do this later in the day when it is cooler out. 
6:45- Shower. 
7:00- Dinner! My family and I have been eating dinner all together. Something fun we started doing is "themed" dinners. This is where we dress up according to a certain theme. So far, we've done Sports night, Hawaiian night, and formal night. This is a fun way to incorporate the whole family and have something to dress up for and look forward to. 
8:30- Downtime. This is where I do something for myself, such as read a book, watch Netflix or do a face mask. Self-care is so important, especially during these times!
10:30- Bedtime! Time to go to sleep so I can get up and do it all over again. 
From the research I have read, establishing a routine is key in order to succeed in these unprecedented times. I encourage everyone to draft a routine to stick with when stuck at home- trust me, it helps!
 Stay safe, stay healthy, stay happy. 
Want to see more HCFSU? Be sure to like us on Facebook and follow us on Instagram, Twitter and Pinterest!