The infamous Coronavirus has led to drastic changes being made by schools across the globe. Florida State University students were some of the first to be affected by these changes after news of the Coronavirus being in close proximity to the areas, they were studying in. Peyton Guiry, a second-year student at FSU, was studying abroad when the outbreak happened. 
Her Campus (HC): Where did you decide to study abroad?
Peyton Guiry (PG): I studied abroad in Florence, Italy!
HC: What were you most excited about during your study abroad experience?
PG: I was most excited for the weekend travels, the wine, Italian culture and meeting new people. 
HC: What was your first impression after landing in Italy?
PG: I didn't expect it to be as small as it was! My driver gave me a tour of the city when he was taking me to my assigned apartment during sunset and it was incredible. As soon as I landed, I went to dinner with my roommates & was blown away by the food and how beautiful it was at night.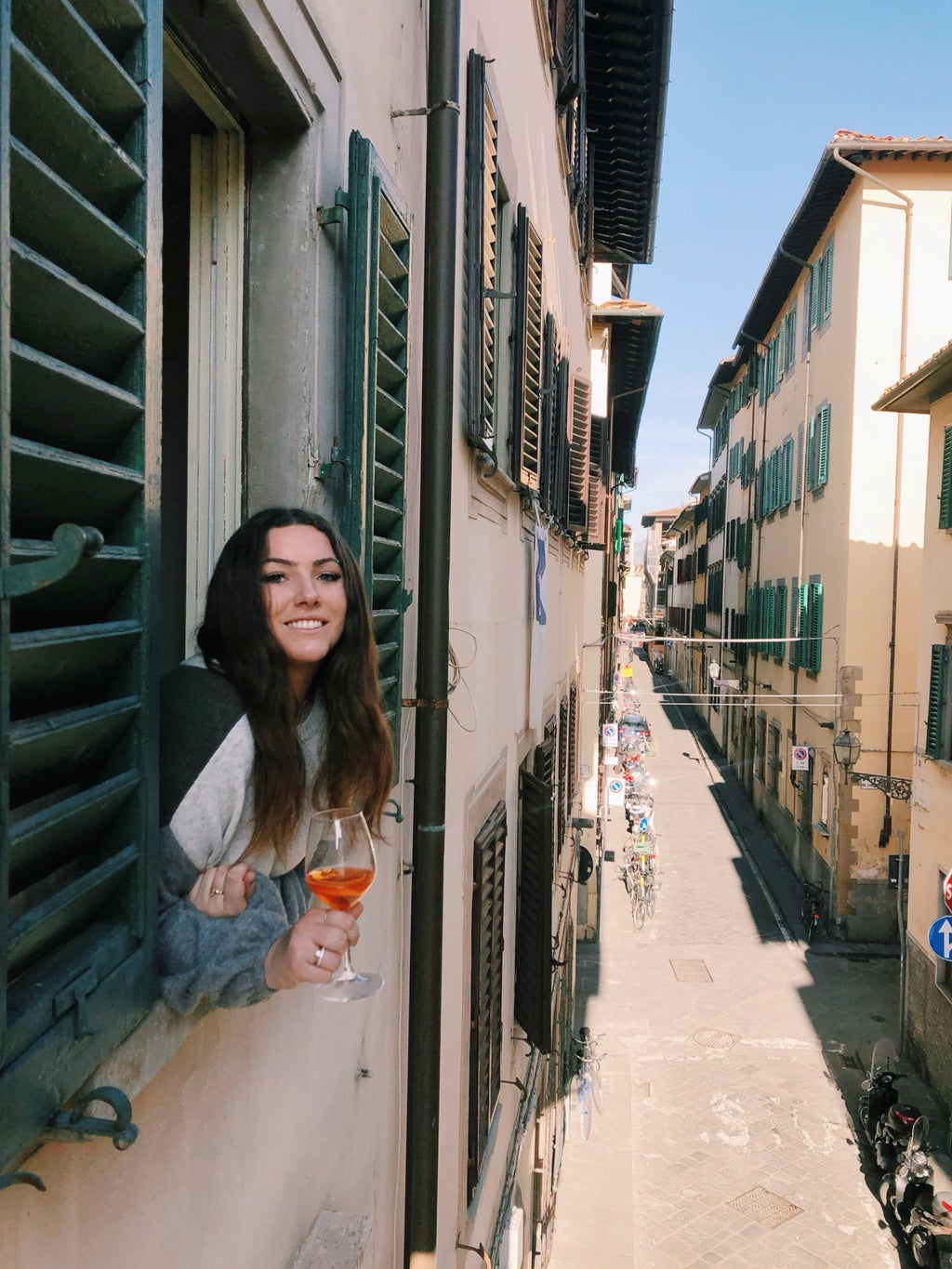 HC: What were a few of your favorite memories while studying abroad? 
PG: I lived twenty-ish minutes from the study center so my daily walk to school over the Ponte Vecchio (a bridge over the Arno River in Florence) with my friends was always something to look forward to. All of the school events like our day trips to Bologna and a nearby vineyard were so fun because we all really bonded together. I think my favorite trip had to be Budapest because nearly the entire program ended up there the same weekend and we all went to the baths and a boat party together.
HC: When the Coronavirus outbreak first came about, what were your initial reactions? 
PG: The outbreak was super sudden and unexpected. When we got back from Amsterdam on Sunday night, there were men in hazmat suits taking temperatures as we left baggage claim. The next day our friends at NYU told us they had to leave because their program was suspended. Syracuse and a few other schools followed shortly after that. At that point there was no record of the virus in Florence itself.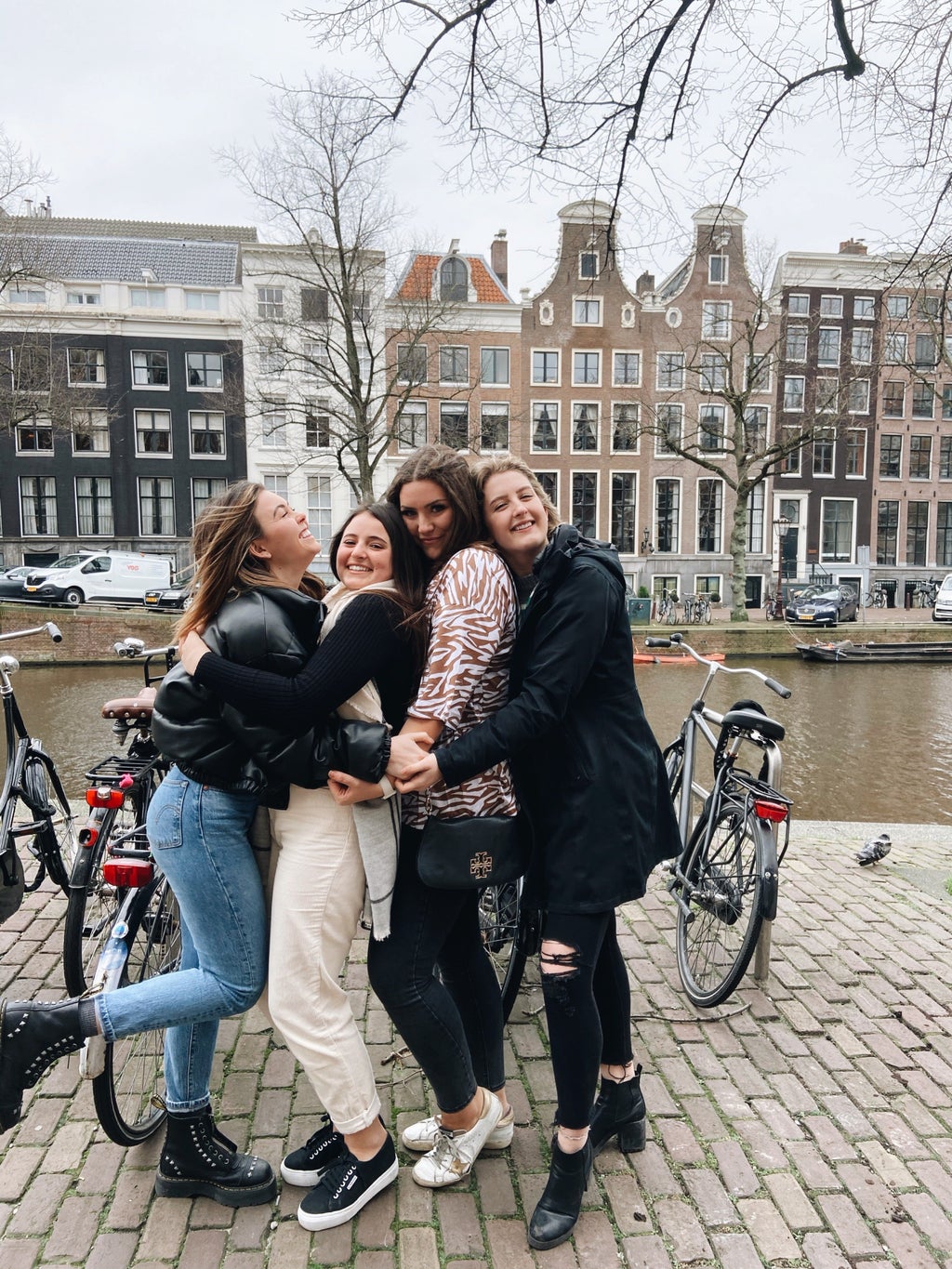 HC: How did the university handle the initial outbreak of the virus?
PG: Prior to the massive outbreak, they kept us advised of the news at all times via email and social media, as well as having us subscribed to the U.S. Embassy emails. The study center was always stocked with hand sanitizers and our apartments were all cleaned and disinfected by a cleaning service weekly. The day after we got back from Amsterdam, we found out that all classes & midterms were suspended. Our director called an emergency meeting. He basically said that they were 99% positive everything would calm down and we would restart the program as planned after spring break, which was starting that Thursday, but we probably needed to rethink some of our spring break plans. Travel was beginning to get limited, so suggesting going back to the U.S. wasn't a terrible idea. However, around noon on Saturday our entire program was shut down for the semester and we were advised to be out of Italy by March 9 at the latest. Overall, I think they did a fantastic job at accommodating us and keeping us safe. As unfortunate as it is, I think they made the right call at the right time; not too early and not too late.
HC: When you first found out that the program could possibly be cut short, how did this affect your decisions regarding what to do?
PG: We figured there was a possibility of that happening after NYU & Syracuse did it, and after the meeting our parents suggested we come home for spring break instead of going on our planned trip to Denmark, Sweden, Norway, & England. Instead of flying to Copenhagen Thursday morning, we flew back to New York Wednesday night.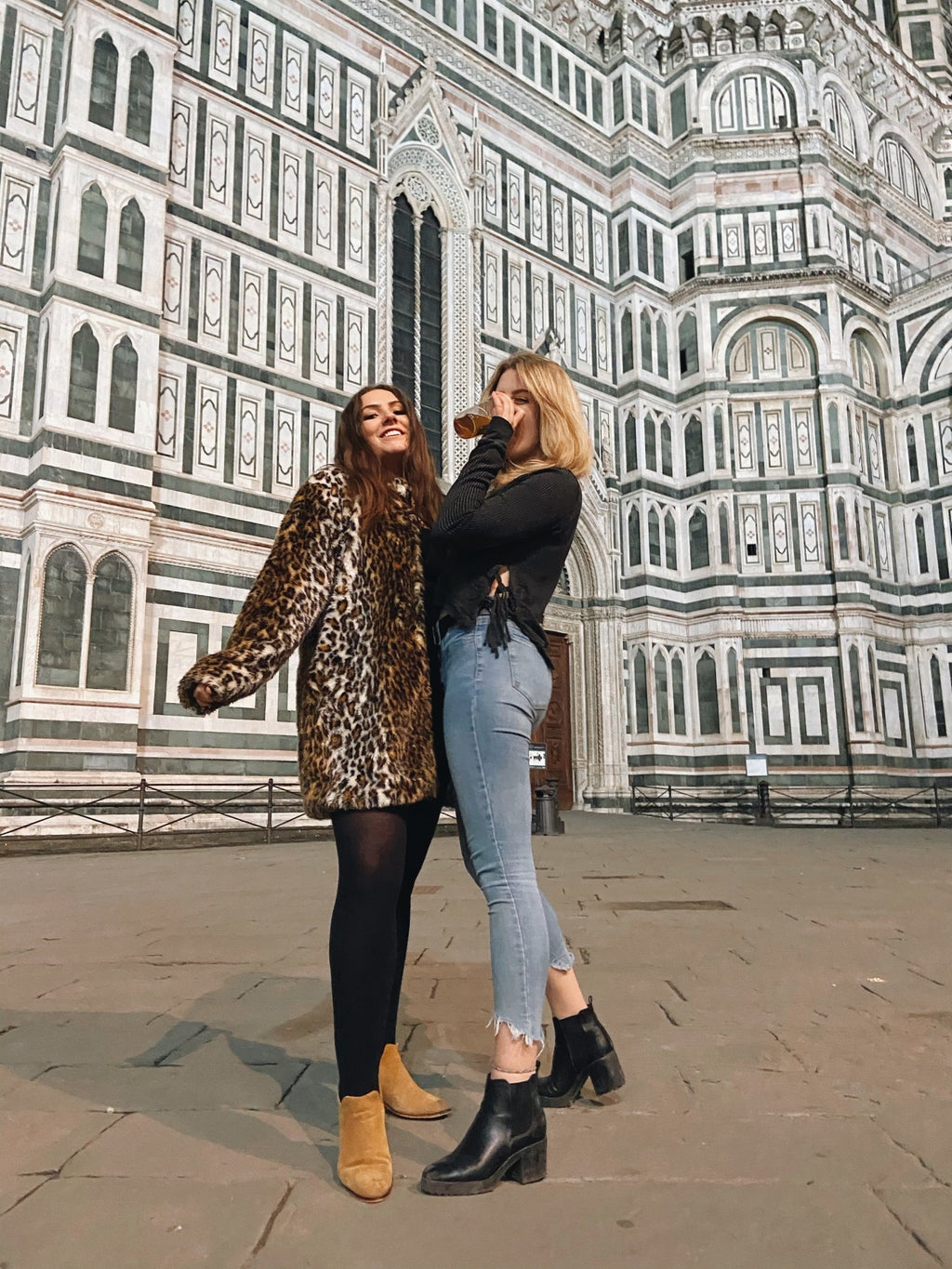 HC: When you found out that the program would, in fact, be ending early, what steps did you take next?
PG: When I found out I was boarding a plane from Newark to Jacksonville, after spending the weekend with two girls I met while abroad. There was nothing we could do immediately other than be sad and disappointed. Italy had been upgraded to a level 3 threat, so we figured our return would be delayed but not indefinite. Once we got home, we had to make an inventory list so our things in Florence could be packed up, email any questions to our directors, and just wait for answers from the people in charge. 
HC: Overall, how do you feel about the program being cut short?
PG: I was devastated that our time got cut short and I felt robbed of a semester. But, as the virus gets more out of control, I am glad they took the measures they did when they did. Ultimately it sucks but I think it was the only option they had, and it was the right one.
HC: What happened once you got home? 
PG: When I got home, after spending the weekend with friends in New York, I was technically on spring break, so classes were on pause and they had yet to make them available online. I was not required to quarantine myself because I did leave Italy before it got bad. However, I did go to the doctor just to make sure I was in the clear. It was a bit odd to be home because I was living in Europe for two months where everything is SO much different than America. Living under my parents roof instead of my Tallahassee apartment with nowhere else to go was a major adjustment, especially after I found out I would not be returning to my semester abroad. They have been working to make our classes digital, however it's obviously pretty difficult as many were Florence-based classes in which we went out into the city and did hands on activities. We are now behind schedule, and many of our assignments have had to shift due to the fact that they are remote, but all of the professors have assured us we will continue to learn.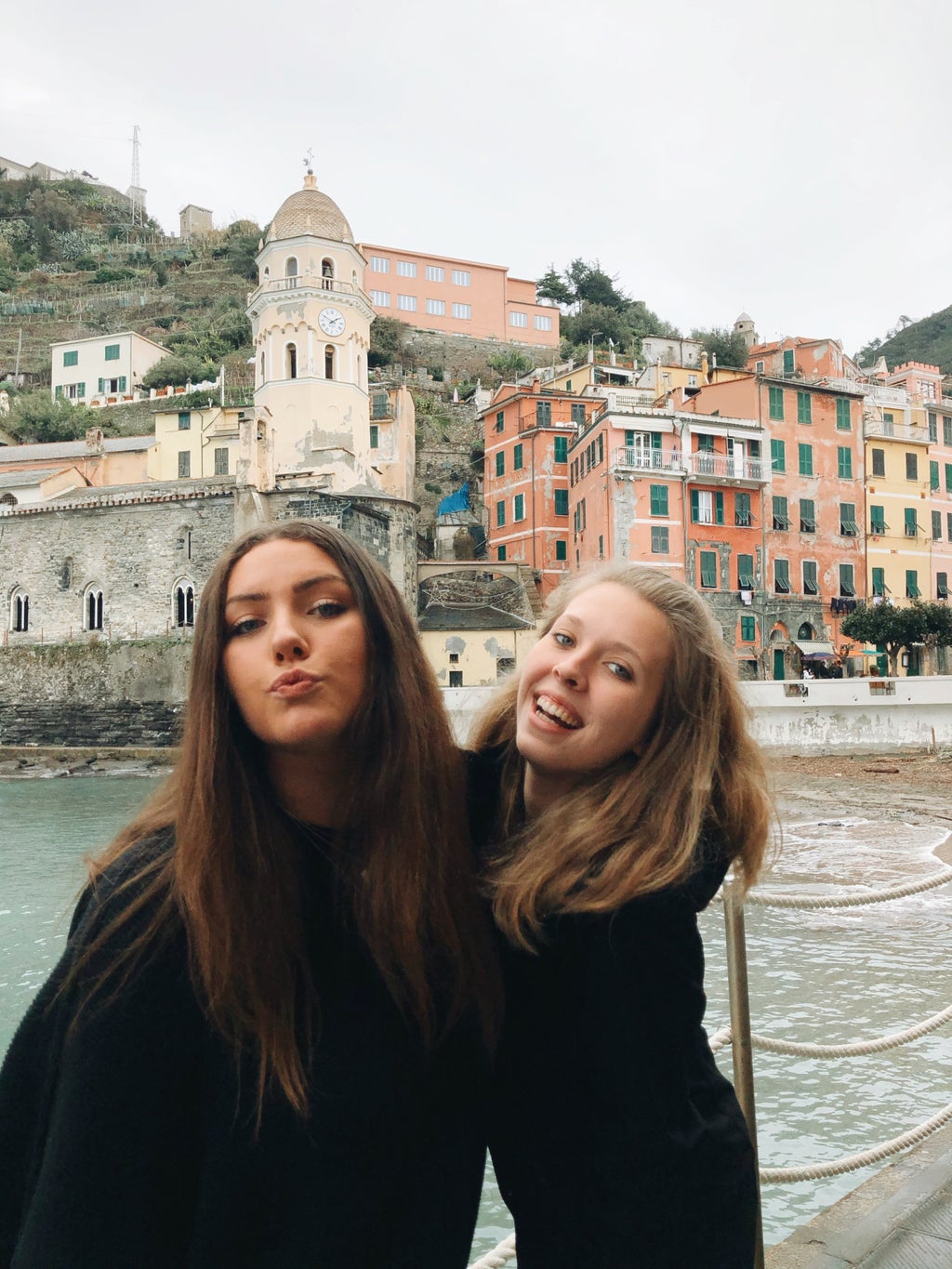 HC: What are your plans for the future?
PG: I will finish my classes remotely this semester in Florida, instead of Florence, and return to Tallahassee in the fall. I am lucky enough to have the flexibility and the means to study abroad again next spring with two of my friends that I met from this semester. Although, I will have to take two classes this summer to assure that I will be on track, I will graduate on time in 2022 as a Finance major with an Italian Studies minor. 
Follow Peyton on Instagram to see more pictures from her study abroad experience @PeytonGuiry.
Want to see more HCFSU? Be sure to like us on Facebook and follow us on Instagram, Twitter and Pinterest!