The Celebration of April 22 Around the World
Vibrant sunsets, blue oceans, grand mountains. These are just a few of the beauties that capture the essence of our Earth. On April 22, we will come together to celebrate these treasures that make up our Earth and learn how better to maintain them for years to come. But have you ever wondered about the unique traditions and celebrations on Earth Day that are hosted around the world? Well, let's get into it.
Austin, Texas: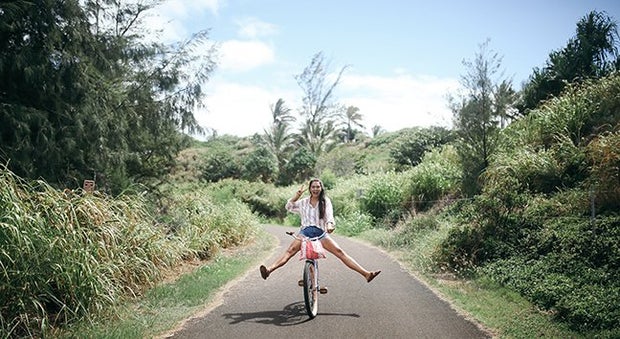 Tessa Pesicka / Her Campus
Austin is known for being the greenest city in the U.S. with its "LEED-certified buildings," farmer's markets, endless bike lanes and best of all its low carbon footprint. So it is safe to say that the people of Austin know how to celebrate Earth Day the right way. In Texas, April 22 is full of festivities including movement and wellness classes, sustainable living showcases, climate action informational tents, community justice panels, musical performances and even bike demos. Their overall goal is to provide several opportunities for everyone to decrease their carbon footprint while learning how to conserve, recycle and upcycle.
Copenhagen, Denmark:
In Copenhagen, Earth Day is celebrated at "Christiansborg Castle Square" where a large drum-playing circle is formed and directed at the four corners of the world. Everyone is invited to participate and play in the 15-minute drum circle that continues for two hours. After this musical celebration, all are invited to the "March for Science," a march that holds the political leaders accountable for supporting proper scientific policy and greener resources. 
Barcelona and Granada, Spain:
Granada, Spain celebrates Earth Day by holding a 24-hour gathering that focuses on global unity and regeneration. The event includes environmental presentations and workshops, providing helpful information on how to maintain our habitat.
Similarly, Barcelona, Spain hosts an Earth Fair at Parc Central de Nou Barris. The fair includes a farmer's market, environmental education workshops and conferences as well as a variety of artisan vendors for an overall memorable experience. 
Tokyo, Japan:
Japan is actually known to be the most eco-friendly country in Asia. For Earth Day, Tokyo hosts its two-day celebration in Yoyogi Park which was originally created in 1964 as the site of the Olympic Village for the Summer Games. The festival attracts over 100,000 visitors who gather to listen to live music, browse through handmade goods and global cuisine, participate in family activities and educate themselves on companies that encourage sustainable living. 
Johannesburg, South Africa: 
Photo by Polina Tankilevitch from Pexels
South Africa celebrates "International Mother Earth Day" on April 22. The largest consumer exhibition in South Africa, The Rand Show, has been an important event in the city for years, attracting over 400,000 visitors. The Rand Show takes families "on a journey" where they are able to experience a wide range of themed expo's that target all of their interests and needs. A large part of this is the Earth Expo which is sponsored by several environmental organizations. Earth Expo provides educational forums on many topics including nutrition, fashion and technology. Further, they discuss entrepreneurship and the skills necessary to create a more sustainable business. 
Celebrating Earth Day can consist of more than just simply posting beautiful pictures. I admire how most of these countries place their own cultural spin on Earth Day and create community traditions while educating the public to better the environment. With all of this in mind, it is important to safely celebrate Earth Day this year, even if that means from home. There are still so many ways how you can make an environmental difference without attending festivals or large gatherings. However, when normalcy resumes, it is important to continue taking these mindful steps to lower our carbon footprint and live a greener life. Make it your mission to celebrate Earth Day every day and maybe add a little cultural twist! 
Want to see more HCFSU? Be sure to like us on Facebook and follow us on Instagram, Twitter, TikTok, Youtube and Pinterest!