CDC's Halloween Guidelines During the Coronavirus Crisis
For children and adults alike, Halloween is one of the best nights of the year. Celebrations often involve terrifying haunted houses, trick-or-treating with friends, bobbing for apples and attending costume parties. However, some say that many of these exciting events may seem frightening and irresponsible during a pandemic. Suitably, the CDC released guidelines for safe Halloween festivities that might save the spooky season. Activities are separated into lower-risk, moderate-risk and higher-risk categories, and even include possible substitutes for more dangerous holiday fun.
As anticipated, traditional trick-or-treating is considered a high-risk activity because it usually results in large crowds and many children's hands in one bowl. Instead, the CDC suggests a low-risk activity which involves a trick-or-treat style scavenger hunt around your own home. A moderate-risk move would be individually wrapping candy bags, after routinely washing hands, and leaving them at the end of your driveway or property. Fortunately, Halloween favorites that can still be enjoyed in the era of the coronavirus pandemic are outdoor pumpkin carving with friends or family, admiring others' festive Jack-o'-lanterns and decorating your home.  
While it isn't confirmed if handling food and the spread of COVID-19 are linked, it's best to play it safe. Refrain from hosting potluck meals and use disposable silverware and plates. With proper amounts of sanitizer, protective masks and social distancing, pumpkin patches and apple orchards, which are fall favorites, are moderate-risk. 
The CDC rules outdoor, socially distant costume parties and indoor parties with masks as moderate-risk. A lower-risk activity that could take the place of an in-person party is a virtual Halloween costume contest. Wearing a cloth mask in addition to a frightening Halloween mask can be dangerous. Instead, opt for a festive cloth — one for protection and safety. Creating your Halloween themed mask could even be an enjoyable fall activity to do while drinking hot apple cider.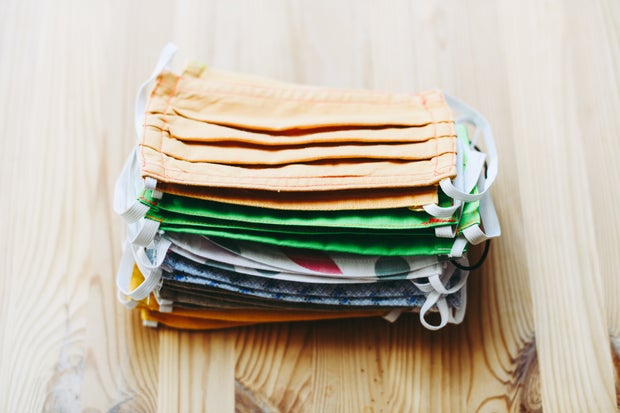 Photo by Vera Davidova on Unsplash
Hayrides and haunted houses are not recommended, but can easily be substituted for outdoor, one-way "haunted forests." However, the CDC states that social distancing should be farther than six feet if screaming is involved. This screaming recommendation applies for outdoor horror film screenings with family or friends, which is moderate-risk as well.
High-risk activities are majorly unrecommended and include traditional trick-or-treating, traveling to another area if yours has high COVID-19 cases and using drugs or alcohol, as the CDC expressed they can "cloud judgment." Trunk-or-treat, crowded indoor parties or haunted houses and hayrides with those not in your family are not advised either.
If you plan to attend a gathering, a 14-day quarantine is recommended beforehand in safety and consideration for others. There is always a COVID-19 risk, so the CDC recommends to always have a mask and sanitizer with you. It's essential to stay six feet apart from others, wash your hands regularly and stay home if you feel sick. After attending an event, it's recommended to stay home for another two weeks in precaution. In addition, many fall and winter activities, such as eating pumpkin bread while watching movies, involve staying warm inside, which is convenient if you choose to stay inside this year.
Want to see more HCFSU? Be sure to like us on Facebook and follow us on Instagram, Twitter and Pinterest!