The Best Lines From This Season of 'The Bachelor' so Far
We all know that this season's Bachelor contestants have no problem speaking their minds. It feels like there's a girl-on-girl confrontation every episode! From talks with Colton to confessionals we learn a lot about these girls based on what they're saying. Here's a rundown of the best things said so far on this season of the bachelor, so we can all get to know these ladies a little better!
1. "I really could have done more than a bag of nuts."-Erika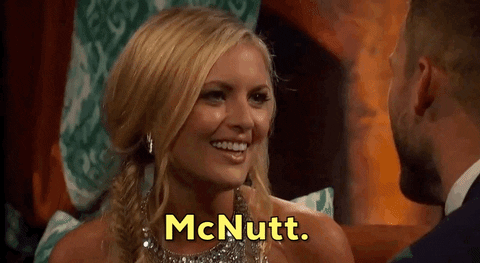 After watching the elaborate schemes of all the girls rolling into the house, Erika started to feel like her first meeting gesture was not up to par. I mean, someone rolled up in a freaking horse-drawn carriage! But, we have to admit that Erika's bag of nuts was thoughtful. With her last name being McNutt, the bag of nuts was a cute and quirky way for Colton to remember her in a sea of women strutting in. We all got a good laugh out of her realization because let's be real, that's ALL of us when we try a little less than our best.  
2. "Does she not have parents? I'm confused."- Caitlin
When Demi took the reins with Colton (as everyone should be used to by now) and led him to her room during a cocktail party, all the girls were writhing in their seats. Demi's attention to detail in putting on her robe didn't help! As she led Colton up the stairs, all the girls were sneaking looks and Caitlin said what all the girls must have been thinking. Bachelor Nation had mixed feelings. Some people laughed it off, while some other people thought it was uncalled for given Demi's family history. Demi wasn't exactly letting the whole house know about her mom's situation, so we don't think Caitlin had any malicious intent. Every gif of this moment has my retweet!
3. "I know it's not to play paper, rock, scissors."-Elyse
At the same cocktail party, Elyse had a word with Demi after she came downstairs from her moment with Colton. Demi was trying to brag about massaging him, and their amazing conversation, but Elyse was getting straight to business. She let Demi know that whether she was or was not doing anything sexual with Colton, it definitely didn't look good. In fact, she said she knew it wasn't to play "paper, rock, scissors," and the internet was hung up. Is it rock, paper, scissors? Is it paper, scissors, rock? Is this a Mandela Effect situation? Regardless, the pure confidence in Elyse's voice was absolutely iconic.
4. "I'm not fit, but I walk my dog."-Nicole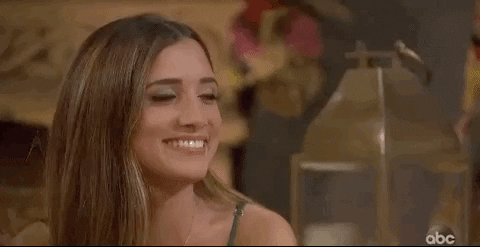 Nothing could be more of a mood than THIS. As Bachelor Nation joked about the kind of torture that getting a FITNESS date was, the ladies all showed they could get down and dirty. They flipped tires, did pull-ups, and pulled a whole limo! One of the girls on the group date, Nicole, was having an especially troublesome time. She knew from the first sight of all the workout gear that things would not bode well for her, and she decided to be a good sport about it all. Catherine helped her with her workout, she was playful with the audience, and she let us all know the extent of her fitness was walking her dog. Same girl, same.
5. Hannah: *growls*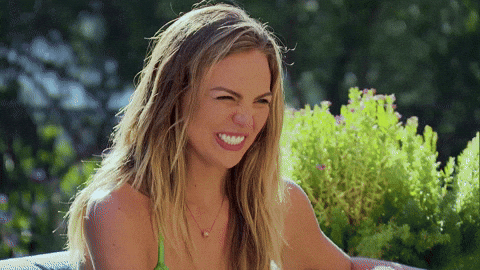 As the Caelynn and Hannah B. drama unfolded, we all couldn't help but be invested. What tea is there between these two? And why won't any Miss USA contestants spill the beans? For weeks before the episode aired we were getting shots of Hannah B. growling for an uncomfortable 5 minutes and we had no idea what the context was. On the pool party replacement for the cocktail party Hannah B. was talking to Never-Been-Kissed Heather, and while they both spoke about the Caelynn situation Hannah let it be known where she stood. After Heather kept insisting that Caelynn was probably talking about her, Hannah said that meant the monster was really coming out of her now. She growled, we cringed, and let's be honest: we were laughing AT her, not WITH her. The drama was squashed on last night's episode, so rest assured we won't be getting anymore growls…for now.
6. "Elyse is so brave for owning her age."- Demi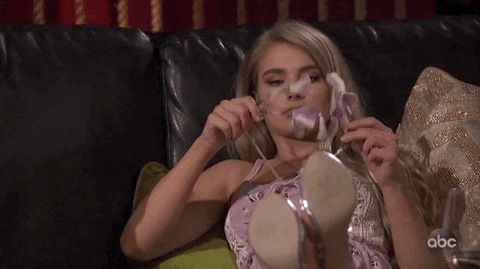 It's no secret that anyone over the age of 30 is ancient to Demi. In her diary sessions, she lets it be known that the cougar pack has no advantage in being older, and talked about how much she admired Elyse for speaking confidently about her age at the speeches group date. Bachelor Nation has gone to town mocking Demi for thinking 30 is old, and this delusional praise of Elyse for being "so brave" was no different.
7. "I don't want to hold your hand, Colton."- Caitlin
Caitlin gets an honorable second mention here for her walkout with Colton. After feeling no connection, Colton thought it was best to send Caitlin packing. He offered to walk her out, as most Bachelor's and Bachelorette's do when they send someone home before a rose ceremony, and Caitlin didn't have much choice in the matter. She did, however, have a say in how she exited, and she wasn't going to do it while holding the hand of the man who sent her home! Her swatting Colton's hand away gave everyone a good chuckle, especially when she followed up with sobbing in her car ride out about how maybe he'll realize eventually he should bring her back.
8. "Where is Singapore?"-Hannah G.
Let's be real for a minute, no one actually enjoyed 6th-grade geography, and Hannah G. was no exception. On last week's episode, Colton revealed to all the contestants that they would be traveling to Singapore for the next round of dates, and while they were all super excited, Hannah G. got right to the REAL questions. The other contestants were all thinking it, but she was the only bold soul to ask it…out loud...on live TV. She's almost as brave as Elyse!
9."Where did they get these leeches? Are they FDA approved?"- Courtney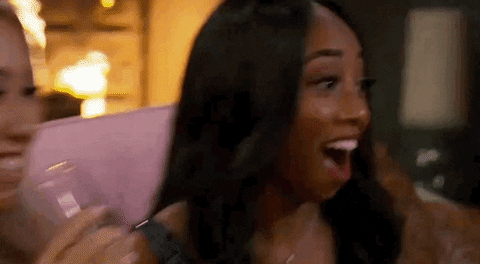 While on his group date in Singapore, Colton thought he should take all his lovely ladies on some traditional escapades. His first stop was to a leech therapy center, where leeches are used to remove toxins. The girls didn't exactly jump for joy, and Hannah B. even compared the leech to Caelynn. But the best part came when Courtney asked if the leeches were FDA approved. Not only did Bachelor Nation lose their minds at her asking if a parasitic worm was approved by the Food and Drug Administration, but that she was asking it in Singapore as well. Science and Civics weren't our favorite subjects in school either!
10. "I heard you were the cancer of the house."- Colton
Last but not least, we need to mention this beautiful confrontation between Colton and Courtney. We know Demi isn't one to bite her tongue, but did she maybe take it a little too far telling Colton that Courtney was the cancer of the house? When Colton outright told Courtney he heard this being said about her all of us in Bachelor Nation held our breaths for Courtney's response. She denied it, of course, but she wasn't through with the subject. Her poll of the rest of the girls to see who thought she was the cancer of the house led to a confrontation between her and Demi. The rest of the house thought Demi was a bit aggressive in her choice of words, but the night had to go on, and the rose ceremony was up next. Ultimately, Colton didn't give Courtney a rose, but we're all still reeling from Colton getting right to the point!
Next week's episode is hinting at some meltdowns from contestants, and even from Colton. It also shows things getting a little spicy between Colton and one of the contestants, although we aren't sure which one yet. We'll have our eyes, and most importantly, our ears, glued to the TV to pick up on all the hilarious and breath catching stuff that comes out of everyone's mouth!
All images courtesy of Giphy.