10 Ways To Incorporate Healthy Habits This Holiday Season
The holidays can be a time of year spent stressing over plenty of things such as getting the perfect gift for everyone or making sure you cook the perfect dinner food for your family. This year in particular we have more to worry about than in the past. 2020 has been quite a year for everyone and since the holidays are a few days away, let's take some time to unwind and remind ourselves of a few ways we can stay peaceful and stress-free during the next few weeks.
1. Making your favorite drink in the morning
Waking up in the morning and getting yourself out of bed instead of checking your phone or going back to sleep is a hard task within itself. I find that waking up and bribing yourself with a warm creamy cup of coffee or iced matcha helps me get out of bed and start my day with a treat. It doesn't have to be a cup of coffee or any iced caffeinated beverage but bribing yourself with something in the morning to get your going does the trick.
2. Go for a walk outside
Getting a breeze of fresh air really does wonders. I know when I'm having a stressful day or I feel overwhelmed, opening a window or just getting up and heading for a walk calms me. If you find yourself feeling too cooped up in the house this holiday season, grab a mask and a walking buddy and go outdoors for a peaceful walk.
3. Get off your phone
Taking an hour or two before bed, in the morning, or just during the day to spend time with yourself and with others can ground you. Sometimes we get lost scrolling through endless amounts of TikToks' and Instagram feeds, but it is important to remind yourself to take time to be in the moment with people around you, especially with family this holiday season.
4. Treat yourself
This holiday season includes lots of gift giving and receiving. I know that I love that part of this time of year. Even if you don't get the luxury of spending the holidays with your friends and family this season, you can indulge in some gift giving and receiving on your own! That pair of shoes you've been eyeing, get them! It's the holidays and this past year has been so hard on everyone; you deserve a gift!
5. Watch your favorite holiday movie
'Tis the Season! Some of my favorite classic holiday movies put me in such a good mood and there's no better time to watch them than now with the comfort of your family just by yourself in a cozy outfit.
6. Journal
Journaling is one of the few new habits I have found to be effective and engaging. Simply writing about your day or what your grateful for can ease the mind and put yourself in a calm trance before bed or incorporating a relaxing morning ritual.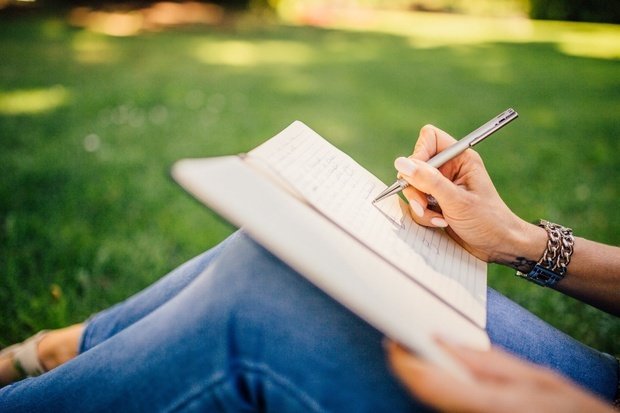 Photo by Stocksnap on Pixabay
7. Make a new playlist for 2020
Everyone loves music! Creating a new playlist for your car rides or workouts can uplift your mood and get you going. It's the perfect way to get you smiling while listening to your favorite artists and songs.
8. Set a new goal
The new year is coming up and as we pass a tough year and many lessons learned, we can remind ourselves how proud we are of making it out of this tough year. Let's kiss 2020 goodbye and embark on a new year with new goals for whatever it is you find yourself wanting to accomplish.
9. Cook a healthy meal
Eating a nice home-cooked meal is productive and yummy! Cook one of your favorite meals while incorporating healthy ingredients to give you a boost of nutrients during your day. With all the holiday food were about to eat, our bodies need some nutrition during this season.
10. Do one productive task (each day)!
It is as simple as doing one thing a day that takes a little bit of effort to make you feel productive. Whether it's been putting off washing your car or sending out an email, get one thing off your to-do list each day to make you feel satisfied and accomplished.
Want to see more HCFSU? Be sure to like us on Facebook and follow us on Instagram, Twitter, TikTok, Youtube and Pinterest!