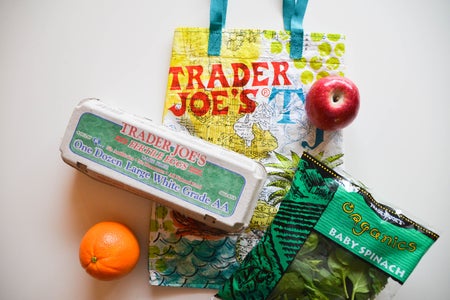 Top Five Trader Joe's Products
Trader Joe's has a reputation for being a beloved food store and it's no mystery why. The brightly colored displays, friendly staff, and cheap organic products are enough to draw in any reasonable customer. As a dedicated Trader Joe's fan, I've found some of their products I can't live without.   
These frozen chocolate strawberry pieces are a classic healthy snack that will satisfy any sweet tooth.

This is one of the many pumpkin spice flavored items taking the commercial world by storm. What sets this product apart from the others is its versatility. It's an easy way to spice up an ice cream Sunday, pancakes, greek yogurt and more!

It's made of chicken, black beans, spiced rice, pepper jack cheese, and corn & chili salsa. Not only is it filling but it's ready in 2 minutes. It's a delicious way to avoid cooking. This item lives in the prepared foods section.

4.

Thai Lime & Chili Almonds

These almonds are the perfect healthy snack for spicy food lovers. They're perfectly seasoned with Thai lime and chili. 

For $5 this product will leave you moisturized and smelling like a coconuty tropical beach. It's especially great for these winter months that bring dry skin and daydreams of a warm beach.