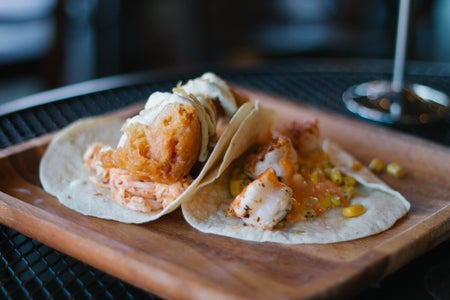 The Venezuela/Mexican Fusion You Didn't Know You Needed
As you near the intersection between NE 29th Street and NE 2nd Avenue you get closer and closer to one of the most unique street dining experiences in Miami. The smell of the hand pressed tortillas, sizzling chorizo, and charring burgers on the grill will be sure to make your mouth water.  
A hidden gem tucked away in a little corner in downtown Miami, Orale Pana is your next must-try food truck. The name stems from "orale" which is Mexican Spanish slang for okay and "pana" which is Venezuelan Spanish slang for friend, pal, or buddy. 
The Mexican/Venezuelan cuisine mashup serves the likes of both cultures. From Mexico, you can order fresh street tacos, hand-rolled burritos, and cheesy deep-fried Nachos con Queso. On the other hand, you can satisfy your craving for Venezuela food by ordering the classics like crispy tequenos, cheesy cachapas, deep-fried empanadas and arepas packed in with filings like shredded cheese and shredded meat or chicken. 
A couple of note-worthy wild card items such as shrimp fries and very unique burgers like the Pana Burger (Chicken, meat, smoked pork loin, sausage lettuce, tomato, onion, avocado, american cheese egg, chips, sauces) are sold on the menu that are definitely worth the try. The menu items range around the $10-13 mark per item but with big portions, the food is well worth the cost. 
Our favorite is the Sausage Burrito ($12.99). Unlike any other burrito you've tried before, this one is an explosion of flavor with ingredients like spicy sausage, lettuce, tomato, onion, cheese, avocado, fries, tomatillo sauce, chipotle sauce, and sour cream. Wash it down with Madarin Jarrito for the perfect late-night guilty pleasure. 
The food truck also offers a veggie burrito but I would recommend this destination more to meat and seafood lovers as those ingredients are present in most items of the menu. 
Open from 7:30 PM to 1:30 AM on the weekdays and 7:30 PM to 4:30 AM on the weekends, Orale Pana is the perfect post-party midnight indulgence. Next time you start to feel hungry after a long night in Wynwood, ditch the overcrowded bars and restaurants and take the 3 minute drive to Orale Pana. You'll thank me later.